Product Review: Walthers Modern Yard Office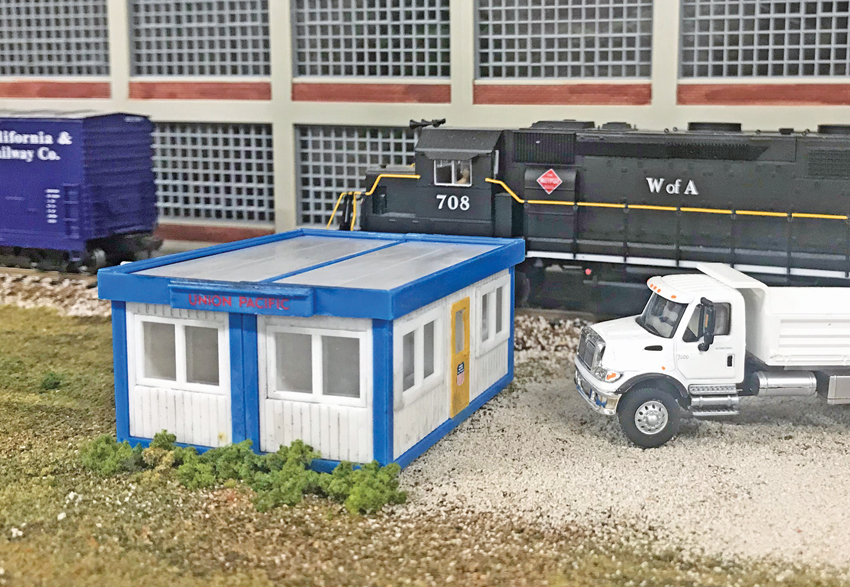 By TIM BLACKWELL/Cowcatcher Magazine
Railroads, especially smaller ones, utilize resources as best they can to minimize costs. This may include refitting a boxcar or centerbeam as storage or an office when the equipment is beyond its useful life as a freight carrier.
Converting a boxcar into an office may not always be easy. Once the car is decommissioned, trucks have to be removed and the frame supported by blocks or some other system. Doors and windows must be cut into the side and the interior finished out.
The abundance of industrial containers used for intermodal shipping provide an easier option. Once taken out of service they are simply put on a plot of land and the remodeling begins. With some Sheetrock, paint, HVAC and plumbing, the railroad quickly and easily has a new usable space.
In many cases, conversions are done by specialty companies, and containers are delivered "ready to run" on-site.
Converting containers has picked up steam because of higher construction costs. Labor and conventional real estate are expensive, and a container, which weighs 4,100-6,400 pounds depending on size, can have all the comforts of a traditional structure in half the time. A fully outfitted container can last up to 50 years, according to Atlanta-based BMarko Structures, a modular construction company that specializes in conversions.
Walthers recently introduced its HO-scale Cornerstone Modern Yard Office – a quick, easy-to-build addition to any model railroad.
The beauty of Walthers kits is the abundance of extra parts, likely co-mingling of similar parts from other kits. In the case of the HO-scale Modern Yard Office, plenty of parts and interchangeable panels allow the modeler to build the structure in more than one way.
Some parts, like handrails and ladders that aren't needed for the kit, are included, so improvisation is easy.
The Modern Yard Office includes enough parts to build two containers. They can stand alone or be combined to create a double-wide office. Walls and panels with doors and windows can be arranged however the modeler likes.
Once containers are assembled, they can be glued together in the desired combination. Roof trim sections make the transition from one to the other, and a smoke jack, electrical panel and window air-conditioning unit(s) add detail.
The footprint recommended by Walthers is for a double-wide format of 3" x 2 3/8" and 15/16" tall, which best fit the depot area on the Cowcatcher's Northwest Tarrant & Pacific for a Union Pacific maintenance crew office.
The kit is molded in three colors – white, gray and blue – and includes molded container panels, window and door inserts, details and printed window dressings. It took about two hours to assemble using a hobby knife, plastic glue and paint.
After removing the pieces from the sprues and trimming excess plastic, the containers were glued using Plastruct. The panels and trim pieces fit together nicely, close enough in some cases that only a dab of glue was needed.
The roof trim fit well, too, with the exception of one side where two pieces didn't fit snugly. I checked measurements and assembly, and everything else seemed to fit fine. I covered the gap by gluing an extra trim piece on top to create a sign. A seamless trim board perhaps could have been fashioned from the extra pieces in the kit.
Our kit included window treatments that consisted of tiny photos of office interiors and window glazing that fit behind window and doors. Not included was clear plastic to represent glass, although the packaging suggests that it's in the box.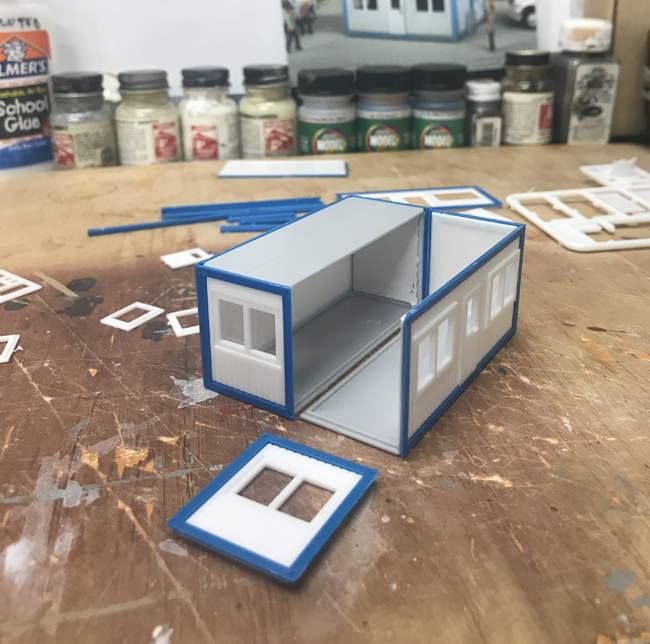 For the NT&P's building, the office photos were not used and only one panel was outfitted with the window glazing. Leftover clear plastic from a DPM kit simulates glass on four windows and a door.
Once assembled, the maintenance office was weathered using diluted Floquil Weathered Black paint and the front door painted Union Pacific Armour Yellow. The diluted Weathered Black filled in the seams of the container nicely to add depth.
Leftover UP decals from a boxcar kit were applied to the door and sign. A dab of Micro Sol setting solution blended them into the plastic.
Since the NT&P is set in North Texas, where summer heat can be brutal, I deviated from the instructions and installed two window air-conditioning units to the back wall. A downspout was glued to one corner and the smoke jack affixed to the back wall to complete the model.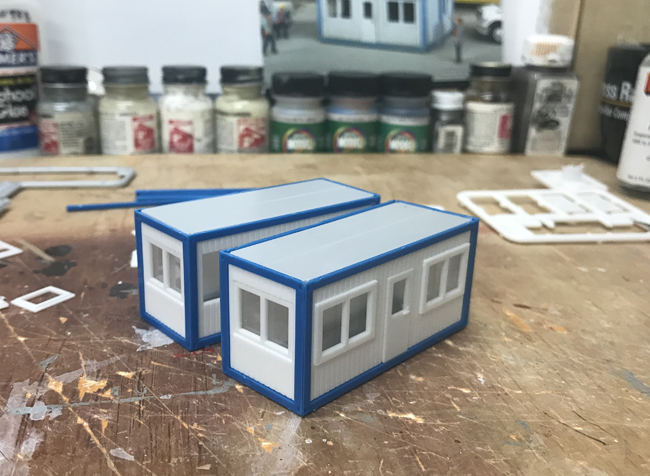 The kit's use isn't limited to railroad settings. With a few modifications it could work as a temporary construction building, bank office, classroom or roadside taco joint or fireworks stand.
A small house or homeless shelter on the other side of the tracks or an urban setting isn't out of the question, either. American Family Housing in Midwest City, CA, built Potter's Lane, a community of 16 480-square-foot studio apartments built for homeless veterans in 2017 from shipping containers. The containers were stacked and finished out to create a multistory apartment dwelling.
For whatever use, Walthers offers a quality, easy-to-assemble container kit that adds a new dimension to model railroads. It retails for $24.98.
An abbreviated review of Walthers' Modern Yard Office appears in the Cowcatcher's Novembehttps://cowcatchermagazine.com/2019-cowcatcher-magazine/r/December 2019 issue.
Read our other reviews