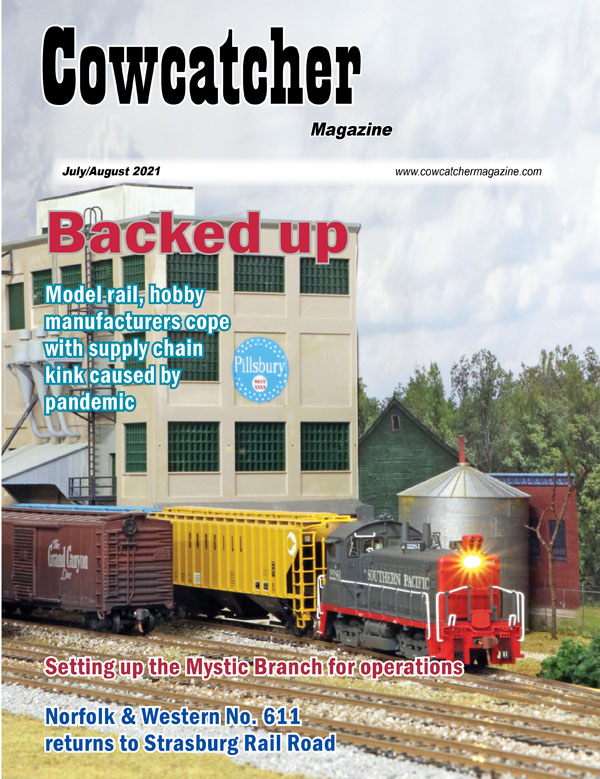 Subscribe or Renew to the Cowcatcher
Six (6) Issues for $17.95 or twelve (12) Issues for $29.95 mailed to your home!* As a bonus, paid subscribers receive Cowcatcher Tracks, our exclusive monthly email newsletter (email address required).
*U.S. domestic rates only. For international subscriptions, please contact us at cowcatcher@verizon.net .
Subscribe any of these ways!
Mail check or money order with name, address (street, city, state, zip code) and term of subscriptions (6 issues or 12 issues) to: Cowcatcher Magazine, P.O. Box 176, Keller, TX 76248
Pay by PayPal. Click here.
Pay by Credit Card using our secure credit card system. Click here.
Your subscription starts with the first issue after the issue featured on this website (see cover photo at top of right column).
Subscriber Updates
1/6/2023 January/February 2023 Issue Delay: Because of issues with our printer, January/February 2023 subscriber copies entered the mail on Jan. 6, 2023. The issues also delayed shipment of store copies, which are expected to arrive Jan. 11. We apologize for the delay and ask that you be patient. If you have not received your issue within three weeks after the publication date, please contact us at:
cowcatcher@verizon.net or (817) 379-5528.
Thank you!
Your Subscription
Didn't receive your issue? Postal and clerical issues happen, unfortunately! Please let us know if you haven't received your current issue immediately! Your issue is usually mailed Marketing or third-class U.S. postage 10-15 days prior to the end of the month of the first month's publication date. Please allow 7-10 business days for delivery. Deliveries in some areas of the country may take longer than others. If you have not received your issue in a timely manner, please contact us at cowcatcher@verizon.net or (817) 379-5528.
Replacement copies: We will gladly send you a replacement copy if your issue is lost in the mail or damaged. However, we will only send a replacement copy when notified within its publishing period. For example, if you request a replacement copy for the November/December issue, please contact us before Dec. 31 and we will replace your copy, subject to availability. We cannot always replace older issues. It is important that you bring any missing issues to our attention immediately! Please note, marketing or third-class mail may not be forwarded in the case of a change of address.
How do I know when my subscription expires? Subscribers will note the expiration date of their subscription on the mailing label printed on the plastic sleeve protecting your issue. The expiration date is above your name and address and looks something like this:
EXP May/June-2022
If you are still not sure when your subscription expires, give us a call at (817) 379-5528!
Renewing or subscribing: We have convenient payment options to accept your renewal or new subscription. When it's time to renew, we will mail you a renewal form plus notify you by email (email address required). You may renew or subscribe on this website either by PayPal or at our credit card portal. For your convenience, your subscription can be renewed over the phone with your credit card by calling (817) 379-5528!
Change of address: Because we mail Marketing or third-class postage to keep your subscription cost low, we do not receive notifications from the post office when copies are returned because of an address change/insufficient address. If your address changes, please notify us immediately via email (subject line: Change of Address) at cowcatcher@verizon.net or call us at (817) 379-5528. Please leave your name, address and callback number. Marketing or third-class mail may not be forwarded and Cowcatcher is not responsible for replacing issues sent to previous address and not delivered.