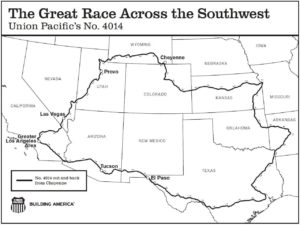 The encore to the revival of Union Pacific Big Boy No. 4014 is well underway on a multi-state tour through 12 states west of the Mississippi that kicked off in late September.
The world's largest operating locomotive came back to life and showed off its renewed chuff in the Great Race Across the Midwest to much fanfare earlier this year.
The Great Race Across the Southwest – a round-trip tour of Colorado, Kansas, Missouri, Oklahoma, Arkansas, Texas, New Mexico, Arizona, California, Nevada and Utah – began in Cheyenne on Sept. 27. The massive locomotive is currently touring California and will be on display today and tomorrow in Bloomington, a suburb of San Bernadino.
From California, the tour dips into southern Arizona and near New Mexico's panhandle before arriving in El Paso late in the afternoon on Oct. 20 to start a 23-day run across Texas. After a two-day public display, the Big Boy will be idled until Nov. 1 when it leaves for Fort Hancock, TX.