All Issues Priced at $6.95 unless otherwise noted. Many of these issues are limited in availability.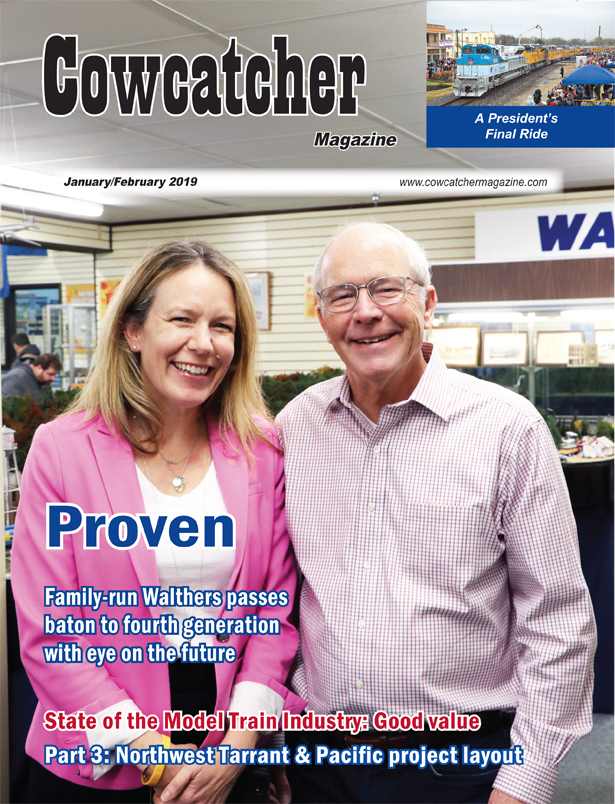 Proven January/February 2019: One of our best-selling issues, the January/February 2019 Cowcatcher goes behind the scenes with the Wm. K. Walthers Co. and tells the tale of how four generations of family have led the company to the top of the model railroad industry. PLUS, America goes trackside to pay respects to former President George H.W. Bush; readers rate the state of model railroading good based on value, selection and quality; scenery and technology bring to life the Northwest Tarrant & Pacific, the Cowcatcher's HO-scale project layout; and steam returns to the Alamo City with the restoration of the Texas Transportation Museum's 1925 Baldwin 0-4-0. Very limited copies available!
January/February 2019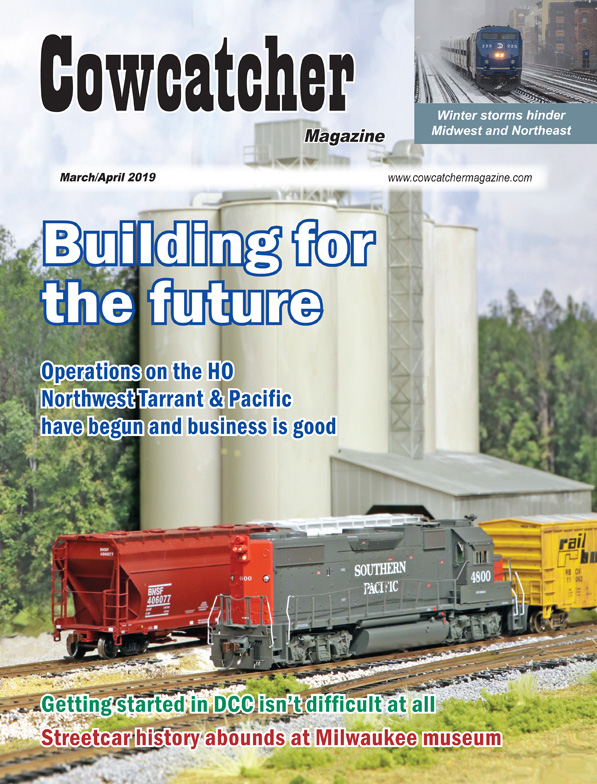 Building for the Future March/April 2019: Like many short lines, the Cowcatcher's project railroad, the Northwest Tarrant & Pacific, assumed tracks from a larger railroad and is developing brisk business by serving several industries. PLUS, Dallas/Fort Worth's newest commuter line, TEXRail, is off to a running start and discussions of expansion are already taking place; going DCC simplifies model railroad operation and is easier than it looks; the Amherst Railway Society's Railroad Hobby Show had a couple of major product announcements from Rapido Trains and ScaleTrains.com; and streetcar history unfolds at the Milwaukee Transit & Archives Museum in Cudahy, WI.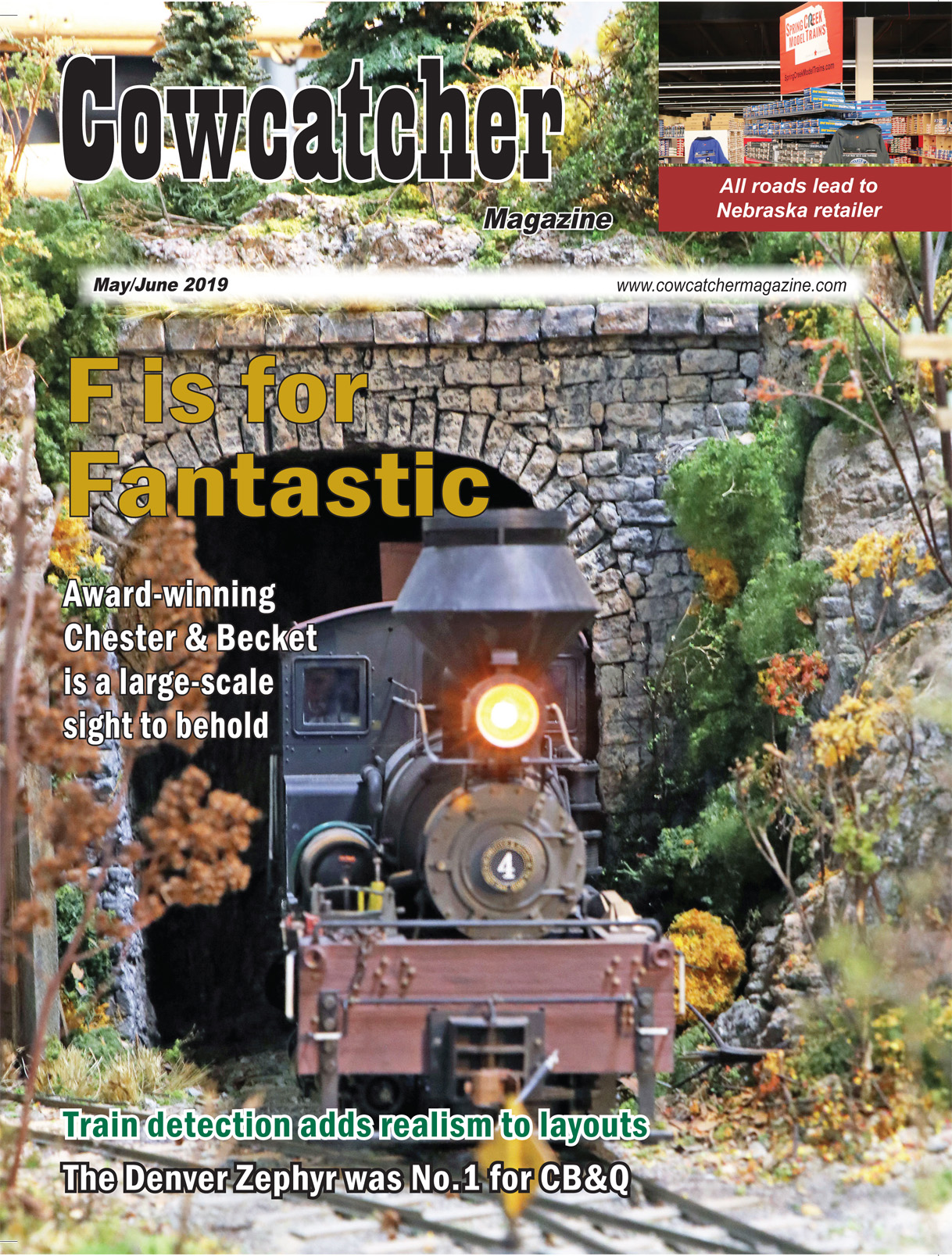 F is for Fantastic May/June 2019: The award-winning Chester & Becket, an Fn30 representation of the Boston & Albany rolling through the Berkshires, is a sight to behold. PLUS, train detection provides realism to model railroads through light-sensitive applications; Deb and Dave Zucker of Spring Creek Model Trains log about 50,000 miles per years selling model trains and accessories at train shows across the country; Texas and California are fighting for high-speed rail despite pressure from administrators and lawsuits; and we review ScaleTrains.com's HO-scale SD40-T-2 tunnel motor. $7.95 ea. Very limited copies available!
May/June 2019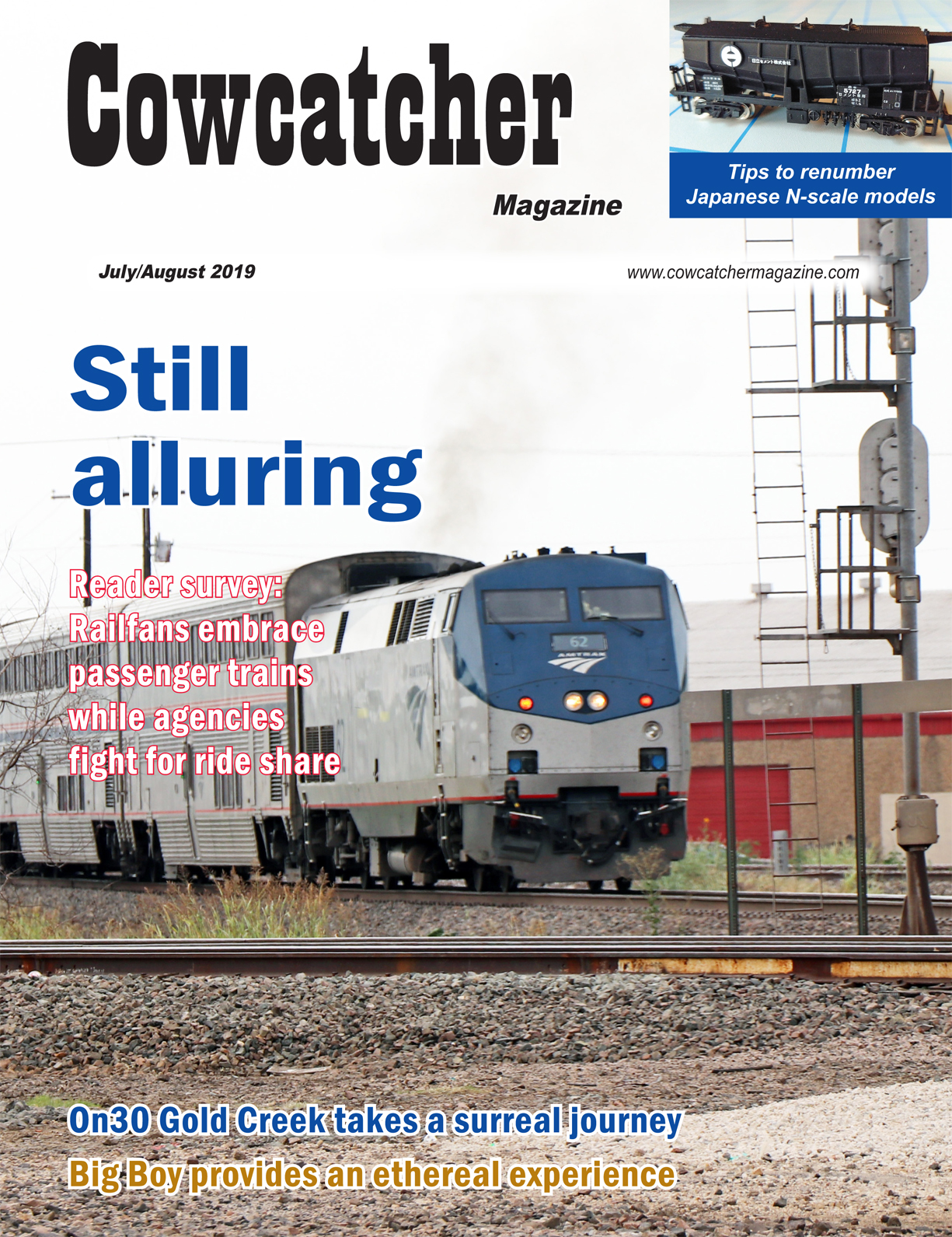 Still Alluring July/August 2019: While Cowcatcher readers continue to embrace passenger rail, ridership is declining. PLUS, Union Pacific's Big Boy No. 4014 put a spectacular show with its return to the rails; a proposed tariff on model railroads has sent a shiver through the model train and toy industries; and renumbering Japanese hoppers isn't as difficult as it may sound. Also, the Stockton Terminal and Eastern railroad has something new that's blue and green, and meets air quality standards. And the nation's rail traffic continues to move a slower pace than in 2018, according to the Association of American Railroads. SOLD OUT!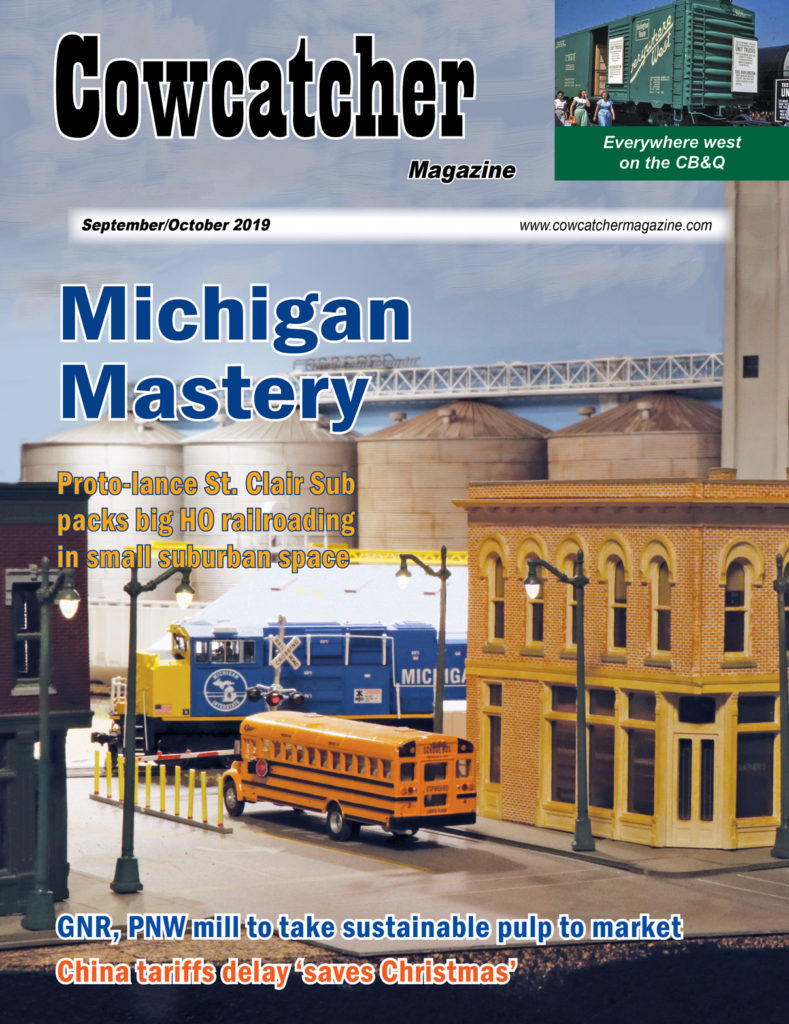 Michigan Mastery, September/October 2019: The proto-lance HO-scale St. Clair Subdivision packs a lot of railroading in a small space. PLUS, a tariff on Chinese imports that includes model trains was delayed until mid-December; the Railroad Prototype Modelers Meet will make a stop in Denver at October's Rocky Mountain Hobby-Expo; the California Northern is putting Tier 4 technology to work; and the Chicago, Burlington & Quincy is Trainfest's Celebrate-a-Railroad in 2019. $7.95 ea. Very limited copies available!
September/October 2019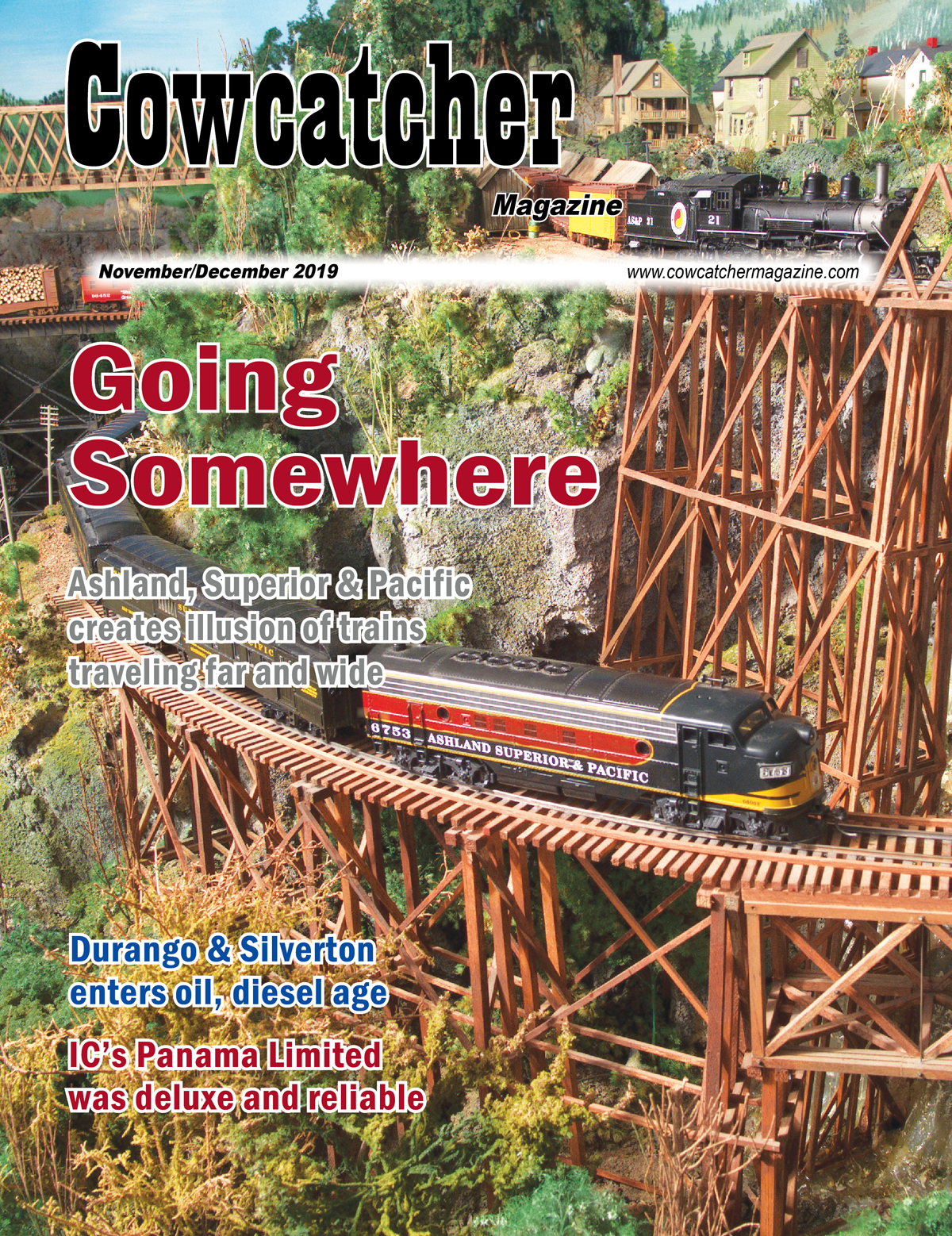 Going Somewhere, November/December 2019: The HO-scale Ashland, Superior & Pacific creates the illusion of trains traveling far and wide. PLUS, the Durango & Silverton Narrow Gauge Railroad is upgrading its locomotive fleet; Ken Patterson's perspectives on model railroading are drawing a legion of viewers; Greenbrier Companies' new Tsunami Gate grain hopper unloads lightening fast; and the Illinois Central's Panama Limited basked in the glory of the opening of the Panama Canal with all-Pullman service. $7.95 ea. Very limited copies available!
November/December 2019