NORFOLK, VA (PRNewswire) — Oysters, river otters, shore birds, and other wildlife have a new place to call home along an industrial stretch of the Elizabeth River that Norfolk Southern has reclaimed as a living shoreline.
The innovative sustainability project, completed recently, has transformed a stretch of severely eroded shoreline at the railroad's Lamberts Point terminal into a green oasis in an area where ship repair and port businesses operate. The initiative advances significant environmental, community, and business goals.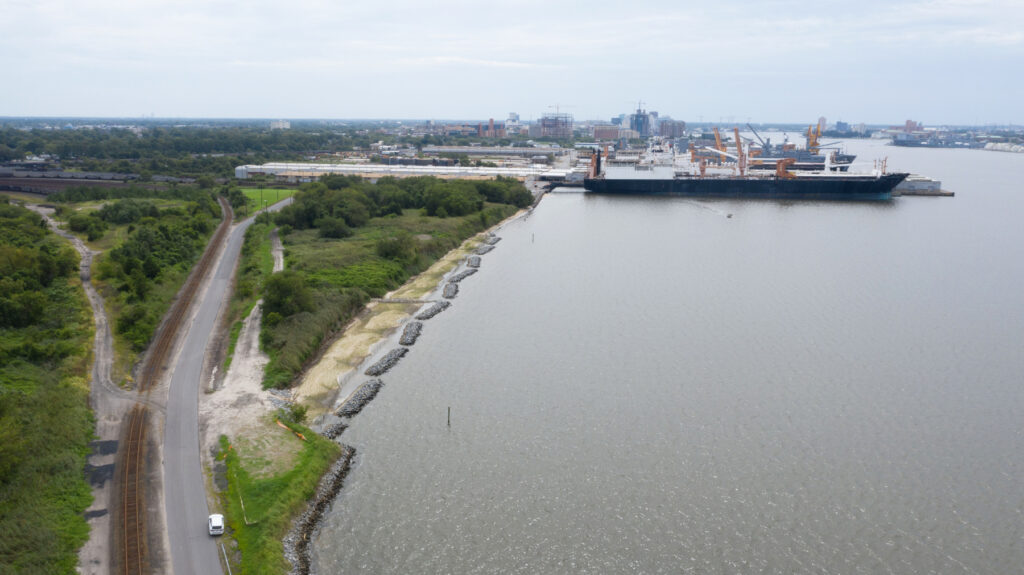 "This project reflects our long-standing commitment to be a good community steward," said Josh Raglin, chief sustainability officer. "We are restoring habitat that not only beautifies the shoreline and contributes to a healthy river ecosystem, but also will help protect important business assets at our terminal. We view it as a sustainability triple play."
For years, Norfolk Southern has worked closely with the Elizabeth River Project, a community nonprofit in Hampton Roads whose mission is to restore and preserve the river. The partnership led to the living shoreline, a creative business solution that generates environmental benefits while combatting erosion that in the future could threaten an access road and tracks at the Lamberts Point terminal. In a region impacted by rising tides, this natural approach will provide better long-term protection and is more cost-efficient than hardening the shoreline with rocks – a common engineering solution of the past.