Union Pacific, NS latest railroads to reach union agreements for paying workers for sick time
Updated March 3
Union Pacific and Norfolk Southern reached agreements in recent weeks with unions to pay workers for time off related to sickness.
In February, NS reached deals with the Brotherhood of Maintenance of Way Employees, one of the industry's largest unions, and National Conference of Firemen and Oilers for up to seven paid sick days per year for members working at the railroad. The new benefit is available to approximately 3,000 BMWED railroaders who maintain the company's track and infrastructure and 200 mechanical workers represented by NCFO.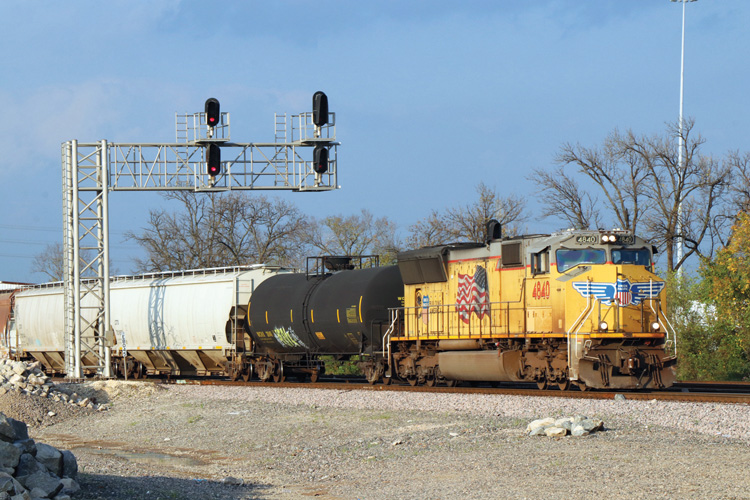 UP announced Monday that employees represented by NCFO and Brotherhood of Railway Carmen (BRC) will receive access to up to seven paid days to use for sickness, effective April 1.
"Union Pacific employees currently receive paid personal days off, and we will continue to work with other unions to address paid sick time solutions," the company said on Twitter.
The railroad is the second this year to strike a deal with unions for paid sick time, a point of contention in labor negotiations last year that nearly caused two strikes. CSX reached agreements with four unions, including BRC and NCFO, earlier this month.
BRC members working at UP will get four days of sick leave to be paid at 100 percent of the employee's rate of pay. Members also can designate their personal leave days for sick time.
"We are extremely proud of the progress that BRC continues to make on behalf of our members," BRC president Don Grissom said in a statement. "This agreement recognizes the need for railroad workers to have paid sick leave and secures this very important benefit for our members working at Union Pacific."
Grissom added that UP "did the right thing by coming to the bargaining table and reaching a fair agreement."
The number of hours of paid sick days accrued for each employee represented by NCFO will be pro rated to 24 hours in 2023. In 2024 employees will accrue 32 hours of paid sick time and be permitted to use the time in a minimum of half- or one-day increments.
NCFO president Dean Devita applauded UP "for coming to the bargaining table and adjusting this wrong and making it right."
"It is time for all the railroads to stop avoiding this issue and follow the lead of Union Pacific and join the NCFO at the bargaining table to do what is right for their employees and the NCFO Members," he added. "If they continue to refuse, we will take this fight back to Congress and expose any railroad that won't enter into a sick leave agreement. It makes more sense reaching agreement across the bargaining table, but if not, we will do what we have to do."
Despite President Joe Biden's intervention in September that halted a potential work stoppage, only eight of the 12 unions ratified the agreement, which gives workers 24 percent raises over five years, retroactive to 2020. Over the course of the contract, average railroaders will receive a $16,000 immediate payout and increased wages and benefits to $160,000 per year, according to the Association of American Railroads.
For four unions, the proposed paid sick time policy was a deal killer. A second strike loomed in December before the House and Senate decisively voted to enforce the previously reached agreement. It was the 19th time in nearly a century that Congress prevented a work stoppage in the industry.
NS said it remains in active discussions with its other union partners to gather input on the issues that are most important to their members. In the months ahead, the company hopes to make further progress with its labor leaders in negotiations.
Earlier this month, CSX reached agreements with the International Association of Machinists and Aerospace Workers (IAM), NCFO, the Brotherhood of Maintenance of Way (BMWED) and the Brotherhood of Railway Carmen (BRC). CSX said about 5,500 workers in the unions will get four paid sick days and be able to convert three of their personal leave days into sick days.