Railroads, labor unions reach tentative agreement to avert strike, service disruptions short of deadline
This story has been updated
From published reports
A lingering U.S. rail strike that threatened to further entangle the U.S. economy was averted early today, according to the Association of American Railroads.
"Today the nation's freight railroads are pleased to announce that tentative agreements have been reached with the Brotherhood of Locomotive Engineers and Trainmen Division of the International Brotherhood of Teamsters, the International Association of Sheet Metal, Air, Rail and Transportation Workers – Transportation Division, and the Brotherhood of Railroad Signalmen," AAR said. "Collectively representing approximately 60,000 employees, the tentative agreements reached with these unions avert a potential strike in advance of Friday's deadline."
The railroads and unions found common ground on such issues as sick time and penalties for missing work, including termination, as Friday's 12:01 a.m. deadline came perilously close. President Joe Biden reportedly met with rail and union leaders last night and helped hammer out a deal.
The Associated Press reported that an anonymous source close to the negotiations said the president called labor secretary Marty Walsh at 9 p.m. as talks were ongoing. The president told the negotiators to consider the effects of a shutdown on families, farmers and businesses.
After 20 hours of negotiations, officials reached a tentative agreement that will go to union members for a vote after a post-ratification cooling off period of several weeks. Part of the agreement is that trains will roll during the weeks leading up to the deal being finalized.
The new contracts provide rail employees a 24 percent wage increase over five years, retroactive to 2020 and include an immediate payout on average of $11,000. Workers will get an immediate 14 percent wage increase once compounded with an additional 4 percent July 1, 2023, and 4.5 percent July 1, 2024.
Workers also get an additional paid leave day per year, as well as being able to take unpaid leave for doctor's appointments and medical procedures without being penalized under attendance rules. They will also pay more for health insurance but premiums will be capped at 15 percent of the total cost of the insurance plan.
The deal satisfies the two largest rail unions in the country after several others, including the Brotherhood of Maintenance of Way Employees, were already on board. The Brotherhood of Locomotive Engineers and Trainmen and the SMART-Transportation Division, which represent 57,000 engineers and conductors, were not as quick to agree to a recommendation by the Presidential Emergency Board this summer.
"The solidarity shown by our members, essential workers to this economy who keep America's freight trains moving, made the difference in our unions obtaining agreement provisions that exceeded the recommendations of the Presidential Emergency Board," Jeremy Ferguson, SMART Transportation Division president, and BLET president Dennis Pierce said in a joint statement.
Avoiding the strike saved the U.S. economy from taking a potential $2 billion-per-day hit, according to a report recently released by AAR.
AAR president and CEO Ian Jefferies said failure to reach a deal could idle more than 7,000 trains daily and trigger retail product shortages, widespread manufacturing shutdowns, job losses and disruptions to hundreds of thousands of passenger rail customers.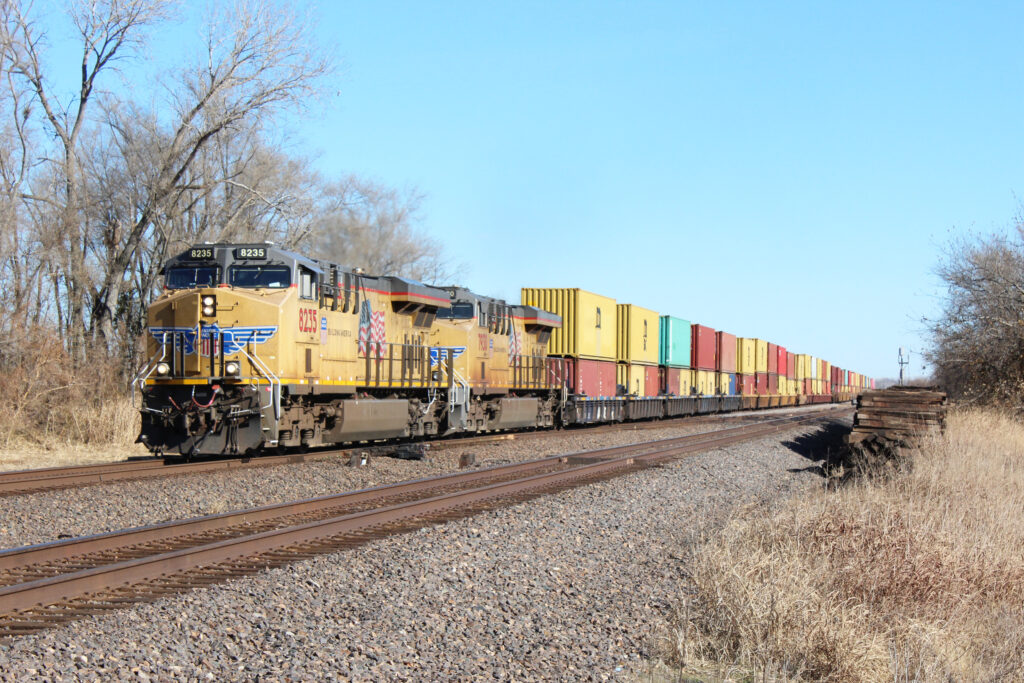 Earlier this week, railroads began making plans to idle networks. The freight industry warned that a strike would shut down about a third of the country's freight transportation options, as well as passenger service. Railroads – including BNSF, Union Pacific, Norfolk Southern, Canadian National, Kansas City Southern and CSX – deliver about 30 percent of the country's freight, second to trucking.
Railroads began jockeying trains to ensure that some shipments, including hazardous materials and other goods, wouldn't be stranded.
Also, Amtrak announced that some long-distance trains were being idled to avoid the possibility of stranding passengers.
A strike not only would have put a major dent in the struggling U.S. economy but also deal a big blow to U.S. rail traffic which has fought hard to maintain 2021 levels of carloads and intermodal units.
Total combined U.S. traffic for the first 36 weeks of 2022 was 17,803,223 carloads and intermodal units, a decrease of 2.7 percent compared to last year, according to AAR. More recently, total carloads for the week ending Sept. 10 were 223,384, down 0.2 percent; total intermodal volume was 240,877 containers and trailers, down 1.7 percent compared to 2021.
Amtrak said it is working to quickly restore canceled trains and reaching out directly to impacted customers to accommodate on first available departures.