December
Two-bay hoppers shipping; Micro-Trains Humvees
InterMountain Railway's HO-scale 1,958-cubic-foot two-bay hoppers recently began shipping.
The hoppers are produced in 14 roads: Denver & Rio Grande Western; Frisco; Polybor-Chlorate/NAHX; Monon; Elgin, Joliet & Eastern; Chicago & Eastern Illinois; Santa Fe; Colorado & Southern; CB&Q; Chicago & North Western; Missouri Pacific; Northern Pacific; Great Northern; and M-K-T. Each road comes in six numbers.
Features include etched metal roof walks, formed wire details, road name-specific roof hatch styles, 70-ton trucks, InterMountain 33-inch metal wheelsets and metal knuckle coupler. Retail price is $46.95.
Also, Micro-Trains Line is producing an HO-scale Humvee in military and undecorated versions due in 2022. The models follow the company's previous Humvee offerings in N scale.
The HO Humvee M1 151 A1 is a detailed multi-piece injection-molded and etched metal model. Separate detail parts include mirrors, snorkel, windows, steering wheel and seats.
The modular construction allows for numerous layout options and configurations. Models are being produced in drab olive, desert tan and unpainted. Two-packs go for $49.95.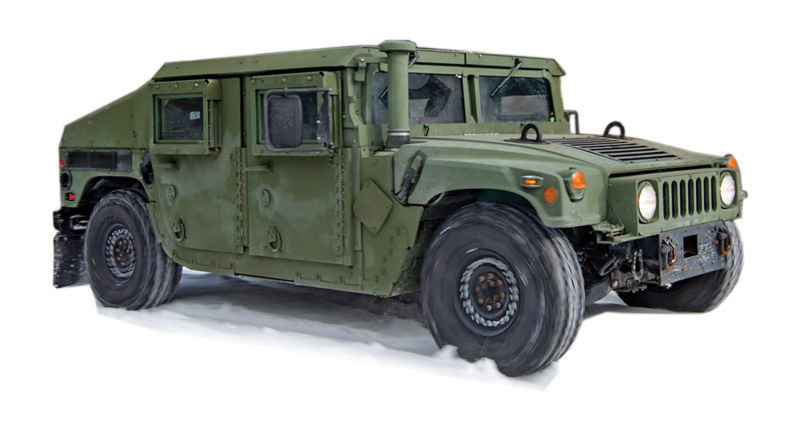 September
Rapido Trains HO Alco FA1 and FB1
Rapido announced its next production in the company's series of classic Alco locomotives, the Alco FA-1 and FB-1 in HO scale.

Between January 1946 and October 1950, a total of 440 FA-1s and 240 FB1s were built by Alco and their Canadian subsidiary, Montreal Locomotive Works (MLW). They were originally sold to twenty-five railroads in the US, Canada, and Mexico. The FA-1 (and booster FB-1) were rated at 1500 horsepower and designed primarily as a freight hauler.

In a market that was becoming dominated by EMD products, the FA-1 came in a distant second due in part to reliability issues with its 244 prime mover. Still, they were popular with several roads and could be found at the head of freights into the late 1960s.

Following on to Rapido's FPA-4, FA-2 and PA loco models, the new FA-1/FB-1 models continues the company's tradition for accurate Alco cab units with unsurpassed detail.

Features include correct nose and windshield contours; flat or angled number boards as appropriate; dnamic and non-dynamic brake versions; and etched side and fan screens.
Roads including three versions of Canadian Pacific, Erie, Great Northern, Lehigh & New England, New Haven (orange delivery and McGinnis), Pennsylvania, Reading and Union Pacific.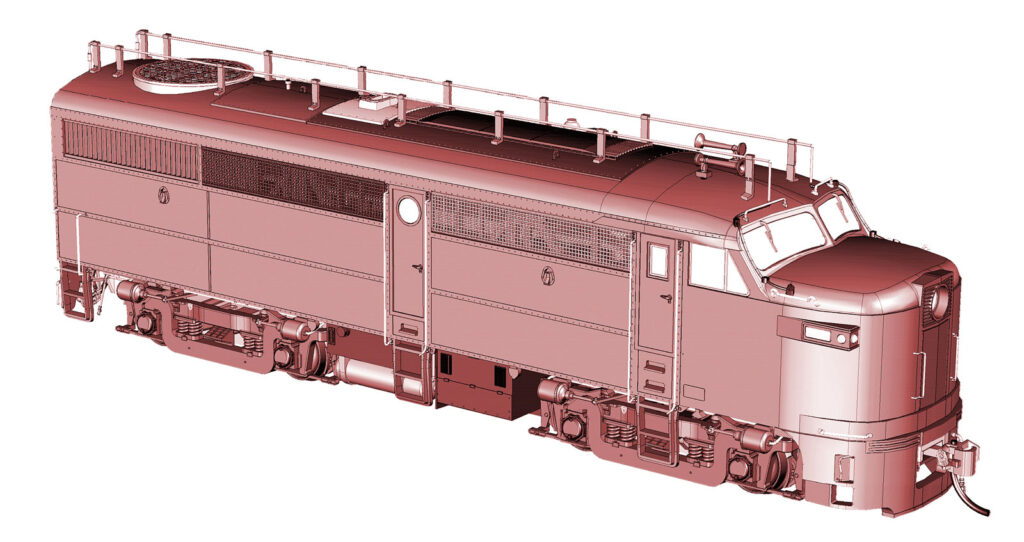 Tangent Scale Models HO Trucks
Tangent Scale Models issued its second release in its 50-ton truck system, which are available separately. The system is used on the company's PS-1 40-foot boxcar system announced earlier this year.
Trucks have multiple precision wheelset options, separate brake beams and rotating roller bearing caps (where applicable). Wheels have front and back contour, as well as axle contour, based on prototypes.
Options include 50-ton Barber S-2-A Roller Bearing Trucks, 50-ton ASF A-3 Ride Control Roller Bearing Trucks, 50-ton ASF A-3 Ride Control Plain Bearing Trucks and 50-ton Barber S-2 Plain Bearing Trucks
August
JTC DTTX N Scale Well Cars Two Packs
Jacksonville Terminal Co. released in August its N-scale National Steel Co. 53-foot well cars that accommodate containers from other brands. Two packs of the DDTX scheme are available in two numbers.
Models are die-cast for weight and tracking ability whether empty or loaded.
JTC has made the end grabs, foot step, and walkways out of etched stainless steel with see-through grating. The SS will generally bend, instead of breaking like plastic and hold up to general handling much better than plastic, the company says.
The model accepts other brands of containers as well as all JTC containers. Atlas, Deluxe, KATO, Micro-Trains and Scale Trains 53-foot containers will fit, as will 48-footers by Deluxe, Micro-Trains and Walthers.
The Interior has 'PIN' location holes for proper fit of the JTC 20-foot and 40-foot containers on top of 53-foot containers.
Models come with Micro-Trains trucks.
Two packs retail for $88.95.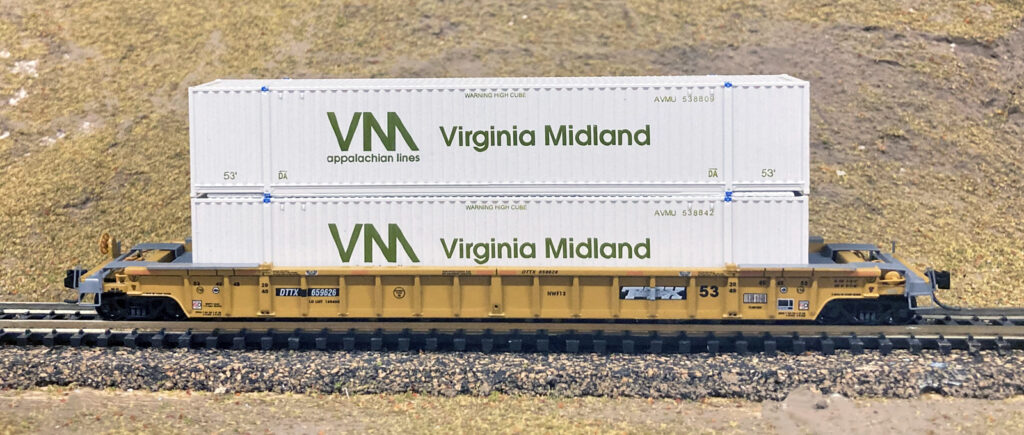 May
Bachmann N-scale 56-foot 4 Bay Center Flow Hoppers
Bachmann Trains announced new N-scale Silver Series 56-foot 4-Bay Center Flow Hoppers in nine road names, including the Kansas City Southern Southern Belle scheme.
In addition to KCS, roads include Great Northern, Chicago & North Western, Continental Polymers, CP Rail, CSX, Great Northern, Hammond Plastics, New York Central and Santa Fe.
List price is $34 each.
American Car and Foundry (ACF) manufactured a variety of railroad cars, including the 4-Bay Center-Flow Hopper. Hoppers are used to transport bulk commodities like coal, grain and iron ore. A Center-Flow Hopper can be distinguished from gondola cars as it features undercarriage doors for the discharge of its cargo.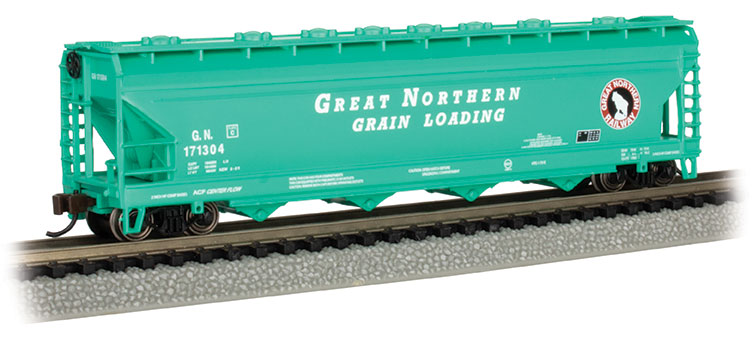 April
Rapido N-scale Procor 20,000-gallon General Purpose tank car
Rapido Trains, Inc, announced in April upcoming production of its N-scale Procor 20,000-gallon General Purpose tank car, also called the Procor GP20.
Founded in 1952, Products Tank Line (renamed Procor in 1962) constructed its manufacturing plant in the mid-1950s in Oakville, Ontario. Initially, engineering was supplied by parent Union Tank Car Co.
In the 1960s, Procor assembled itsr own engineering department and crafted a series of standard design tank cars which paved the way for a new generation of equipment, with many modern designs reflecting this new standard. The GP20 was suitable for lighter density commodities which would not congeal or freeze in cold weather, such as various oils and fuel. The same car could also be equipped with interior heater coil pipes, such that the contents could be reheated.
The same basic design – including tank diameter and the 50′ 8-1/2″ length – was manufactured from 1969-1984. The GP20 was constructed with both 70-ton and 100-ton capacity trucks.
Rapido's 20,000-gallon General Purpose Tank Car is designed from original blueprints and drawings and includes photo-etched metal walkways; detailed vent stacks, loading hatches, air tanks and braking equipment; and Rapido knuckle couplers
Paint schemes for the barrel ore hoppers include:
• Procor w/ Split 'P' Logo (UTLX as-delivered) • Procor w/ Split 'P' Logo (PROX patched) • Procor w/ Small Modern Logo • Procor w/ Large Modern Logo • North American Car (as-delivered) • Procor w/ Alberta Logo (UTLX, early) • Procor w/ Alberta Logo (PROX, late) • CP Rail (Company Service) • British Columbia Railway • Painted/Unlettered (Black)
All schemes are available in either single (randomly selected road number) or 6-pack cases. Canadian Pacific and British Columbia are available in 4-pack cases. Car numbers for single orders will be randomly selected from the listed road numbers. Unnumbered cars are available by special request only.
In Canada, the MSRP is $39.95 (CAD) for single cars, $159.80 (CAD) for the 4-packs or $239.70 (CAD) for the 6-packs.
For USA and International customers, the MSRP is $32.95 (USD) for single cars, $131.80 (USD) for the 4-packs and $197.70 (USD) for the 6-packs. A delivery date has not been set.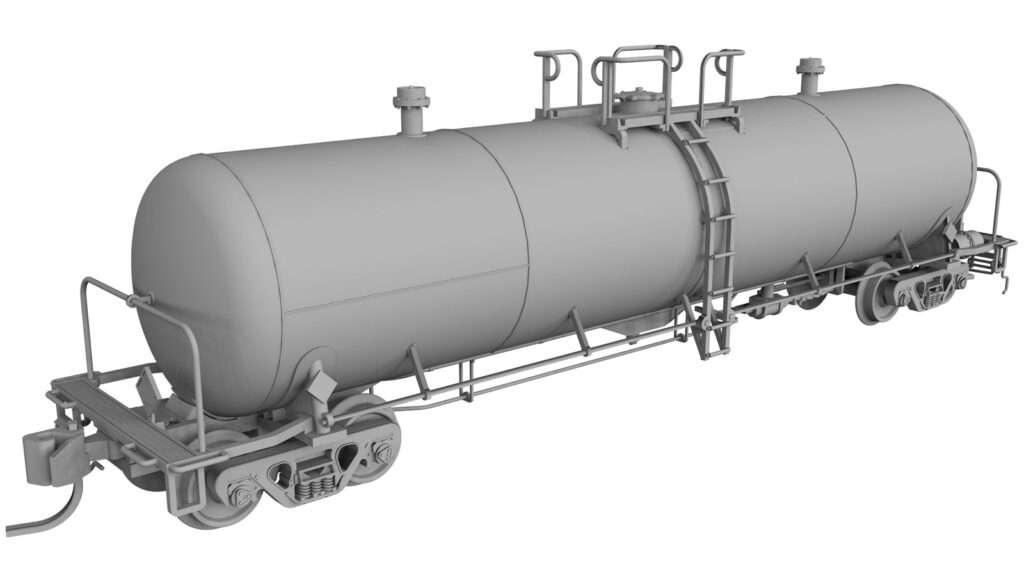 Kato N SD40-2s shipping
Kato U.S.A.'s latest run of N-scale SD40-2 Mid-Production locomotives are shipping. Models include Norfolk Southern in Maersk paint, Burlington Northern and ATSF.
Each road is available in DC ($120), DCC ($200) and DCC with sound ($320).
Mid Production EMD SD40-2 locomotives mirror a post-1990 locomotive, with deck mounted ditch lights so they fit in with modern freight rolling stock and in combination with other modern locos. Mid Production road names come with accurate horn and air conditioner placement as well. Air horns are mounted towards the rear and additional antenna and air conditioning units are over the cab on Santa Fe and ex-Santa Fe units, respectively.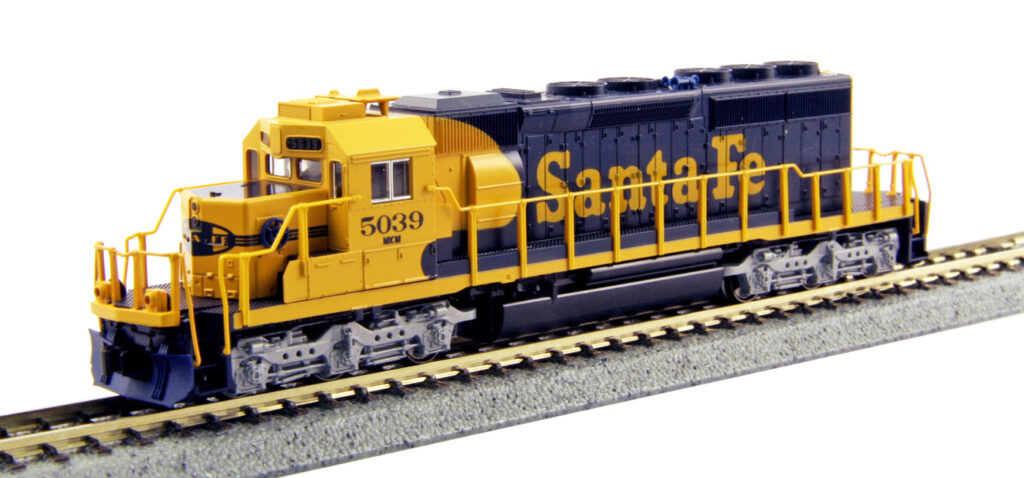 RailKing O making limited run RS-3 diesels
M.T.H. Electric Trains is producing three uncataloged O Gauge RS-3 Diesel Locomotives in special Long Island livery for M.T.H. Authorized Retailer Trainworld in Brooklyn, NY.
Each locomotive features a unique take on the Long Island deco scheme and includes a unique cab number, perfect for a three-unit lashup using the DCS Digital Command System. All are limited in production but still available for preorder for $349.99 each (plus freight). Delivery is slated for September 2021.
The cars are numbered 1554-56.

ScaleTrains announces new run of HO GATC 4180 Airslides
ScaleTrains.com's latest run Rivet Counter™ HO GATC 4180 Airslide covered hoppers features seven new road names and paint schemes, including GACX Blue.
Introduced in 1963, the General American Transportation Corp. (GATC) 4180 Airslide Covered Hopper was designed for granular commodities such as flour, starch, and sugar. The 4180 was produced in several phases.
Most of the major Class I railroads rostered these cars, but General American also retained a fleet of 4180s for leasing service. Many of these cars were painted in an attractive GACX "blue" scheme.
Phase "HC" was the final 4180 Airslide variant and featured square tube-style horizontal end braces, in place of the "Z" style of previous versions. They were produced from October of 1970 until October of 1980.
Production of the 4180 Airslide was superseded by the larger 4566 Airslide design. Most 4180s continued in service into the mid-2000s. Several of the GACX blue cars remain in service today and are used as buffer cars for hazmat material trains, such as ethanol and crude oil.
ScaleTrains is offering four paint variations for the blue scheme including a modernized version (SXT32988) with FRA conspicuity striping.
Additional roadnames and paint schemes include:
American Maize
Champion Spark Plug
Church & Dwight
Brach's Candy
Staley
Undecorated
Delivery is expected for fall 2021.
March
Last of HO Bi-Level Auto Racks shipping
InterMountain Railway Co. began shipping in late March the remaining 11 highly anticipated HO-scale Bi-Level Auto Racks. The models are close to being sold out, the company says.
Coming are Union Pacific, Grand Trunk Western, Southern, Western Pacific, Transportacion Ferroviaria Mexicana TTGX, Conrail (brown), Norfolk Southern, CP Rail, BNSF, CSX Patch and Union Pacific "Building America."
Features include molded details, etched metal see-through panels, metal wire grab irons and four road names per scheme. All cars are equipped with InterMountain 33-inch metal wheelsets and Kadee No. 158 metal knuckle couplers.
Models also have early style and later style anti-vandalism panels per prototype and opening end doors.
Retail price is $99.95.
The company plans to release the models in N scale later this year.

February
Athearn plans run of HO Dash 9-44CW locomotives
Athearn announced a run of HO-scale Dash 9-44CW locomotives in Santa Fe and BNSF the red Warbonnet paint scheme, as well as Canadian National, Fortescue Metals Group, Norfolk Southern and Southern Pacific.
Models, due in March 2022, will be available in with Tsunami2 Sound ($349.99) and without sound ($259.99).
Built by GE from 1993 until 2004, the Dash 9-44CW and its variants were the definitive North American mainline freight locomotives of their time, with an impressive 3668 total units built. Constructed for US railroads from coast to
coast, the units were also ordered by Canadian roads, and significant export orders went to Australia and Brazil.
Athearn's Genesis 2.0 Dash 9-44CW will feature a host of railroad specific details, including Canadian National's unique "tear drop" windows and early body details on Southern Pacific and Santa Fe. Models feature LED lighting.
January
ScaleTrains announces N autoracks
ScaleTrains.com announced in late January upcoming production of its Rivet Counter N-scale Greenbrier-Gunderson Multi-Max Autorack in eight road names.
With several thousand auto carriers built for nearly all North American Class One railroads since 2014, the Greenbrier/Gunderson Multi-Max Autorack has become the premier auto carrier design of the 21st century. Many wear colorful paint schemes and feature large logos which help them stand out alongside older autorack designs.
The cars are fully assembled and include multiple road numbers, railroad and road number specific details, four body types (early, intermediate, late, and current), car rack numbers and ARR rack clearance data is specific to each car number, factory-applied metal grab irons, coupler cut levers, and trainline hoses; ASF low deck swing motion trucks and body mounted couplers.
Road names and paint schemes include BNSF, Canadian National, Canadian Pacific, CSX, Kansas City Southern, Norfolk Southern, Soo Line (CP) and Union Pacific.
Models are expected this summer.

InterMountain hoppers arrive
InterMountain Railway Co. has HO-scale 4750-cubic-foot hopper cars in stock and three paint schemes of the company's HO-scale GE ET44AC (Tier 4) locomotives are in transit.
InterMountain received seven road names for the hoppers in December and 12 more were shipped in January. The models are equipped with metal operating couplers and InterMountain metal wheelsets.
Eleven of the road names are offered in four or six road numbers. Union Pacifics Bicentennial car is offered in one road number to match the prototype.
BNSF, Union Pacific and Canadian National ET44ACs are expected to arrive in February with the remainder of road names to follow.
Also, several paint schemes of the GP16 are in production.