ATHEARN NORFOLK SOUTHERN SD60E "HONOR OUR VETERANS"
Just in time for the Fourth of July, Athearn announced it is producing another Norfolk Southern SD60E diesel locomotive, this one No. 6920, "Honor Our Veterans."
The run follows one in 2017 that included NS's traditional black and white diesels and one honoring first responders.
The new "Honor Our Veterans" will feature LED lighting and sound versions featuring an onboard DCC decoder with Tsunami2 sound. A DC version will also be built.
The Veterans Locomotive was specially painted to honor the contributions of those who have served in the military and reserves, according to NS's website. Since 2012, the company has hired some 1,300 veterans, and today 14 percent of the total NS workforce of more than 4,200 employees are veterans and members of the National Guard and reserves.
The locomotive was unveiled Nov. 8 at NS's shops in Altoona, PA, where the unit was built and painted.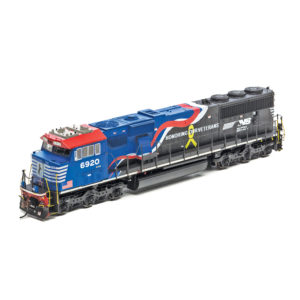 Painting the Veterans Locomotive involved 26 NS employees, two of whom are veterans, using 66 gallons of primer and paint over a 112-hour period. To the extent possible, No. 6920 has been kept under wraps while the work has progressed.
Since its debut, No. 6920 has served in a general freight capacity across NS's network.
The model is fully assembled and ready to run, and is due in May.
DCC and sound models will retail for $339.98. Non-sound versions are priced at $249.98.
RAPIDO ANNOUNCES N-SCALE DASH 8-40CM
Rapido Trains Inc. announced in late June its fourth powered model in North American N Scale, the iconic General Electric Dash 8-40CM, popularly known by the nickname "Draper Taper" after the cut-out behind the cab.
The announcement is in response to requests for an N-scale model following the release of Rapido's Dash 9-40CM in HO scale in 2015, the company said. "We're happy to oblige, and as an added bonus we're making it our most highly detailed N powered model yet," Rapido said in a release.
Powered by a V16 FDL 4000-horsepower prime mover, the main features of this distinctive design are the four-window North American cab, the cowl-style body and the famous "Draper Taper" cutout behind the cabs (designed by CN's Assistant Chief of Motive Power, William L. Draper, to provide better reverse visibility on full-width cowl units).
The Dash 8-40CM (also known as the C40-8M) was introduced in 1990 with an order of 30 units for Canadian National (2400-2429), classified EF-640a. This was followed by a further 25 units (2430-2454) in 1992, classified EF-640b. BC Rail received 22 units (4601-4622) in 1990, followed by four more (4623-26) in 1993. These were transferred to CN following the de-facto purchase of BCR in 2004. The final units were for QNSL, which acquired three locomotives (401-403) in March 1994.
All 81 CN and BC Rail Dash 8s are still in service. Most are still in their original paint schemes but several have been repainted into the newer CN.CA livery.
The Rapido Dash 8-40CM features numerous separate parts and road specific details to accurately represent all variations of this classic design. The model comes with working headlights and accurate single or double rear lights, as well as factory installed operational ditch lights (and rock lights on the British Columbia units).
The model is available in 8 different paint schemes (plus two undecorated versions) including: Canadian National (Stripes); Canadian National (North America); Canadian National (No Stripes); Canadian National (Website); British Columbia Railway (As Delivered); British Columbia Railway (Post-2010); British Columbia Railway (CN Website); and Quebec, North Shore & Labrador.
In Canada, the MSRP is $169.95 (DC/Silent) and $289.95 (DC/DCC/Sound). For US/International customers, the MSRP is $149.95 (DC/Silent) and $259.95 (DC/DCC/Sound).
Order deadline is Oct. 15 with delivery expected in mid-2019.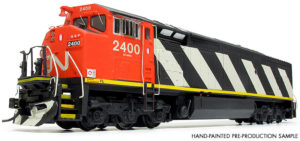 HO model shown.
PIKO ANNOUNCES CHRISTMAS OFFERINGS
PIKO-America already has the Christmas spirit, announcing a yuletide freight starter set, Eggnog Tank Car and Christmas Boxcar to its G-scale stable.
The Christmas Freight Starter Set (with analog sound) is the company's biggest-ever new starter set, which includes a mini-mogul with two ore cars and a work caboose. Detailed graphics show holiday scenes, all painstakingly applied in a high-quality format. The locomotive has directional LED lights, smoke, and analog sound. Each PIKO starter set also comes with a circle of brass track, safety approved power supply, and more. MSRP is $649.99.
Also, the Christmas Eggnog Tank Car is an addition to The North Pole Express and includes numerous details. MSRP is $109.99.
The PIKO Christmas Boxcar for 2018 is the eighth in the popular Night Before Christmas series, this year featuring a scene based on the phrase "Then in a twinkling, I heard on the roof…". Cars in the series are produced only once. The 2018 Boxcar has an MSRP of $94.99.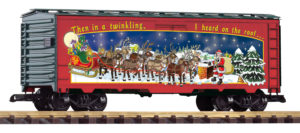 HO 70-TON 2-BAY HOPPER CARS
Bowser announced in June production of HO-scale 70-ton two-bay hopper cars to be delivered in early 2019.
The cars are ready to run with added brake wheel, under frame, air tank, brake cylinder, triple valve, free rolling trucks with metal wheels and knuckle couplers.
Roads include Burlington CB&Q; Cedar Heights Clay; Central Soya; Delaware & Hudson; Detroit Toledo & Ironton; Erie Lackawanna; Grand Trunk Western; Great Northern; Halliburton; International Minerals; Mathieson; Shippers Car Line; Southern; Union Carbide Linde; US Phosphoric Products; and XTRA Western Pacesetter.
MSRP is $25.95 ea.
KATO UNION PACIFIC SD70ACe TO BE SHIPPED IN AUGUST
Kato U.S.A. recently announced upcoming production of an N-scale Union Pacific SD70ACe nose headlight version of No. 1943 "The Spirit" shipping as early as August.
Kato has produced SD70ACes in N scale previously. Models feature unique body styles to match the railroads that use them, prototype-accurate bolster-less non-radial HTSC truck and five-chime air horn; a five-pole motor with dual brass flywheels, directional headlight and illuminated, preprinted number boards; and illuminated ditch lights, Kato magnetic knuckle coupler and DCC-friendly mechanism ready for drop-in decoder installation.
DC models ($138) will be delivered in August. In September, models with pre-installed Train Control Systems DCC ($188) will arrive, as will special order models featuring ESU Loksound and DCC ($330).
INTERMOUNTAIN ANNOUNCES C44-9W LOCOMOTIVE RUN
InterMountain Railway Co. announced in June planned production of the General Electric C44-9W locomotive in N scale. Eight roads are planned.
The Dash 9 will be offered in multiple phases representing road specific and order specific details whenever possible. Among the variations are: Three- and four-window cabs, a Canadian "Teardrop" window cab, high and low headlights, and early and late radiator intake grilles.
Models will be available in DC, DCC and DCC with sound with ESU decoders.
Roads include Santa Fe, BNSF (four versions), Canadian National, Chicago & North Western, Norfolk Southern, Union Pacific, Southern Pacific and BC Rail.