August News
ScaleTrains plans first run of HO BSC F68CH-DH Flat Cars
ScaleTrains announced in August its first run of an HO-scale BSC F68CH-DH Flat Car in its Rivet Counter line.
Four Trailer Train versions will be produced to cover prototypes manufactured from 1970 to 1991. They include Trailer Train/As Delivered/TTMX (Era: 1970+), Trailer Train/Speed Logo/TTMX (Era:1991+), Trailer Train/As Delivered/TTJX (Era: 1971+/1973+), and Trailer Train/Speed Logo/TTJX (Era:1991+).
The Bethlehem Steel Co. (BSC) F68-series of 100-ton, 68-foot long (over end sills) flats represented a new generation of high-capacity flatcars. The F68CH general purpose flatcar was delivered in 1970 followed by the F68DH heavy duty flatcar in 1971.
Both have visually distinctive decks – the CH has recessed tie-downs that run across the car while the DH has two tie-down channels that run the length of the center of the car.
Model features include multiple road numbers; modeler-applied laser-cut wood deck; detailed brake linkage, triple valve, cylinder and actuator; factory-applied train line pipe and die-cast metal semi-scale long-shank Type E couplers.
Models are fully assembled and run on minimum 18-inch radius curves (22-inch recommended). Flat cars are expected for delivery in Spring 2021.
MSRP is $43.99 each.
HO Scale Canadian Pacific Chopped-Nose RS-18u
Rapido Trains announced upcoming production on an HO-scale Chopped-Nose RS-18u in Canadian Pacific and six conditional road names.
CP originally purchased its 72–strong fleet of RS–18s back in 1957 and 1958 over two batches, numbered 8729-8748 and 8749-8800. After over 20 years of reliable service, CP chose the RS-18 to extend the lives of their venerable 251B–powered locomotives, as a means to provide a reliable, efficient roadswitcher for branchline and regional services through the 1980s and 1990s.

Starting in 1980, 22 CPR RS–18s were extensively rebuilt in Angus Shops, Montreal, to extend their useful lifespan another 10–15 years. Over the following eight years CPR eventually rebuilt all 69 of its remaining RS–18s, numbering them 1800–1868. In the rebuilding, the units were substantially transformed in both appearance and performance.
Rapido Trains' RS–18u locomotive is based on a 3D scan of a prototype RS-18 and measurements from an active RS–18u.
The company redesigned the chassis and shell for easier access and disassembly and is adding a new drive system for DC and DCC w/sound operation.
Road names include CP with and without Multimark markings, CP New Brunswick East Coast (Patch), Ontario Southland, Ottawa Central, Minnesota Commercial, Bath and Hammondsport, Western New York and Pennsylvania and Trillium Railway.
Roads except for CP are conditional, based upon sales. Orders are currently being accepted. No delivery date has been set.
N-scale Trough Hatch cylindrical covered hoppers
InterMountain Railway Co. recently released N-scale Trough Hatch versions in four Canadian road names, adding to its long line of cylindrical covered hoppers.
Models are available in Red Canada, Alberta Heritage, Canadian Wheat and Saskatchewan schemes. Each road name comes in two versions.
Cars come in six road numbers per version and feature metal wheels.
MSRP is $26.95 ea.
July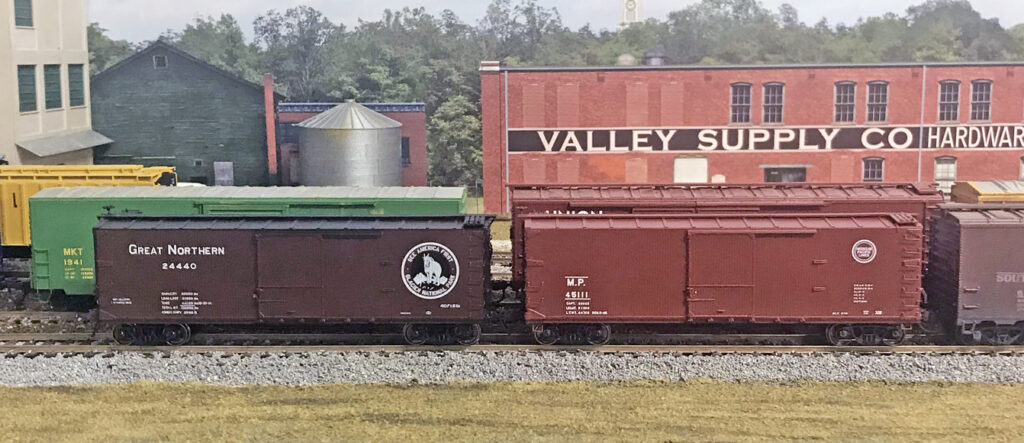 Rapido Trains recently released a newly tooled USRA 40-foot double-sheathed boxcar in more than a dozen road names. – Cowcatcher Magazine
Rapido releases USRA 40-foot boxcars with appropriate brakes
Rapido Trains recently released its newly tooled HO-scale USRA 40-foot double-sheathed boxcar in multi-packs and single cars in more than a dozen road names.
Models feature roof and handbrake details, KC or AB brakes as appropriate to prototype, full underbody with separate brake rods and piping, factory-installed Macdonald-Cartier couplers, USRA Andrews trucks with in-line brake shoes and blackened metal wheels.
Roads include Boston & Maine; Spokane, Portland & Seattle; Toronto, Hamilton & Buffalo; Santa Fe; Chicago; Burlington & Quincy; Rock Island; Lackawanna; Great Northern; Minneaolois & St. Louis;  Missouri Pacific; New York Central; Pere Marquette; Frisco and Wabash. TH&B cars come in brown and yellow paint schemes
An undecorated version also is available.
During World War I, the United States Railway Administration developed common designs for new freight cars as railroads struggled to keep up with wartime traffic. Among them was the 40-foot double-sheathed boxcar with a fishbelly steel under frame.
Starting in 1918, nearly 25,000 copies of the boxcar were built and delivered to 24 railroads throughout the country. The cars were well received, and many continued in regular service for various railroads into the 1950s.
Boxcars delivered with a KC braking system but were updated to the newer AB-brake line. Boston & Maine, SP&S and TH&B models feature AB brakes and the rest are equipped with KC braking equipment. Because brake equipment was not updated all at once, Rapido includes the other brake style that can be added by the modeler where appropriate.
Rapido's new model features an all-new body with correct fishbelly underframe and free-standing details.
The cars are appropriate for transition-era or earlier period layouts. Cars are available in four-packs ($199.80 U.S.; $239.89 Canadian) and singles ($49.95 U.S.; $59.95 Canadian). TH&B cars in yellow are available in two packs for $99.90 U.S. and $119.88 Canadian.
Combined Super Chief/El Capitan is next Walthers Name Train
MILWAUKEE – Walthers announced upcoming production of the Santa Fe Combined Super Chief /El Capitan as its next WalthersProto HO Scale Name Train.
The unique release features an authentic mix of 11 Hi-Level and conventional cars assigned to the combined train during the winter months from 1958 into the early Amtrak years. The Hi-Level reproductions will be a first for Walthers.
This series also introduces two newly tooled Santa Fe models, including 11 Double-Bedroom Sleepers and a Steam Generator Car. All cars come fully assembled with prototypical tinted windows as appropriate, factory-installed grab irons, factory-printed names and numbers or decals, modeler-installed extended drawbars for 22″ radius curves.
Walthers will also offer new versions of popular Santa Fe models past and present that include the Hi-Level 72-Seat Coach, Big Dome Bar Lounge, and plated, unlettered versions of other equipment.
Based on units No. 306LAB through No. 314LAB as they appeared in the late 1960s, WalthersProto EMD F7s in classic Warbonnet colors will be available separately with LokSound 5 Sound and DCC for DCC and DC operation, and in Standard DC versions.
For more information about the models and the prototype, visit www.walthers.com/super-chief-el-capitan.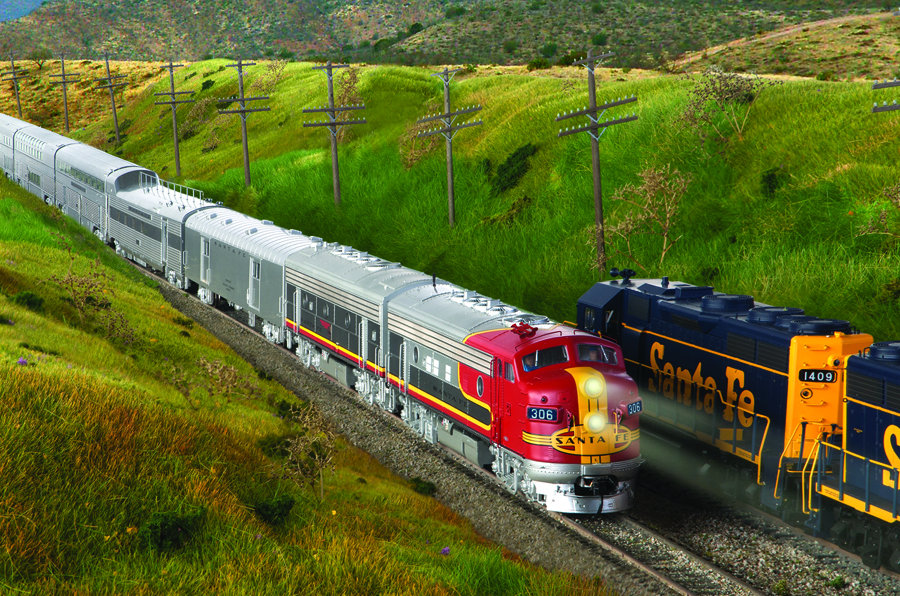 Walthers recently announced upcoming production of its newest HO Name Train, the Combined Super Chief//El Capitan. Pictured is a representation of the train, which ran in the late 1960s. – Walthers
June News
Azatrax adds TS5 signal circuit for double-track main line control
LONGMONT, CO – Azatrax has added a new model to its TSx series of trackside signal control circuits that controls up to five single- or dual-head signals for a double-track main line control point. 
Signals respond prototypically as trains pass, showing track occupancy as well as speed reductions when turnouts are lined for crossovers or passing sidings with the company's new TS5 model.
The Azatrax TS5 makes it possible to function complex signals without programming and without a computer.
One TS5 can be installed stand-alone at a single location, or it can be linked to other Azatrax TSx control circuits (TS2, TS3 or additional TS5's) to build an integrated signaling system.  All TSx control circuits link with simple two-wire connections to re-configure a layout without doing any programming.  The system is ideal for modular layouts, the company said.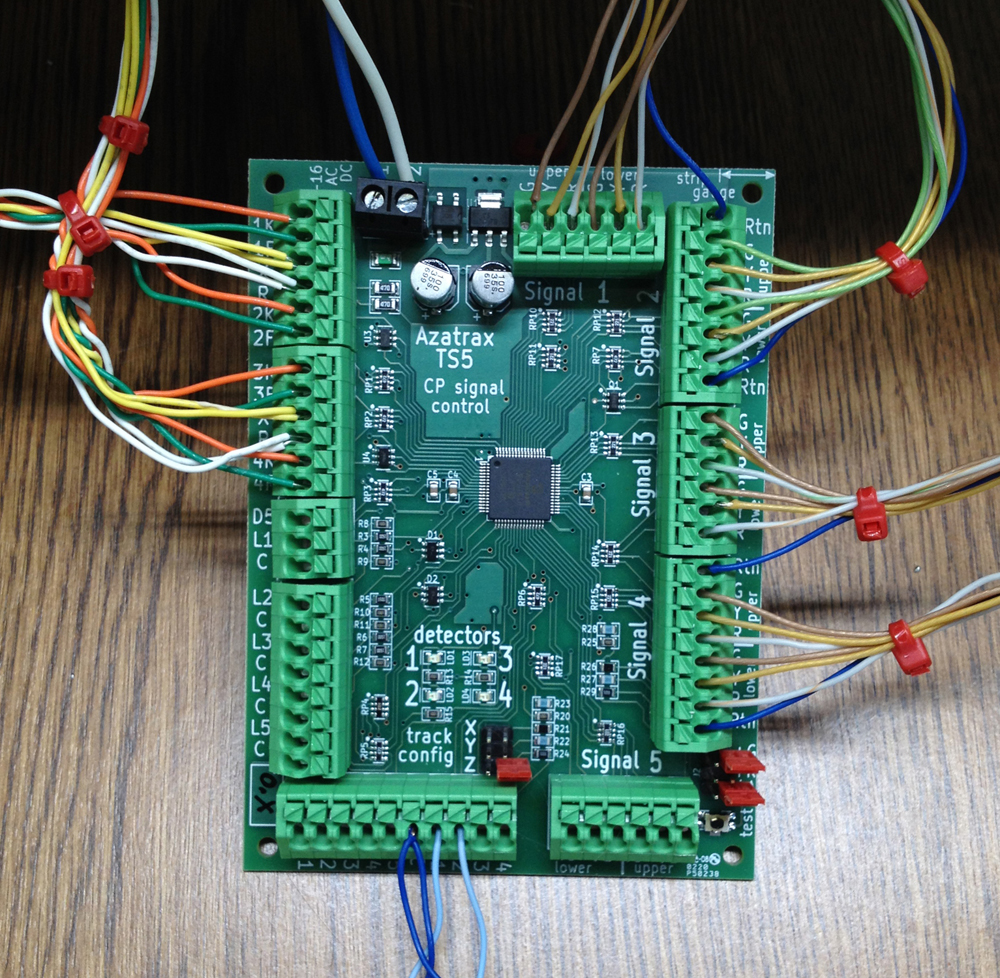 Azatrax's TS5 signal control circuit is designed for double-track main line control point. – Azatrax
Trains are detected with infrared (IR) sensors.  No cutting rail gaps, no resistor wheel sets, no worries about changing levels of room lighting. 
The TS5 is compatible with analog and digital track power systems.  Because detection does not rely on track current, IR sensing will continue to work when converting to "dead rail" (battery on board).
Like the other signal circuits in the TSx series, the TS5 automatically adapts to signals wired in common-anode (positive) and common-cathode (negative) polarity.
The TS5 retail price starts at $69, including four IR sensor sets.
For further information see the Azatrax control points web page, http://azatrax.com/cp
PIKO announces new G-scale items
PIKO America announced in June several new G-scale products, including the Halloween Hauler R/C starter set.
The set includes a GE 25-Ton diesel switcher and two ore cars.  The paint scheme includes colorful Halloween scenes and special "glow-in-the-dark" highlights.
The set comes with a circle of brass track and a safety approved power supply, plus an R/C controller with an easy-to-use pocket remote.
The set retails for $449.99.
Other new offerings include several passenger coaches for the DB IV and DR IV line of products. New items are available at www.piko-america.com .

PIKO's Halloween Hauler R/C starter set. – PIKO America
InterMountain shipping new HO Bi-Level Auto Racks
InterMountain Railway Co. began shipping HO-scale Bi-Level Auto Racks in 11 road names in June. Five are available for the first time from the company.
The models feature etched metal see-through side panels All road names are available in either four or six numbers. Features include metal wire grab irons and metal wheel sets.
Road names being repeated include Burlington Northern, Southern Pacific, Rio Grande, Soo Line, Chicago & North Western, and Union Pacific/Missouri Pacific.
New road names include BNSF (orange), Louisville & Nashville, BNSF (circle logo), Ferromax Gray and Norfolk Southern.
Suggested retail price is $96.95 ea.
InterMountain also announced it is taking reservations for a run of its Value Line Gunderson 50-foot High Cube Boxcars with modern ends.
The models will come in eight road names, each with six numbers.

May News
New runs of Rapido Steam Heater Meat Cars
Rapido Trains, Inc., announced in April a pair of production runs that include the return of its popular "Oh, So Noisy!" Steam Heater car. The company also plans a new production run of its HO-scale General American 37-foot meat refrigerator car.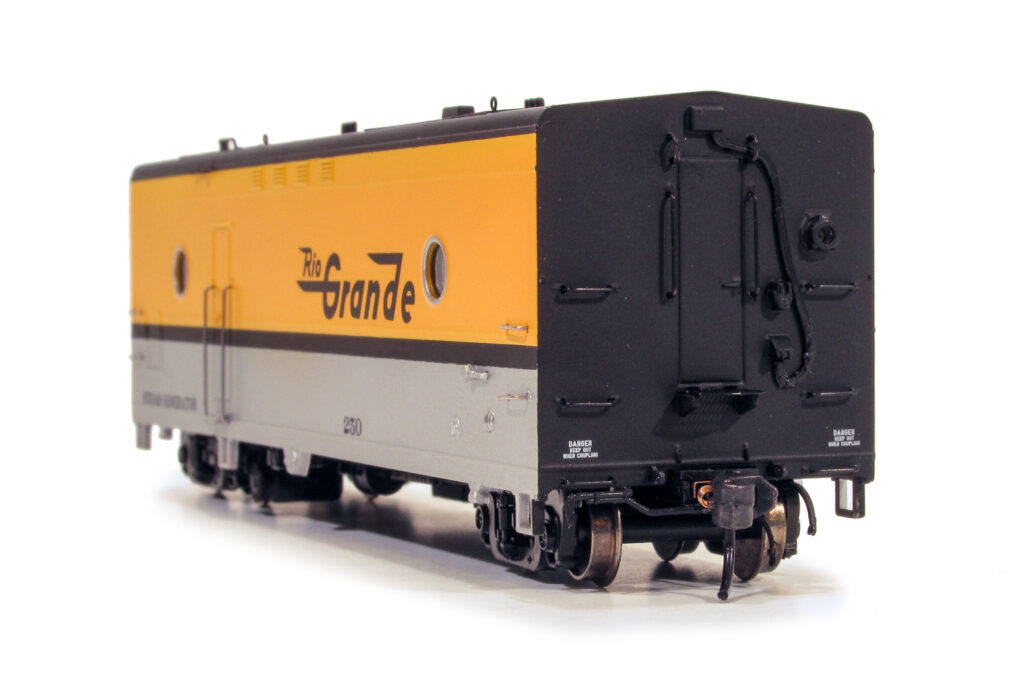 Rapido is making a new run of its popular Steam Heater Car. Models are due to ship Winter 2021. – Rapido Trains
The meat refrigerator car returns with new road numbers on some of the most popular schemes from the earlier runs, as well as an all-new release. The car sold out quickly on the first runs.
The meat reefer is based on a design built from 1937-1941 by General American Transportation (GARX). Although built with a wooden sheathed body and roof that made them look like a car from an earlier era, GARX cars were modern for their time. They were constructed on a steel underframe of similar construction to boxcar underframes then in common use and featured AB brakes, Equipco brake wheels and housings and Barber S-1 trucks.
More than 940 cars were built to this configuration, one of the most numerous designs, and lasted in service into the early 1970's. The reefers would normally be assigned to meat service only, running between meat packing houses and regional dealers throughout North America and Canada.
The cars are being sold as singles, in four-packs and a special Swift War Bonds two-pack.
Retail price for U.S. and international customers is $49.95 (single) $199.80 (four-pack) and $99.90 (Swift War Bonds two-pack). Canadian prices are $62.45 (single) $249.80 (four-pack) and $124.90 (Swift War Bonds two-Pack).
Delivery is scheduled for Winter 2021.
Rapido's repeat run on HO Steam Heater Cars are equipped with the company's sound board, which spits out the hiss of steam, specially designed for the model to keep the cost of the powered unit down.  
Steam Heater Cars, known in Canada as Steam Generator Units or SGUs, were introduced in the diesel era to provide steam heat to passenger trains. When passenger trains were hauled by steam locomotives, there was always a reliable source of steam.
Unless a diesel locomotive was equipped with a boiler and water tank, heat could not be provided. This was before the days of Head End Power for passenger cars. Heater Cars were usually rebuilt from boxcars, B-units and old steam locomotive tenders. They varied in shape and size from railroad to railroad, with the exception of roads in Canada.
Because it is frequently cold in Canada, purpose-built SGUs were built by CC&F (Canadian Car & Foundry), GMD (General Motors Diesel Division) and NSC (National Steel Car). Rapido's model is based on the GMD prototype and has extensive underbody detail.
Retail cost for U.S. and international customers is $79.95. Cost is $89.95 in Canada.
Cars are due to be shipped next winter.
InterMountain HO, N AAR boxcars available
InterMountain Railway Co. has received shipments of its 10′ 6″ Modified 1937 AAR 40-foot Boxcars in HO and N scales.
Sixteen paint schemes of the HO 10'6" Modified 1937 AAR 40' boxcars are ready to ship.
The 40'6" length and 10'6" inside height remained the standard through the 1940s and 1950s handling all types of freight. They were used in interchange service into the 1980s.
The cars were usually equipped with Bettendorf trucks and 33-inch wheels. With an inside capacity of 3,713 cubic feet, they were rated as 50-ton cars.
Eight of the 16 decorative schemes are being offered for the first time by InterMountain. All items are offered in six road numbers.
Models are equipped with metal operating couplers and InterMountain metal wheel sets. Confirm your orders early as quantities are limited.
The seven decorative schemes in the N-scale version bear Santa Fe markings in a variety of slogans and maps for Santa Fe modelers and for those whose roads used these cars in interchange service. 
All models feature six road numbers and are equipped with operating knuckle couplers and InterMountain metal wheel sets.
New roof hatches on ScaleTrains hoppers
ScaleTrains' latest Rivet Counter HO-Scale Gunderson 5188 Covered Hopper run includes all-new tooling for two dual-purpose roof hatches: one for BNSF and the other for Union Pacific (UP).  
The unique UP version includes anti-graffiti reporting marks. "UP" and the road number are stenciled near the top of the car side so they are out of reach of vandals.
In addition to more road numbers, BNSF models come with metal roof hatches. Also, Kansas City Southern is modeled in three paint schemes, and UP has gravity-pneumatic outlet gates.
Other schemes include:
BNSF Heritage – Fort Worth & Denver, Great Northern, and Santa Fe (new road number)
BNSF Heritage – Colorado & Southern, CB&Q, and Frisco (reruns)
SOXX – patched ex-BNSF
CMO – oxide red with large GATX logo
NOKL
ScaleTrains has added Canadian Paciifc with Beaver herald and Ferromex to its lineup.
January News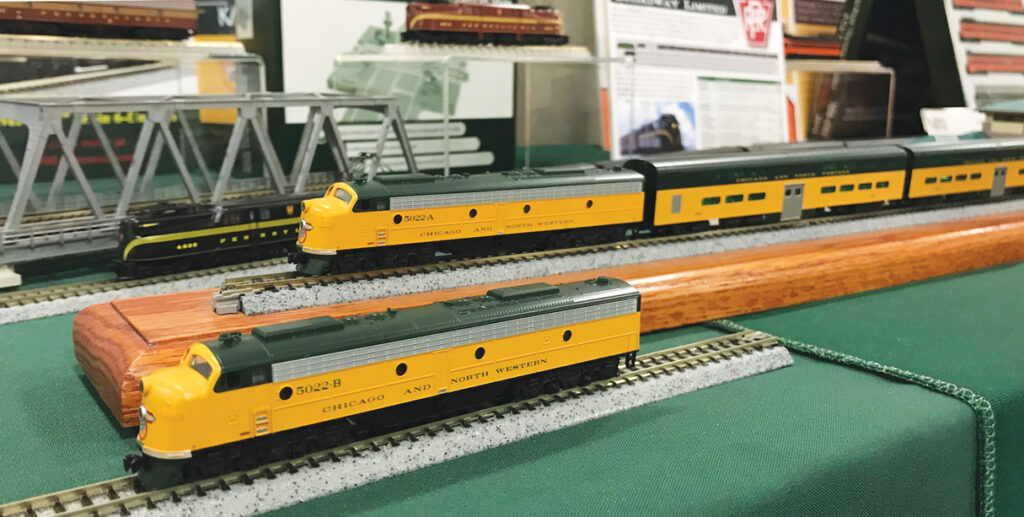 Kato USA had samples of its "400 Series" Chicago & North Western N-scale passenger set – Cowcatcher Magazine
Trainfest 2019 highlights
For more, see the January/February 2020 issue of Cowcatcher Magazine
WEST ALLIS, WI – Like they do every year, locomotives took center stage at Trainfest 2019.
The show floor was filled with its usual buzz. Attendance topped 16,000, down from 2018 and 2017, according to show officials, but aisles were full both days. Families and kids filled one side of the hall, and attendees could see the history of the "Burlington Route," the Chicago, Burlington and Quincy iconic line known for more powerful and efficient diesel power in its day.
Among the highlights:
Rapido Trains showed a bevy of painted and unpainted preproduction samples in HO and N scales, among them the first injection example of the SW1200 locomotive in various hoods.
The HO SW1200 is designed from original blueprints and field measurements and has a heavy die-cast frame, chassis and gearboxes built for pulling power. The locomotive has working number boards and classification lights, as well as working headlights, inspection lights, illuminated number boards and, if you choose, multiple exhaust stacks and battery door styles. Models are being produced in DC and DCC and will be available in the fall.
Completed samples of HO B36-7 locomotives were on display for the first time. Rapido's first "modern-ish" U.S. freight locomotive is available in 10 road names (including four Conrail versions) with details specific to road.
 Rapido also had product samples of its RS11 and RS18 locomotives and preproduction samples of the HO 3500-cubic-foot Flexi-Flo hopper, Pullman-Standard diner, DRG&W Ski Train and Horizon cars.
 N-scale samples included the Canadian Budd cars, LRCs and ViaRail F40s in original and rebuilt versions.
 Across from Rapido's booth, a large, curious crowd gathered at ScaleTrains' display Saturday for the company's latest release, Operator and Rivet Counter Series EMD SD45 locomotives.
The budget-minded model was produced with a common cab and long hood to help arrive at a $100 price point. Operator locomotives utilize the same motor and drivetrain as its top-of-the-line Rivet Counter Series counterpart.
Roads include Conrail, Pennsylvania Railroad, Santa Fe (blue/yellow Warbonnet) and Southern Pacific.
DC Operator models are $99.99, and DCC with ESU Loksound are $194.99. Rivet Counter models are $184.99 for DC and $274.99 for DC/sound.
ScaleTrains also announced a run of the Operator and Rivet Counter GE Tier 4 GEVo for the first time in N scale. Roads and paint schemes will include BNSF "Heritage III," Canadian National, CSX "Boxcar Logo," Kansas City Southern "Southern Belle," Norfolk Southern "Horsehead" and Union Pacific "Building America."
Kato USA had a production sample of its new N-scale Chicago & North Western Bi-Level "400" modeled after the railroad's historic 400 Series passenger trains. The six-unit set features Bi-Level Parlor and Coach-Buffet cars along with Bi-Level coaches that distinguished the 400 Series trains from regular C&NW passenger service.
The trains were named for their ability to run 400 miles in 400 minutes. The most well-known was the "Twin Cities 400" between Chicago and Minneapolis/St. Paul. Beginning with the "Flambeau 400" and "Peninsula 400" trains in 1958, C&NW began utilizing Pullman's then-new gallery Bi-Level cars on these mid-distance trains.
Kato is releasing a special N-scale bookcase-style set of the cars that includes an EMD E8A locomotive.
Also, Kato had a sample of the upcoming Pennsylvania Railroad Broadway Limited passenger train, which is due early this year. The set, with new names and numbers, will release alongside new runs of EMD E8A and GG1 locomotives, which will be available in DCC.
Athearn brought up the rear with painted samples of its new HO-scale caboose run, the first in end-of-train cars the company has done since the Southern Pacific C50-4 and C50-5 cabooses around 2011. The models, based on the International Car Co. prototype, feature all-new tooling that updates multiple-road cabooses the company produced in the "Blue Box" days.
Cabooses are being produced in Seaboard Air Line, Burlington Route NE-13 Class and Union Pacific CA-8 Class "Safety Slogan" versions. UP cabooses will be available in two versions with four safety slogans. To promote the run, Athearn representatives ditched their normal blue buttoned-downs for bright yellow T-shirts bearing UP's slogans.
Cabooses will feature LED lighting through an onboard DCC decoder that operates in DCC and DC. Various classes will feature simple or dual roof markers or end-mount marker lights, depending on protoype and/or era. The model will be available in SoundTraxx Tsunami Sound.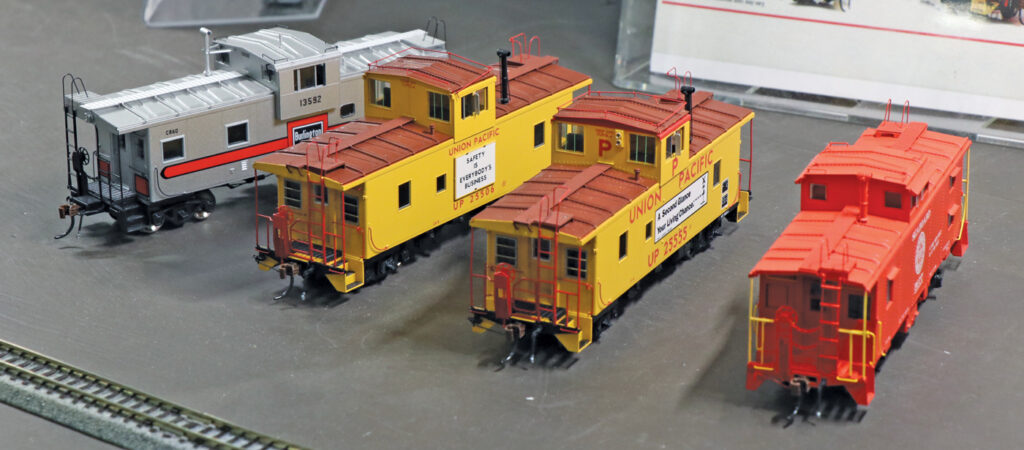 Athearn's International Car Co. HO-scale cabooses are being produced in Seaboard Air Line, Burlington Route NE-13 Class and Union Pacific CA-8 Class "Safety Slogan" versions. – Cowcatcher Magazine
InterMountain had preproduction samples of its new HO-scale 4785 PS2-CD Hopper, which is being offered in 22 paint schemes across 15 road names (most with multiple unique road numbers). The run incorporates all variations of the car, which has been in production since the late 1960s.
Roads include New York Central, Penn Central, Conrail, Monfort, Staley, ADM, Transport Leasing, Norfolk Southern, CSX, Milwaukee Road, Central Soya, MKT, Lauhoff Grain, Cotton Belt and Golden West.
InterMountain also had N and HO painted samples of its 50-foot High Cube Double Door Boxcar, which was due to ship at the end of 2019. Roads being produced include Minnesota, Dakota & Western, Burlington Northern, Milwaukee Road, Santa Fe, Union Pacific, CP Rail, BNSF, Golden West Service, Denver & Rio Grande Western, Cotton Belt and Southern Pacific.
Peaked and flat roof versions featuring dreadnaught ends are being produced.
Preproduction samples of a new run of HO 1937 AAR 10-foot boxcars were on hand. For the first time, InterMountain is producing the model in Deco and NSC-2 ends.
InterMountain also is producing HO 60-foot PS-1 boxcars, four HO PFE R-version refrigerators cars and N-scale Cylindrical Hoppers.
Atlas had three new offerings in its Master Line series of cars and locomotives, including unpainted samples of its new run of HO GE U23C and C28CG locomotives, which are due in January. The models feature etched metal grills and cab and low-nose headlight housing variations per the prototype in DC and sound versions. Roads include Louisville & Nashville, Santa Fe (two schemes), Conrail, Penn Central, Southern Pacific and Pennsylvania.
Also on hand were painted samples of HO 3230 Covered Hoppers, which are being produced in modern-day CIT Group, General Electric Rail Services, Trinity Industries Leasing, TXI, Roanoke Cement and Chicago Freight Car schemes.
Atlas had its HO Multi-Max Auto Rack in Kansas City Southern and BNSF schemes. A preproduction sample of the company's N-scale General American 50-foot insulated boxcars was available.
Micro-Trains got a jump on marketing its new-tooled N-scale PS-2 Two-Bay covered hopper with round hatches, which isn't due to be released until early 2021.
"This seems like a long ways out; however, we hope to build buzz and interest in this new freight car," said company President Eric Smith.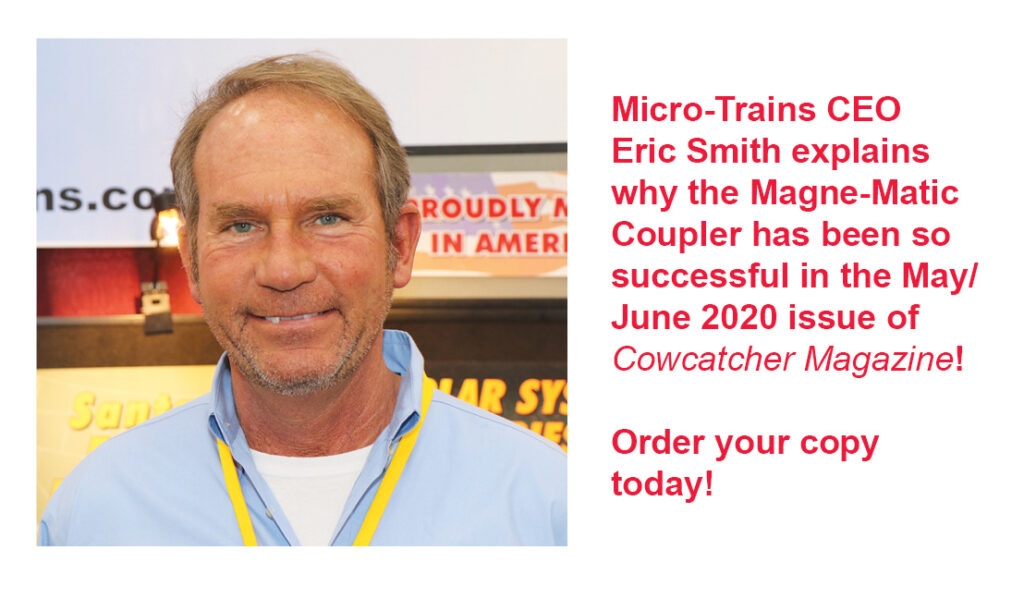 In the mid-1950s, Pullman-Standard developed the all-welded steel, 2,003-cubic-foot two-bay covered hopper with a dividing wall so multiple products could be hauled at the same time. The round hatches enabled quick, efficient loading.
Micro-Trains' release will feature separate roof hatches, a fine-scale etched metal walkway, 33" factory-installed metal wheels, proper ride height, body-mounted Magne-Matic couplers with blackened trip pins, and prototypically accurate paint schemes and markings. 
 Also on hand was a preproduction sample of the company's forthcoming No. 160 00 000 series N-scale 78' Single Window Coach. The model is next in Micro-Trains' Heavyweight Passenger Car Series. The first release, which ships in January, is of the New York Central prototype.
Lionel had many of its HO-scale offerings, following up on the company's re-entry into the 1:87 market in 2019 with releases of new sets and magnetic track designed to make getting started in the hobby easier. In 2020 the company will continue to grow the line with new HO ready-to-run sets and rolling stock along with building kits and accessories for layouts, a company spokesman said.
Lionel didn't have any major announcements at the show for its O-scale line but promoted several of its new kits, including the Morris House Kit.
Also touted were three new WWII Series of Boxcars: Kiss the War Goodbye, WWII Liberty Ships Boxcar and the WWII Sherman Tank Boxcar. Cars in the series are built at Lionel's Concord, NC, headquarters and made of U.S. and imported parts. Models feature die-cast metal sprung trucks and operating couplers.