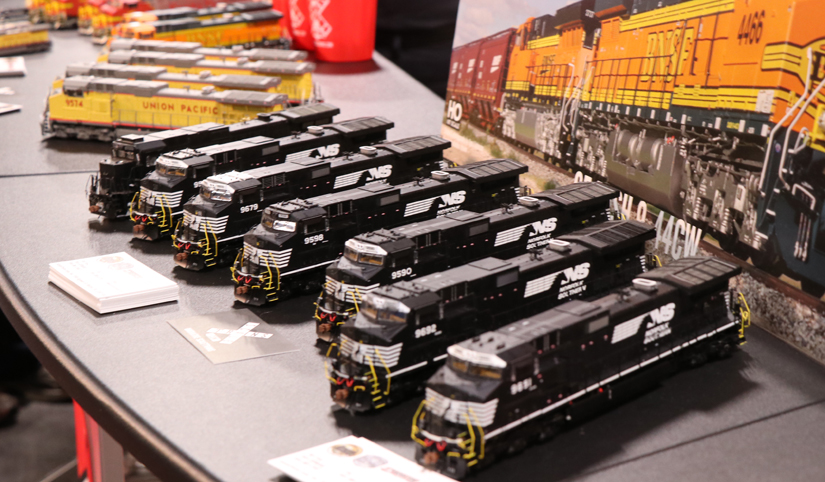 AMHERST RAILWAY SOCIETY RAILROAD HOBBY SHOW HIGHLIGHTS
For more, see the March/April 2019 issue of Cowcatcher Magazine
SPRINGFIELD, MA — ScaleTrains.com's announcement of the inaugural run of HO- and N-scale GE C44-9W Rivet Counter locomotives drew a crowd at the 51st Amherst Railway Society Railroad Hobby Show.
With production samples on display, the company gave away four locomotives at the hands of a young modeler picked from the crowd to draw names. The orders started going fast for BNSF No. 4313 and Norfolk Southern No. 9692, and within a few hours all that are to arrive soon were spoken for.
ScaleTrains.com is casting a special light on the Dash 9s. HO models feature LED walkway lights, ditch lights, number boards and headlights. In addition, details are specific to the railroads, which are being produced in Santa Fe Warbonnet (Gullwing cab with thee side windows), Norfolk Southern Horsehead, BNSF Heritage 2 (Gullwing cab with four side windows) and Union Pacific.
N-scale models have operating LED ditch lights, number boards and headlights.
All are being produced in DCC/sound, DCC/no sound and DC, and are due in the summer.
Also, Rapido Trains had the first look at its upcoming release of the HO Ne Haven EP-5 "Jet" Electric locomotives. The locomotives are among the most famous electric locomotives in North America. Rapido is taking orders through June 24 and delivery is expected in late 2019.
Rapido also began promoting upcoming production of its HO-scale Flexi Flo ACF 3,5000-cubic-foot hoppers. Models will be produced in three versions – 941-H 100-ton trucks with three-panel body, 963-H 125-ton trucks with three-axle body, and 996-H 125-ton trucks with six-panel body – and in multiple roads. Other car details were not available but representatives promised a formal announcement soon. Models are due in 2020.
Meanwhile, Athearn had preproduction samples of its recently announced N-scale 45-foot Corrugated and 40-foot Low-Cube containers, which the company previously produced in HO scale. The containers come in 53-foot Stoughton, 53-foot CIMC, 45-foot International, 40-foot corrugated with flat panel, 40-foot corrugated with low cub, 20-foot corrugated and 20-foot corrugated with flat panel.
Walthers debuted the first model of its N-scale Merchants Row III.
River Point Station announced upcoming production of N-scale Ford F-150 trucks and HO-scale Silverado pickups.
NATIONAL TRAIN SHOW HIGHLIGHTS
For more, see the September/October 2018 issue of Cowcatcher Magazine
KANSAS CITY, MO — Model railroad manufacturers introduced new technology, locomotives, rolling stock and track at August's NMRA National Train Show at the Bartle Convention Center.
As usual, locomotives and rolling stock dominated new offerings.
ScaleTrains.com's booth buzzed after the announcement of the Southern Pacific and Denver & Rio Grande SD40-T2 Tunnel Motor locomotives that feature see-through radiator grilles. Preproduction samples of the Rivet Counter series models in both roads were on display.
A specially designed low-profile drivetrain hides the rear gear tower and driveshaft, offering a see-through look at the radiator intake compartment, just like on the prototypes.
A company spokesman said the model has taken 14 months to produce and will be available early in the first quarter.
Atlas had samples of several newly tooled N-scale products, including the 4180 Airslide Hopper and ALP-45DP locomotive. The diesel, which was a strong seller in HO and is due in the fourth quarter, will be produced in three variations.
Company spokesman Steve Woodward said Atlas is ramping up production for a number of models from the Walthers N-scale locomotive and freight car lines, which the company purchased this year. Projects include the General Steel Bulkhead Flatcars in four roads (Frisco, Rock Island, Union Pacific and Soo Line); Russel Snow Plow in Boston & Maine, Chessie, Canadian National, Chicago & Northwestern, Conrail, Great Northern, New York Central and Rio Grande; and Difco Dump Cars in eight roads.
Atlas also had samples of the Z-scale No. 6 right and left turnouts and 19-foot X crossing.
Walthers had a flurry of announcements, including an update to its Layout Control System, which the company bills as a low-cost solution for turnout control in HO, N, S, Z and O scales.
Following up its hot-selling vertical-mounted switch machine, Walthers is releasing in September a horizontal version intended for tight spaces and multi-deck layout operation. The servo-based unit is a little more than an inch and a half tall and integrates with DCC.
Also, the Stall Motor Switch Machine Controller and Edge Connector for Tortoise® switch machines were announced. The Stall Motor Switch Machine Controller is an upgrade for existing stall motor switch machines so they work with the system's plug-and-play components. The Edge Connector comes in a two-pack and is a plug-and-play option to specifically adapt to the popular Tortoise switch machine. The appliance Connector includes a six-inch motor connection cable with plug for direct connection to the Stall Motor Controller.
Both are due in November.
Walthers also announced production of the new HO rolling stock, including the WalthersMainline Thrall Rebuilt 40-foot Well Car (January delivery), a second series of 60-foot High Cube Plate F Boxcar in nine roads (due in March) and 70-foot Heavyweight Railway Post Office-Baggage cars in nine roads, featuring a clerestory or round roof as appropriate plus an unlettered Pullman Green version with both roof styles included from WalthersProto
For motive power, Walthers had an undecorated sample of its GP9 Phase II with a chopped short hood, a newly tooled model due in the May. The locomotive will be available in Burlington Northern, Canadian Pacific, Chicago & North Western, Milwaukee Road, Norfolk Southern and Wisconsin & Southern, as well as an undecorated version with parts to model dynamic or non-dynamic brake versions.
Also, decorated samples of the GE Evolution Series ES44 diesels were unveiled. Painted versions of the Kansas City Southern, Union Pacific, Canadian Pacific and BNSF Railway were on hand, and the next run including BNSF Railway, CSX, NS, and UP, plus Norfolk Southern Heritage Units decorated for NKP, PRR and SOU was announced for a February delivery.
While its kiosk was lined with locomotives and rolling stock, Walthers also had displays of an expanding line of modern structures.
Among the new items were non-trackside structures like the Cornerstone Cross-Dock Truck Facility, Cornerstone Modern Shopping Center II, a modern printing plant and gas station. The printing plant and gas station have individual components sold separately to meet the needs and sizes of layouts.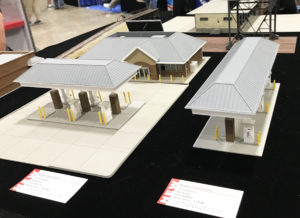 The products are designed to appeal to a fast-growing segment of modelers who prefer the modern era.
Group Product Manager Zach Thompson said Walthers decided to add more modern structures to its vast line of turn-of-the-century buildings about 2014 when the 53-foot Gunderson Well Cars and subsequent run of the 40-foot version sold out quickly.
"It's been the last five years that we've seen a lot of modelers in the modern era," Thompson said. "The modelers who are into the modern era are really into it."
COACH YARD PASSENGER TRAINS
New passenger trains and locomotives were announced by longtime HO-scale brass manufacturer Coach Yard. Trains include the Southern Pacific "Starlight," Missouri Pacific "Eagle" and "Missouri River Eagle," and Chicago, Burlington & Quincy anniversary trains "Aristocrat," "Blackhawk" and "AR-SAR-BEN."
The MP "Eagle" set comes with six cars and the new E3A locomotive. The "Starlight" set includes nine cars; CB&Q sets have eight cars each.
Coach Yard also announced production of EMD E5 As and Bs in the CB&Q scheme.
LIONEL ANNOUNCES DEAL WITH ATI MODEL PRODUCTS
Lionel (6301 Performance Drive, Concord, NC) announced a deal with ATI Model Products, doing business as Model Power, to acquire a broad range of model train tooling used to produce the Model Power/Mantua product lines.
Final details are being worked through, and tooling is expected to transfer to Lionel in September.
No previously produced product is contemplated in the transaction. The acquisition will accelerate Lionel's expansion in HO while adding complementary products and accessories to other portions of its business.
Also, Lionel announced in August that it is opening a flagship retail location at Concord Mills, a destination shopping center in Cabarrus County, NC. The store will "entertain, educate and excite customers by creating a shopping experience that is truly unique," the company said.
The store will house an interactive 8-foot by 24-foot Lionel train display, play tables and displays for young conductors plus a racing-themed section packed with the company's die-cast cars.
The company said the store is the first step in what could be a larger expansion into retail sales.
PIKO REFINES CLEAN MACHINE TRACK CLEANING LOCOMOTIVE
Piko America has refined its Clean Machine Track Cleaning Locomotive to enhance cleaning at a lower price. The company said, "we will be drastically lowering the price of the new 35416 Cleaning Shoes for the 38501 Clean Machine."
New price will be $14.99 MSRP.
A company spokesman said a recalculation of the final design revealed that the price could be lowered.
The "Clean Machine" GE 25-Ton Diesel Switcher is not only an accurate and detailed model but is an effective track cleaner, the company said. Six AAA rechargeable batteries (batteries and charger not included) provide plenty of running time. Just put it on the track, switch it on and let it circle the layout.
Spring-loaded cleaning pads do the work.
The locomotive includes a reversing switch, allowing two locos to run back-to-back for even faster cleaning action. MSRP $229.99.
Replacement track cleaning pads for the 38501 Clean Machine. Special cleaning pad material is very long-lasting and highly effective at cleaning track. MSRP $29.99