Kansas City Southern rejects Canadian Pacific's merger proposal in favor of Canadian National
The battle to form North America's first end-to-end rail network is heating up.
Kansas City Southern rejected Canadian Pacific's merger offer and accepted a more lucrative deal proposed by Canadian National.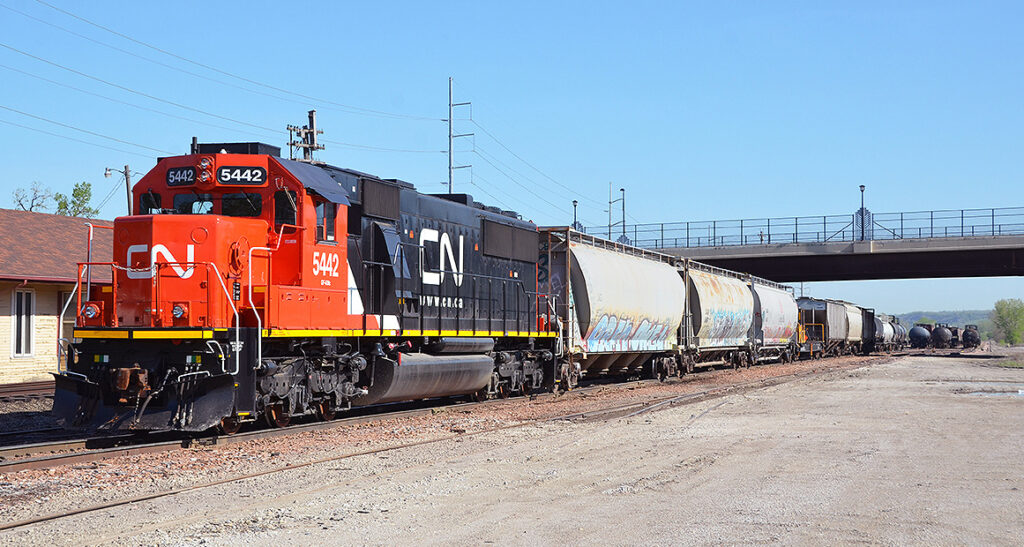 KCS's Board of Directors announced last week that CN's $33.6 billion offer, which came a few weeks after receiving an offer from CP to buy the nation's smallest Class I railroad, constitutes a superior proposal. The board voted to terminate CP's $29 billion proposal, which pitched forming a seamless Canada-U.S.-Mexico network, and accept a similar offer by CN.
Under the terms of the CN merger agreement, upon closing each share of KCS common stock will be exchanged for $200 in cash and 1.129 shares of CN common stock. Closing will be subject to customary conditions, including KCS stockholder approval and approval by the Surface Transportation Board of CN's proposed voting trust.
As part of the deal, KCS will pay CP a $700 million termination fee, which CN plans to reimburse, according to the companies. CN will assume about $3.8 billion of KCS's debt.
"We are thrilled that KCS has agreed to combine with CN to create the premier railway for the 21st century," CN President and CEO JJ Ruest said. "I am confident that together with KCS's experienced and talented team, we will meaningfully connect the continent – enhancing competition, offering more choice for customers, and driving environmental stewardship and shareholder value."
CN addresses DOJ competition concerns
Like the proposed deal with CP, the KCS-CN merger would create the first railway linking Canada, the U.S. and Mexico.
Industry analysts favored the CP-KCS merger to gain Surface Transportation Board approval because there's no overlap in the companies' rail networks that might suggest a competitive imbalance for shippers. A KCS-CN merger may have greater obstacles because each railroad has lines in Louisiana and Mississippi, which has raised flags about the potential for this imbalance.
Shortly after CN made its offer, the Department of Justice commented that the proposed acquisition "raises sufficient competition concerns on first blush." The DOJ also said that CN should be prohibited from using a voting trust, which could protect KCS from a takeover during the acquisition.
After DOJ's comment, the STB decided May 17 to apply more stringent 2001 merger rules to CN's proposal and at least temporarily deny the company's effort to obtain approval to use a voting trust, saying the application is incomplete.
The overlap of KCS and CN lines accounts for less than 1 percent of their combined 27,000 route miles.
CN says it will divest KCS's 70-mile rail line between New Orleans and Baton Rouge, which parallels a similar route owned by the Canadian operator, in an attempt to appease the STB, which hasn't approved a Class I railroad merger in about 25 years.
Also, longtime transportation executive and consultant Bill Rennicke found that CN's and KCS's north/south lines in Mississippi are generally many miles apart and do not have a single customer in common, the companies say.
Combined network proposes to reduce transit times
This week the railroads jointly filed with the STB a renewed motion for approval of the voting trust. The filing emphasizes CN's plan to address the network overlap so that the CN-KCS combination "is a vertical, end-to-end merger."
The railroads say the deal should be approved because it would enhance competition, spur economic growth and offer shippers the benefits of a fully end-to-end transportation network across the continent.
 A combined CN-KCS network would reduce transit times and provide more reliable and timely service, with shorter equipment cycle times, making rail more competitive with truck and barge routes and single-line services offered by other railroads, the companies further assert. It would offer more cost-effective access to Southern markets in the U.S. and Mexico, accelerating last year's USMCA trade agreement.
"Combining KCS with CN is compelling for our customers, employees, shareholders and the local communities in which we operate," KCS President and CEO Patrick J. Ottensmeyer said. "We urge the STB to fully consider the benefits of this combination, and to respect KCS judgment about its preferred merger partner, so that we can realize the tremendous public interest advantages of the CN-KCS partnership on behalf of our stakeholders, many of whom have expressed overwhelming support."
CP, hoping that the KCS-CN proposal will get shot down, has held firm on its offer and says it is ready to re-engage with KCS. In a letter to the Surface Transportation Board, CP said it "intends to proceed to prepare and file its application in this docket seeking board authority to control KCS and its U.S. rail carrier subsidiaries."
In a letter to KCS following CN's proposal, CP called its competitor's offer "illusory and simply an attempt to dismantle the unique, pro-competitive deal that CP and KCS have agreed upon."