Arizona's first modern streetcar system arrives with startup of Valley Metro Streetcar line in Tempe
Passenger service on Valley Metro Streetcar began Friday in Tempe, AZ, after a ribbon-cutting ceremony featuring local leaders and elected officials. The three-mile streetcar route will take riders to major employment centers, entertainment and event destinations, historic neighborhoods and connect to the regional transit network.
"We are so pleased to help support the Tempe Streetcar, which will provide a fast, convenient, car-free option connecting downtown Tempe and Arizona State University," said FTA Regional Administrator Ray Tellis, whose agency provided $75 million to support the project in addition to $17 million in federal funding under the American Rescue Plan. "With connections to Valley Metro's light rail system, destinations like Phoenix, Mesa and Sky Harbor Airport are now just a train ride away."
Valley Metro is the regional public transportation of metro Phoenix.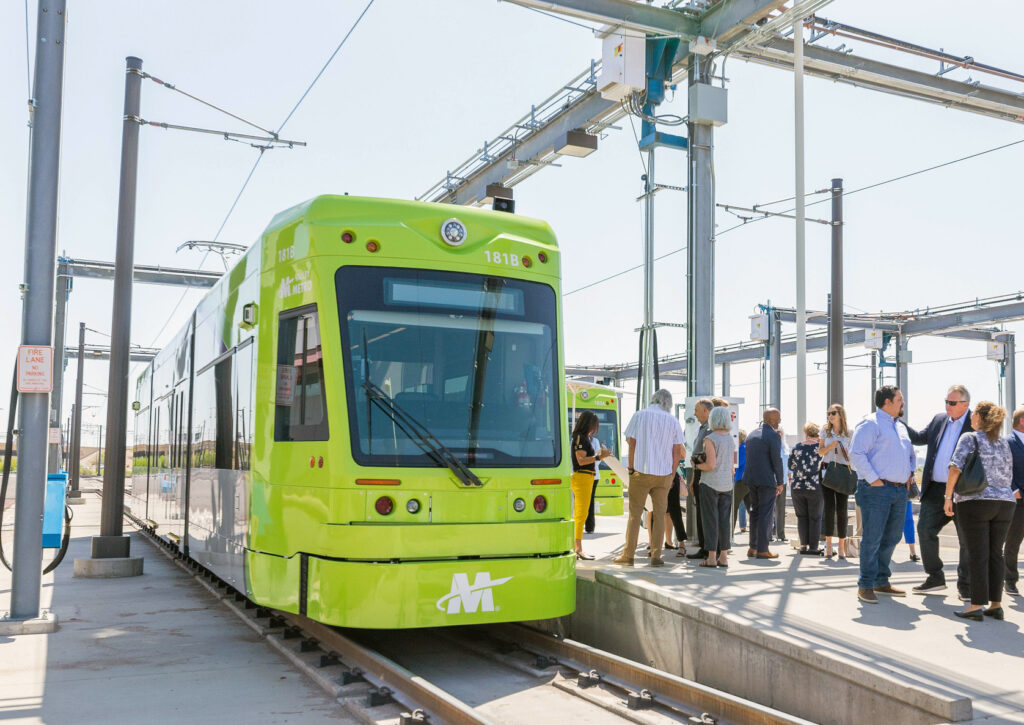 The hybrid streetcar vehicle travels to 14 stops in Tempe and connects to Valley Metro Rail in two locations. The three-mile route serves Tempe destinations such as Tempe Beach Park, Marina Heights, Gammage Auditorium and ASU sports facilities and will support growing travel demand in the central city and region.
"With Tempe having the highest transit ridership per capita in the state, as well as the highest density, a multi-modal transportation network is essential," said Tempe Mayor Corey Woods. "We are building for our future, and the Streetcar is a great example of that."
Public art, created by five Arizona artists, is incorporated at all stops and reflects the culture, architecture and natural beauty of the surrounding area.
"Streetcar adds another sustainable option for transit riders to move around the Valley and enhances our comprehensive, regional transit network," said Valley Metro CEO Jessica Mefford-Miller. "It's also the start of a streetcar system that we hope to extend into Mesa in the coming years."
Streetcar weathers delays, costs to realize vision
The streetcar's arrival marks the culmination of more than a decade of planning and construction, and about $200 million in costs.
Streetcar has been a vision in Tempe since 2010, adding to the mix of multi-modal transit options and serving a busy downtown core made up of residents, businesses and students. The system was projected to open in 2016 but didn't get backing from the Federal Transit Administration (FTA) until October 2015, when it received a Finding of No Significant Impact.
The streetcar was funded through a combination of federal grants, regional Proposition 400 and local city of Tempe transportation funds, including a unique partnership between several private sector entities along the streetcar route.
On Nov. 28, 2018, the FTA allocated all of a $75 million request for capital investment grants. FTA allocated $50 million in 2017, which helped kick off construction in 2018.
Valley Metro, in close partnership with the city of Tempe and vehicle manufacturer Brookville, worked through various delays, including COVID-related impacts, before opening. The first streetcar was delivered in March 2021
Valley Metro says the streetcar could expand into Mesa. Expansion of Streetcar may include future stops at Tempe Marketplace, Sloan Park, Riverview Park, Mesa Asian District and Mesa Community CollegeValley.