Atlas acquires M.T.H. Electric Trains Premier O-scale tooling, buys River Point Station N vehicles
Atlas Model Railroad Co. announced this spring that it has acquired two product lines, including M.T.H. Electric Trains' Premier O-Scale Locomotive and Rolling Stock lines.
The company also bought N-scale vehicle tooling from River Point Station Fine Scale Models.

Molds and tooling sold to Atlas include Premier diesel locomotives, freight cars and passenger cars. A number of O-scale RailKing accessories are part of the deal.
Atlas also acquired a license for the MTH Proto-Sound 3 Sound & Control Electronics Boards, which enable control via DCS (Digital Command System). Part of the license will give Atlas the option to sell DCS components.
Atlas will begin production with a run of the Madison 70-foot passenger cars. Road names will match those on the USRA 4-6-2 Pacifics. Coaches, RPO cars, baggage, dining, combine and observation cars will be produced (depending on road name).
"M.T.H. has long been an outstanding manufacturer of model trains, and we are excited to continue that legacy," Atlas COO Jarrett Haedrich said. "We will be working closely with the existing supplier to ensure that the models are produced and delivered in a timely fashion."
Premier O diesels, freight, passenger cars included
According to Atlas, rolling stock molds acquired include the 4-Bay Hopper, Coalporter Hopper, PS2CD High Side Hopper, 40-foot PS1 Box Car, 55-foot All Door Box Car, 2-Bay Centerflow Hopper, 3-Bay Centerflow Hopper, Steel Caboose, 50-foot High Cube Box Car, PS2 2-Bay Hopper, 20,000 Gallon Tank Car, 50-foot Airslide Hopper, Russell Plow, 8,000 Gallon Tank Car, Funnel Flow Tank Car, Modern Tank Car, Crane, Crane Tender, 100 Ton Hot Metal Car, Rapid Discharge Hopper, 75-foot Depressed Flat Car, Scale Test Car, 2-Bay Offset Hopper, Operating Coal and Log Dump Car, Premier 70-foot Heavyweight Passenger Cars, Premier 70-foot Streamline Passenger Cars and Amfleet Cars.
Locomotive molds include the E6A/B and E8A/B, 44 Tonner, Amtrak P42 Genesis, Dash 9, SD45, F40, U30C, SD70M-2 with SD70Ace, GP38-2, SD70ACe, SD70MAC, GP40, S2, SD40-2, GP30, ES44AC&DC with ES44DC and GEVO ES-44.
Accessories include Water Column, 22 figure sets, Operating Traffic Light, Motorcycle Pack, Pedestrian Crosswalk, Floodlight Tower, Sanding Tower, Road signs, Telephone Poles and the Operating Modern Crossing Signal.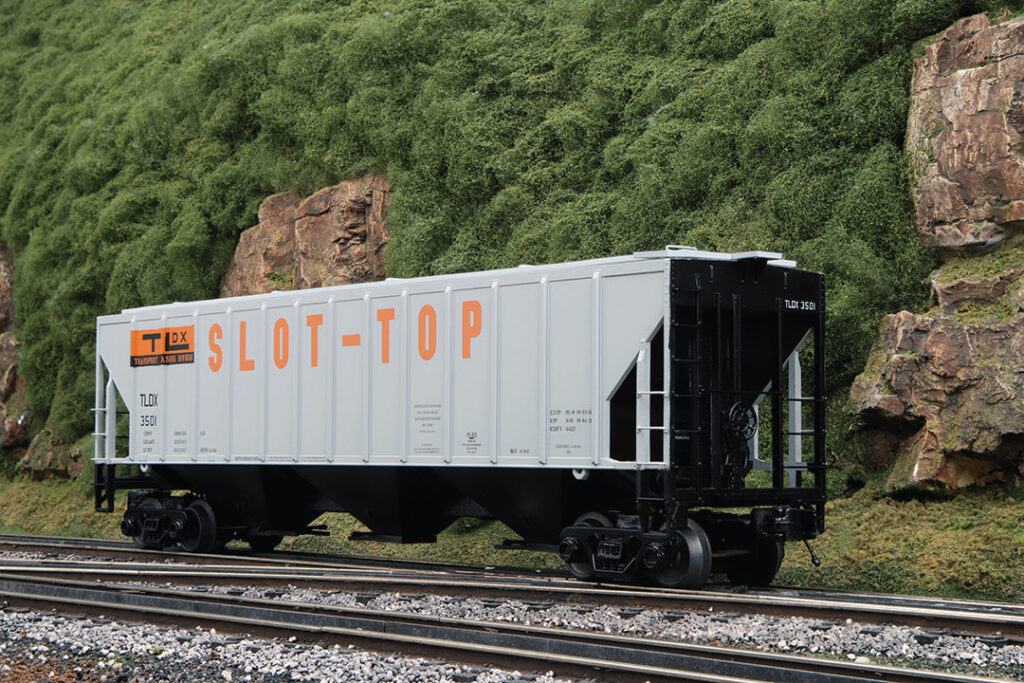 A few of the models in the sale were previously promoted under the M.T.H. brand in either un-cataloged announcements or the 2020 O-gauge catalogs but have yet to reach retailer shelves. The models will still be produced in M.T.H. packaging and be supported by the M.T.H. Authorized Service Center network.
The sale is the second this year as M.T.H. Electric Trains continues to divest assets leading up to owner Mike Wolf's retirement and close of the company. The 41-year-old company sold its HO- and S-scale tooling to ScaleTrains.com at the end of 2020 and is expected to cease operation later this year.
However, products continue to move. M.T.H. Electric Trains recently announced several special runs for authorized dealers and other releases due this fall. Among them are limited-edition releases of the O Premier 2-Bay Fish Belly Hopper and 70-ton 3-Bay Hopper in four road names each. The 3-Bay hoppers are to deliver in September, followed by 2-Bay hoppers in November.
Also, a run of USRA 4-6-2 Pacific steam locomotives, announced in March, is due in September.
Wolf says Atlas is a good fit to carry on the legacy.
"Atlas' longtime presence in the model railroading marketplace makes them a great place for these exciting models to now call home," he said in a release. "Their decision to continue producing locomotives with Proto-Sound 3.0 makes Atlas a great destination for M.T.H. fans who've long appreciated the value found in these models."
Atlas buys N-scale vehicle tooling from River Point Station
In April, Atlas announced the purchase of N-scale vehicle tooling from River Point Station Fine Scale Models of Warwick, RI. Vehicle molds acquired include the 1992 Ford F-250 Crew Cab Pickups and 1992 Ford F-350 Service Trucks, as well as various accessories.
The purchase follows River Point Station's December announcement that it will stop producing N-scale vehicles.
"We did not want to see a void left in the market," Atlas COO Jarrett Haedrich said. "We are happy to have acquired this tooling and will continue to supply these and other N-scale vehicles to modelers."
River Point Station Fine Scale Models was founded in 2006 by Ron Elsdoerfer to supply HO accessory kits to modelers. In the 14 years that followed, the company grew its offerings to include HO- and N-scale vehicles.