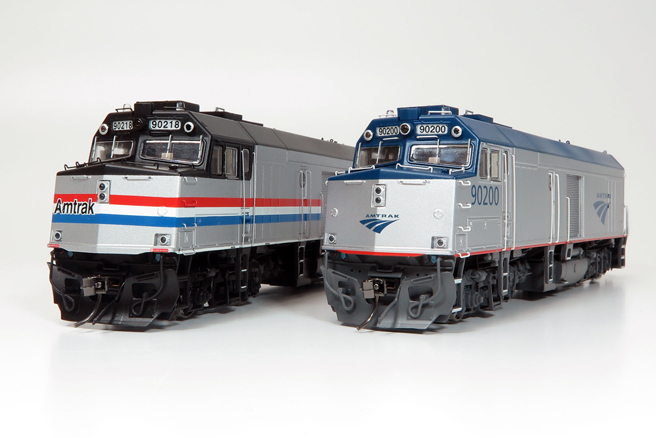 Rapido Announces New Products at Open House
UNION, IL — Rapido Trains introduced several products, including two N-scale freight cars, at its second-ever U.S. dealer open house in early October. A pair of HO-scale late-model passenger diesels native to the area were also announced, as well as a hint of two products to come.
The event was the company's first of its kind in the Midwest and product announcements had a Chicago-area flavor. Rapido's upcoming HO Metra F40PHM-2 and Amtrak NPCU "Cabbage" diesels are familiar to the Windy City, and two more models that CEO Jason Shron said are in development also have local ties.
Shron said that the modernized head end-powered E8 used by Burlington Northern in commuter service and Amtrak and the CB&Q and Metra Gallery Cars which also operated in the area are in development but haven't been formally announced.
"We are not at the stage that we are ready to announce them but designs are well under way," he said as he welcomed the crowd at the Illinois Railway Museum on a beautiful Monday afternoon.
Meanwhile, a pair freight cars that will expand Rapido's growing N-scale offerings are nearing production. The company has received preproduction samples of the Procor 5820 Covered Hopper and Santa Fe RR56/60/61 Mechanical Reefer.
Order deadline is Dec. 15; delivery has not be announced.
N Procor 5820 Covered Hopper
Fashioned after the prototype built over 20 years until the early 1990s, the Procor 5820 Covered Hopper was a major plastic pellets carrier. The commodity is often overlooked, but highly important in manufacturing. Many plastic products originated from rail shipments carried by a covered hopper in pellet form.
Designed by Procor, the hopper was built in batches from the late ʾ70s through the early ʾ90s. Around 1,500 examples were built for Procor and Dow Chemical in their Oakville, Ontario, facility. Essex Hybrid would later receive a handful of cars for seed service. Many of these were ex-Procor hoppers patched out.
The Rapido Procor 5820 Covered Hopper car was designed from blueprints, photos and field measurements. Multiple roof hatches, outlet gates cap this workhorse.
Rapido's Procor 5820 Hopper features three styles of roof hatches: round, round with ribs and 20-inch vented cover; and two styles of outlet gates: pneumatic and Miner. Spare hatches are included so modelers can modify cars for era.
Multiple road numbers will be available for each scheme, which include five for Procor, and one each for Union Carbide, Essex Hybrid, BF Goodrich and Dow Chemical
Cars will be sold as singles, three-packs and six-packs.

N Santa Fe RR-56/60/61 Mechanical Reefer
In 1955, the Santa Fe Railroad introduced the RR-56 class of refrigerated boxcars. Based on the previous RR-54 class of boxcars, the RR-56 incorporated lessons learned from the RR-54 cars to build and operate its first large fleet of mechanical reefers.
The RR-56 was classed as "All Purpose" MTC (Mechanical Temperature Control) cars by the Santa Fe. The fleet numbered 200 cars (Nos. 2000-2188, 2500-2510). Cars were delivered with SFRD reporting marks, but these were changed in 1963 to SFRP. Cars retained their original numbers.
In 1958, Santa Fe built the RR-60 and RR-61 Class of Reefers. These were additional cars built to the same standards as the RR-56 class but carried different insulation. They were identified as Super Insulated All Purpose Mechanical Temperature Controlled cars.
Rapido's RR-56/60/61 Reefer is built from original blueprints and drawings and include separate door posts, door latches and coupler cut levers. The underframe is fully detailed and includes piping and equipment. Roof hatches can be positioned either open or closed. The model, which is painted in multiple Santa Fe schemes that include San Francisco Chief and Santa Fe All the Way and others, has see-through side grills, and a Trane Diesel Generator is included.
All schemes are available in four-pack and singles.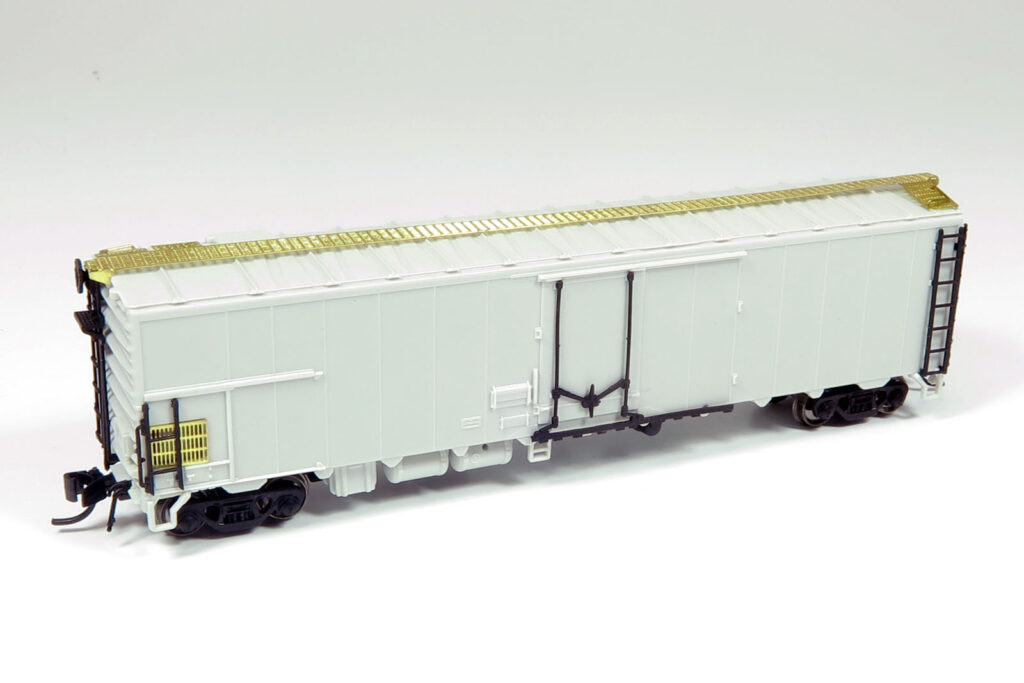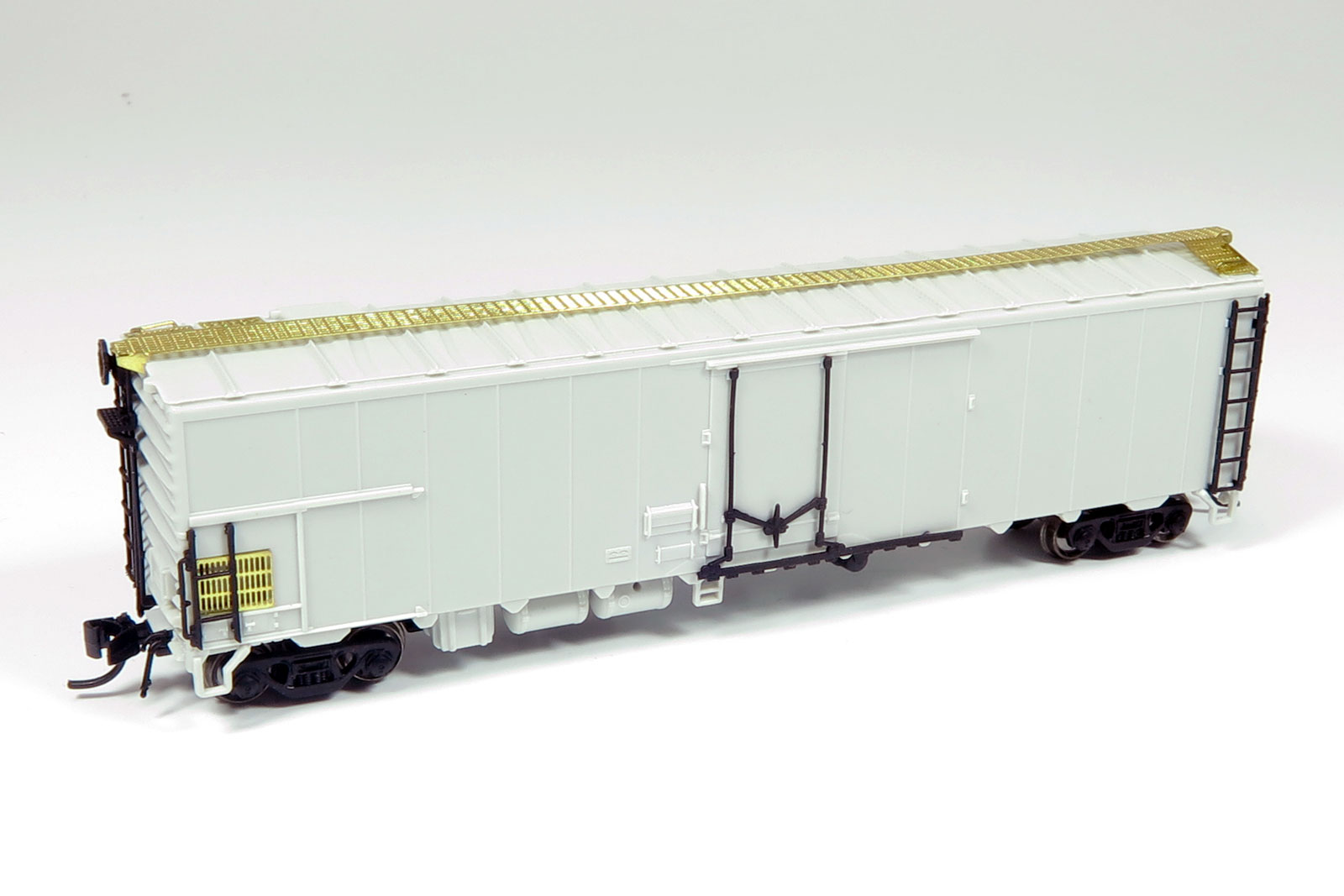 HO Metra F40PHM-2 and Amtrak NPCU 'Cabbage'
Rapido also announced upcoming production of two HO passenger locomotives that are familiar to the Chicago area, the Metra F40PHM-2 and Amtrak NPCU "Cabbage" diesels.
Built by EMD, Metra's F40PHM-2 diesels were purchased to replace the fan-favorite but aging Burlington Northern commuter E units in the Chicago area. Delivered in 1991-92, these 30 units helped form the backbone of the Metra system and were quickly dubbed "Winnebagos" by rail fans because of their distinctive cab windows similar in appearance to the venerable recreational vehicle and based off the EMD F69PHAC experimental locomotives built in 1989. These would be the last new F40PH locomotives built for Metra.
Rapido's model offers several features, including correct Winnebago-style front; dual rooftop air-conditioners; separate underbody piping, conduit, and wire grab irons; working headlights, marker lights and backup light; working Gyralite; stratolite or strobe light where appropriate; working ditch lights; separate, factory-applied wire grab irons; PTC Antenna Array where appropriate; see-through, etched-metal radiator grills and dynamic brake grills and full-cab interior painted in correct colors
In the mid-1990s, Amtrak began a rebuild program to convert retired F40PH locomotives into Non-Powered Control Units (NPCUs) by removing the prime movers, with many having their now empty engine rooms converted to baggage areas.
The model will be in painted in Metra Blue, Metra Blue/Operation Lifesaver No. 214, Metra "Fade" and Metra "CB&Q Heritage" No. 211.
The NPCUs allowed "push-pull" service and eliminated the need to turn trains at terminals or run locomotives at both ends of the train. The locomotive engineer controls the locomotive from the cab in the NPCU, much like purpose-built cab cars found on many commuter trains.
Used on regional trains, most of the NPCU fleet remains in service today. These "Cabbages" (as coined by rail fans) can be seen everywhere from California and Washington, to the Midwest and as far east as Maine.
Kato to release run of N GE ES44 GEVOs
Kato U.S.A. is planning a new run of GE ES44 GEVO locomotives in N scale for Union Pacific, CSX (two variations), BNSF, Canadian National, Canadian Pacific and Florida East Coast. The run includes AC, DC and C4 variations where appropriate.
The ES (Evolution Series) of locomotives are built by GE Transportation Systems and designed to meet the U.S. EPA's Tier 2 locomotive emissions standards that took effect in 2005. ES locomotives are equipped with AC traction motors and are powered by a newly designed "GEVO-12" 12-cylinder engine that produces the same power as the 16-cylinder AC4400CW, but with fewer emissions and greater fuel economy. It also carries a redesigned air-to-air dual-fan heat exchanger, which gives it its distinct "oversized" radiator; a common spotting feature for these new locomotives.
While the AC version has proven to be the overall most popular iteration of the "GEVO", quite a few railroads elected to use the DC versions of these engines, including the BNSF Railway, Canadian National, and CSX.
The C4 is a variant of the ES44AC, using an A1A-A1A wheel arrangement with an idler axle in the center of each truck vs. the all-wheel power of its ES44AC brethren. This gives the engines the stability benefits of a six axle truck while reducing the number of traction motors from 6 to 4.
Kato's model features multiple body styles to reflect "as delivered" railroad specifications, plus directional headlight and preprinted number boards, and illuminated ditch lights.
Models will be offered in ready-to-run DCC using a Digitrax DN163K1C decoder. DC models compatible with the Train Control Systems K104 and Digitrax DN163K1C decoders will also be offered.
KCS Southern Belle Covered Hoppers in HO, N
ScaleTrains is offering Rivet Counter versions of the Gunderson 5188 Covered Hopper in Kansas City Southern's Southern Belle scheme with railroad, road number, and era-specific detail in both scales.
For modelers on a budget, the company is also offering the value-priced Operator™ HO Scale version. A detail kit is available.
Inventory is limited with most road numbers having fewer than 24 units in stock. Additional railroads and paint schemes are also in stock including BNSF, Union Pacific, and more.
Re-introduced in 2007 by former CEO Mike Haverty, the iconic and colorful Southern Belle paint scheme was originally applied to Kansas City Southern's most-renowned passenger train of the same name, which operated from 1940-1969 between Kansas City, MO, and New Orleans, Louisiana. As KCS discovered, the bright colors and sleek lines make for a stunning appearance not just on modern locomotives and business train cars, it also looked great on freight cars.
KCS Railway's large fleet of Gunderson 5188 Covered Hoppers were perfect for mimicking the look and feel of the Belle's streamlined passenger cars so it's understandable as to why KCS spared no expense in painting many of its covered hoppers.
Since the north-south railroad runs seasonal grain trains throughout states like Kansas, Missouri, Oklahoma, and Arkansas, the cars act as billboard for the railroad's services.
KCS Railway's 5188 covered hoppers are commonly seen in unit grain trains as well as mixed manifest freights. They are frequently found alongside Trinity 5161 covered hoppers from other railroads. The Gundersons wear both the Southern Belle paint scheme, a simplified gray scheme with red KCS shield logos, and gray with KCS reporting mark patch.
Athearn announces run of GE Dash 9-44CWs in HO
Athearn Trains announced in September a run of Genesis GE Dash 9-44CW diesel locomotives in six roads, including two with unique patch schemes and a former BNSF locomotive re-lettered as a lease unit.
The model, offered with and without sound, will be produced in two Union Pacific variations plus BC Rail. BNSF, Kansas City Southern, GECX and Norfolk Southern.
Athearn is offering non-traditional UP, BNSF and KCS schemes with the run, which is expected to arrive in November 2023.
One of the UP versions is patched Chicago & Northwestern units that the railroad purchased in 1995, available in three numbers. Also, Athearn is producing two numbers of KCS units that were among the 100 Dash 9-44CWs purchased from BNSF and given a quick patch job with logos and initials. Many are still in service.
The BNSF variation represents one of the many leased Dash 9-44CWs that has expired. GECX No. 4809 is one of many BNSF-painted Dash 9s that feature simple patch lettering in a variety of styles, along with a fairly clean patch-job of the BNSF logos.
Built by GE from 1993 until 2004, the Dash 9-44CW and its variants were the definitive North American mainline freight locomotives of their time, with an impressive 3,668 total units built. Constructed for U.S. railroads from coast to coast, the units were also ordered by Canadian roads, and significant export orders went to Australia and Brazil.
The Athearn Genesis Dash 9-44CW has a host of railroad specific details.
Orders are due in late October.
HO ALCO PA1 arrives, features road-specific details
Rapido's all-new HO scale model, the first mass-produced plastic model of the PA series in the scale, arrived in August. The model features accurate contours and road-specific details.
Carbody contours have been generated using a 3-D laser scan of Doyle McCormack's preserved unit. Both PA-1/PB-1 and PA-2/PB-2 variants will be offered.
The Cowcatcher received a sample of the Denver & Rio Grande Western yellow and silver-striped PA1.
The first-run model features correct nose and roof profiles 3D-scanned from the prototype, dynamic and non-dynamic brake versions where appropriate, full underbody piping and conduit, separate factory installed grab irons and handrails, lit number boards, full cab interior and operating Gyralite or red Mars light, where appropriate.
In addition to D&RGW, Rapido offers the model in Santa Fe, Delaware & Hudson, New Haven, Nickel Plate, New York Central, Lehigh Valley, Pennsylvania, Southern Pacific (Daylight and Gray) and Amtrak Freedom.
Models are offered in DC/Silent (21-pin DCC Ready) or DC/DCC/Sound options.
The ALCO PA series locomotives are considered by many to be the most attractive diesel locomotives ever produced. The PA locomotives were built by a partnership of American Locomotive Company and General Electric between 1946 and 1953. They offered two models, the PA-1 initially followed by the PA-2. Both were powered by ALCo's 16-cylinder 244 diesel engine generating 2,000 HP in the PA-1 and 2,250 in the PA-2.
The PA locomotives were designed to compete with General Motors' EMD E-units in the passenger locomotive market. While one could argue the ALCos won in style, they did not win in reliability. Their 244 prime movers could not unseat the EMD 567, and the PAs were demoted to secondary service on many lines. Most were retired as passenger service declined in the 1960s, and nearly all were scrapped.
Happily for railrfans, in 1967 four retired Santa Fe units were bought by the Delaware and Hudson. In 1974, after sevral years of service, they were sent to Morrison-Knudsen for rebuilding and upgrading with ALCo 251 V-12 engines. These four units were used on Amtrak's "Adirondack" for several years and also saw service on Boston area commuter trains under an MBTA lease. All four units eventually ended up in Mexico.
Two of the ex-D&H units have since been brought back to the U.S., one residing at the Museuam of the American Railroad in Frisco, TX. The other unit is privately owned by Doyle McCormack and is being restored to operating condition painted as Nickel Plate No. 190.
Pacific Car & Foundry B-70-69/71/75 HO Boxcars
Rapido Trains Inc. announced in May a run of another essential modern freight car, the Pacific Car & Foundry B-70-69/71/75 class of boxcars in HO scale.
As the demand grew in the ʾ70s for larger capacity boxcars, along with the need to replace aging 40-foot cars, the series of 50-foot double- door boxes were produced by PC&F for the Southern Pacific and its subsidiary St. Louis Southwestern (SSW). Constructed between 1972 and 1975, these boxcars are 50 feet, 70 inches in length with a capacity of either 5,258 cubic feet for standard cars, or 5,119 cubic feet for those equipped for DF (Damage Free) Loading.
All B-70 boxcars feature Hydra-Cushion underframes and were delivered with either Youngstown or Superior doors.
Proving to be a versatile addition to the SP/SSW fleet, the boxcars were later rebuilt for Golden West Service and could be seen carrying goods across the U.S., Canada and Mexico. Many can still be seen on the rails today, whether in their original SSW or SP paint, as former Golden West cars stenciled back into SP, or under entirely new ownership.
Among the details featured on the Rapido PC&F B-70-69/71/75 Boxcars are separately applied metal grab irons, scale sized draft gear with a detailed Hydra-Cushion underframe, full underbody brake rigging, multiple door styles, road-specific number patches, separately applied coupler cut levers and separate door tracks.
Cars will come with factory-installed Rapido semi-scale knuckle couplers and newly tooled 70T trucks with turned metal 33" wheels.
Paint schemes in the first release include the Cotton Belt (SSW/Youngstown Doors), Cotton Belt (SSW/Superior Doors), Cotton Belt (SSW-DFL/Youngstown Doors), Southern Pacific (SP/Youngstown Doors), Southern Pacific (SP/Superior Doors), Golden West Service-Galveston Railroad (GVSR /Youngstown Doors), SP Patch-Golden West Service (SP/Superior Doors), Canadian National (CNA/Superior Doors) and brown unlettered versions in both styles of doors.
Decorated cars have six individual car numbers per paint scheme. They will be available as a six pack (six individual cars shrink wrapped together and easily broken up for individual sale).
For U.S. and international orders, USD MSRP for these models is $54.95 (single car), or $329.70 (6-pack).
For Canadian orders, CAD MSRP is $64.95 (single car), or $389.70 (6-packs).
Order deadline and delivery has not yet been announced.
F30 Flatcar in HO
Rapido's model is fully powered, available in silent DC or DC/DCC/Sound. DC models are DCC-ready with a 21-pin plug.
Features include accurate enlarged marker lights, supplementary air reservoirs, K5LA horn, operating and flashing ditch lights, operating strobe lights, marker lights and number boards and etched-metal radiator grilles and windshield wipers.
Models will be offered in Amtrak Phase 3, Phase 5 and Phase 5 "Downeaster." In addition to the new road numbers for the first-release paint schemes, Rapido is offering the much-requested Amtrak "Veterans" NPCUs Nos. 90208 and 90221 for the first time.
Rapido Trains recently released F30 flatcars in HO, including versions for the largest owner, Pennsylvania Railroad.
The cars feature the latest tooling and separate grab irons, accurate details and free-rolling metal wheelsets. Built in the 1930s, the F30 was a common sight in the Northeast, and the successor F30D and F30G ran well into the 1980s across the country.
PRR's F30A was among the most numerous classes of flatcars on that railroad, with 1,500 built in 1933 and 1934. PRR utilized a massive one-piece steel casting to ensure long service life.
The cars were so successful that PRR built 250 identical copies in 1951. Three years later, the Pennsy began converting many of those F30Ds to early piggyback service cars. They received perforated side rub rails, end loading ramps and four side posts.
Eighty-six cars were transferred to the new Trailer Train Co. (TTX) between 1957 and 1958 and got additional upgrades in the form of ACF trailer hitches, revised side rails and upgraded end ramps. The TTX cars also received roller bearing truck conversions.
Classified as F30G, the cars were used by TTX into the 1980s, many being upgraded with full roller bearing trucks and some painted in TTX's yellow scheme.
Rapido's model features a die-cast chassis and deck for optimum weight, correct trucks (PRR 2E-F10, roller bearing converted or full roller bearing trucks), turned metal wheels and Kadee No. 158 semi-scale couplers.
Details include full brake rigging, separate grab irons, correct piggyback details (F30D & F30G) and six car numbers per paint scheme. In addition to PRR, Rapido offers an F30A in the Conrail MOW scheme. Rapido also delivers F30D flatcars in the TTX late and early red schemes.