Union Pacific postpones Big Boy West Coast Steam Tour to resolve network operational issues
Union Pacific has postponed its Big Boy No. 4014 West Coast Steam Tour to focus on easing supply chain congestion, the railroad announced last week. The tour was scheduled to depart Cheyenne, WY, June 26.
"We know many rail enthusiasts make travel plans and communities prepare to act as host, which is why we made this decision now," said Scott Moore, senior vice president/corporate relations and chief administrative officer. "We have a duty to continue our efforts to reduce supply chain congestion and provide customers the service they deserve; given the impact of a steam tour on our operations, that focus must be our priority."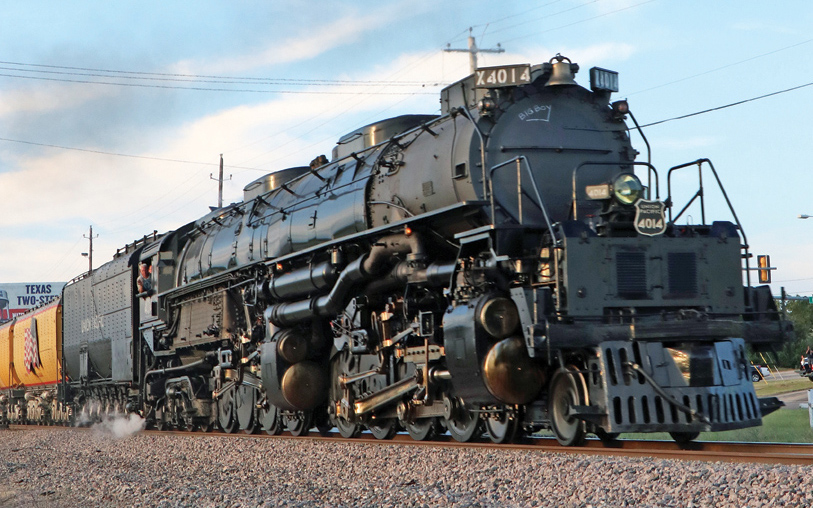 UP will communicate updated plans for a steam tour once service performance levels return to normal.
Earlier this month, UP announced a tour to honor the railroad's 160th anniversary with a run in the Pacific Northwest. The Big Boy was to be on display in Sparks, NV; Roseville, CA; Portland, OR; and Boise, ID. Brief whistle-stops were scheduled in dozens of communities in Wyoming, Nevada, California, Oregon, Idaho and Utah.
The tour would be the third since No. 4014 was returned to working order in 2019. Plans included access to the "Experience the Union Pacific Rail Car," a multimedia walk-through exhibition that provides a glimpse at the past while telling the story of modern-day railroading. A Q&A was planned with the crew.
Despite record QI, railroad experienced declines in productivity
Highlights included a 17 percent increase in operating revenue to $5.9 billion, driven by higher fuel surcharge revenue, volume growth, core pricing gains and a positive business mix. Business volumes, as measured by total revenue carloads, were up 4 percent.
However, in an earnings call, Lance Fritz, UP chairman, president and chief executive officer, said that while the railroad had solid financial results, it did not reach operational goals.
"Operationally, we did not meet expectations, which is having an impact on our customers," he said. "We are taking actions to improve resource utilization, increase crews and locomotives where needed, and reduce freight car inventory levels to restore fluidity."
During the quarter, operational inefficiencies and incidents impacted service and productivity. UP experienced declines in freight car velocity (5 percent) and locomotive productivity (6 percent). Average maximum train length was flat, and the railroad's reportable personal injury rate slid to 0.97 per 200,000 employee hours compared to 0.85 in 2021.
The Big Boy last ran in August, when it saw parts of Arkansas, Colorado, Kansas, Illinois, Louisiana, Missouri, Nebraska, Oklahoma, Texas and Wyoming. It was the first tour since the locomotive was restored for 2019's "Great Race" that celebrated the 150th anniversary of the Transcontinental Railroad's completion. The Big Boy and Living Legend No. 844 rolled through the West, Midwest and Southwest on a 12-state tour following a multi-year restoration that took place at UP's steam shop in Cheyenne after a retirement that spanned six decades. Twenty-five Big Boys were built for UP to haul heavy freight during World War II. Of the eight still preserved, No. 4014 is the only one functioning.