Train Show Update: Safety emphasized for in-person Dallas show; Amherst opts for virtual format
Two regional U.S. train shows in January are on schedule, although they're taking different paths to reach rail enthusiasts.
The 36th annual Dallas Area Train Show is going on as planned Jan. 16-17, raising the curtain at the Plano Event Center. Nearly two thousand miles away in Palmer, MA, the Amherst Railway Society Railroad Hobby Show, one of the country's largest, will host a virtual show a couple of weekends later after shelving its annual in-person event.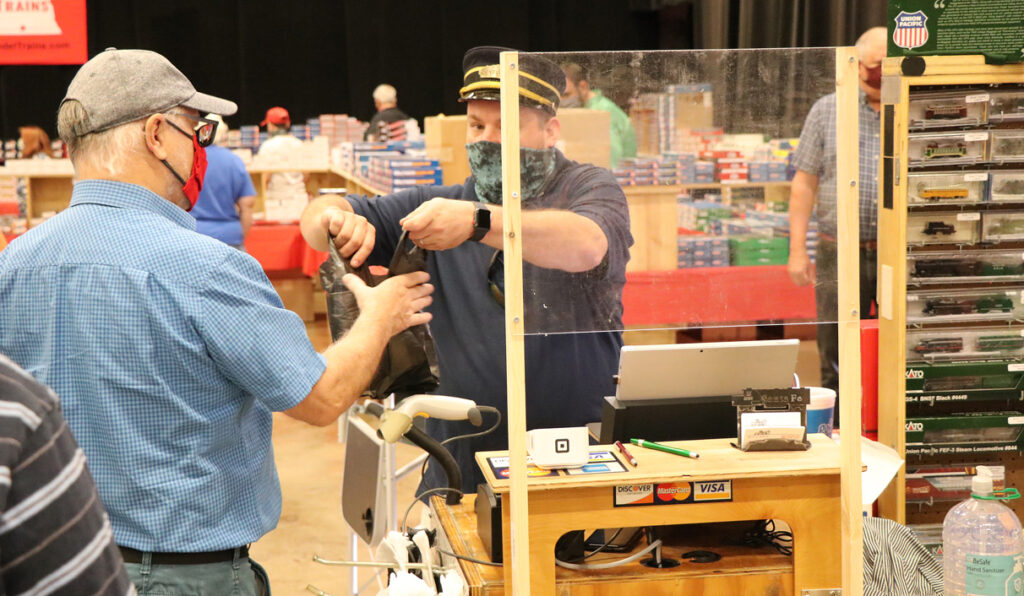 In Plano, amid strict covid-19 protocols, vendors will be selling and clubs will be running trains. The show, sponsored by the North Texas Council of Railroad Clubs, has scaled down to accommodate the safety of guests, vendors and others.
Officials have worked closely with the event center to establish social distancing, masking, temperature screening and restricted entrances and exits, as well as contactless payment. Occupancy, monitored by an app, will be limited to 2,000 people at a time.
"We're taking precautions above and beyond what's required to host the show and keep all attendees safe," said one of the show's organizers and a past NTCRC president, Joe Pritchett.
Masks are required for attendees and participants, 10 and older, and all must have their temperature taken. Entrance will be limited to the north-side atrium doors; exits are at the east and west doors.
A single line for concessions will be marked, and tables will be available in the patio area outdoors. Hand sanitizer will be available at the entrance and information tables and restrooms.
"It all should really feel very familiar for people going to the grocery store or Home Depot," NTCRC President Chris Atkins said. "We want attendees, vendors and show staff to feel safe."
Model railroaders anxious to attend train shows
Atkins believes modelers and rail enthusiasts are anxious to attend, despite increases in the number of positive covid-19 tests. "I think people are hungry for train shows. A guy called me and booked a plane ticket from back East to come and participate. We definitely are having interest in the show."
More than half of readers responding in the Cowcatcher's 2021 State of Model Railroading Survey, published in the January/February issue, said they likely would attend in-person train shows, events and conventions within two or three months of a vaccine being distributed.
Vaccines in the U.S. began being administered nearly two weeks before Christmas, mostly to healthcare workers and those with underlying health conditions.
Dallas Area Train Show attendees will again have an opportunity to learn about modeling and see operating layouts, although the schedule is lighter than usual. Four clinics are scheduled each day, and a usually robust list of home layout tours has been pared to a handful. Individuals who previously hosted a tour opted out.
The Texas Western Model Railroad Club in Forest Hill (Fort Worth), Lone Star Hi-Railers (Grapevine), Texas Northern Model Railroad Club (Richardson), Lone Star Flyer (Hurst), Texas N-Trak (Irving) and Denton Area Model Railroad Club (Denton) are opening their doors.
In Massachusetts, meanwhile, the Amherst Railway Society Railroad Hobby Show has temporarily shelved its in-person event that has gone on for the past 38 years at the Eastern States Exposition in Springfield.
Amherst replaces in-person show with virtual event
Instead, the Virtual Hobby Show will stream live all day Jan. 30-31 from the Amherst Railway Society's headquarters in Palmer, MA, with the help from Virtual Railfan, Inc. The free show will highlight manufacturers, model kit companies, scenery providers, tools and railroadiana.
Chairman John Sacerdote said additional virtual shows may be on tap in 2021 if the event proves successful. Shows are tentatively scheduled for April 24-25, June 26-27 and Sept. 25-26.
The 2020 show was among the few that went on before covid-19 forced lockdowns in the spring.
Train Show, Inc., suspends operations, hopes to return by summer
Elsewhere, the pandemic has had mixed effects.
Train Show, Inc., which hosts dozens of train shows across the country under four brands, said earlier this month that it has suspended operations at least until this summer.
"Our offices are closed, our staff has been furloughed, and we will be performing a corporate reorganization to rationalize our limited resources," the company said in a short announcement on its website.
As covid-19 spread in the spring, Train Show, Inc., canceled many of its shows, which are typically held at large venues and attract thousands. The company was unable to complete most of its 2020 schedule.
In June, the 2021 World's Greatest Hobby on Tour slate, a series of shows that run over the winter in major metropolitan areas, was canceled. Officials were hopeful that other shows in the company's stable could return in the fall but nearly all were sidelined.
In November, officials were optimistic with the return of the Greenberg Train & Toy Show in Monroeville, PA. Though capacity was restricted, about 3,000 attended, and 90 percent of the show's usual exhibitors were on hand.
"Response from both exhibitors and the public was gratifying and showed us that there is a lot of interest out there in attending train shows if they can be run in a safe and socially distanced manner," General Manager Frank Hicks said. "Vendors reported good sales, and everyone seemed happy to be back at this regular event."
Four days later, Train Show, Inc., canceled the rest of its 2020 schedule.
Greenberg Train & Toy shows, along with the company's Great Train and Great Midwest Train shows, are expected to resume this summer. WGH on Tour is expected to return in early 2022.
Shows in Oklahoma, Kansas, Texas moving forward
Farther north, Oklahomans are finding ways to swap, sell and buy model trains. Three shows and a big garage sale were hosted in the summer and fall last year, and four more events are set for the first half of 2021.
Almost a dozen dealers from Kansas and Oklahoma showed in Edmond in June for a "garage sale," which was advertised at local hobby shops, train clubs and through the Toy Train Operating Society.
"Attendance was very good and everyone commented that it was the best thing that they had done since the start of the pandemic," said dealer and past TTOS president Bob Pope in an email. "It was a fantastic community event."
A month later, TTOS held its spring show in Bixby, followed by a fall show in October. The organization had a third show in December that featured 160 dealer tables in Stillwater.
Pope said attendance was down at each show compared to previous years but crowds came from as far away as San Antonio, Houston, St. Louis and Arkansas.
"Through all of these events we felt like we supported the train community, and in turn they supported us," Pope said.
TTOS plans shows in Stillwater, OK, on Feb. 20 and in Bixby on April 10. Also, the Oklahoma City Model Railroad Expo is slated for May 22-23 at the Oklahoma Fairgrounds. A show is set for June 26-27 in Yukon, OK.
Other shows are on tap in February in Kansas, Arkansas and Texas.
The Wichita Train Show & Swap is scheduled for Feb. 6-7 at the Cessna Activity Center in Wichita. Facemasks are required to enter the building.
Also, the Great Northwest Arkansas Model Train Show is set for Feb. 27 at the Benton County Fairgrounds in Bentonville, AR. The San Antonio Model Railroad Association's 45th Annual Model Railroad Jamboree is scheduled for Feb. 27-28 in Garden Ridge, TX.
Shows in Kirkland, OH; Cartersville, GA; Milwaukee, Cedarburg and Delavan, WI; Tyler, TX; and Lombard, IL, are on tap in March.
Also, the Greater Houston Train Show originally scheduled for April has been moved to Aug. 14 at the Stafford (TX) Center from 10 a.m. to 4:30 p.m. The show will be the last in the foreseeable future at the Stafford Center, which has been home to GHTS for several years.
The Pasadena Convention Center will host the show in February 2022 and 2023.