Tracks from Texas to Tokyo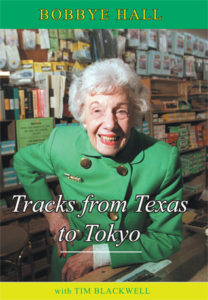 TEMPORARILY UNAVAILABLE AT THIS TIME.
PLEASE CHECK BACK LATER!
"Tracks from Texas to Tokyo" (Ballpark Impressions, 2006) is the story of model railroad industry icon Bobbye Hall.
Mrs. Hall rose to prominence in the hobby industry and NMRA during a 55-year career with Hall's Hobby House and Hallmark Models, Inc. "Tracks from Texas to Tokyo" chronicles her rise from the early days of Hall's Hobby House in Dallas, Texas, to a popular line of imported brass model trains. Mrs. Hall, who was inducted into the Model Railroad Industry Association's Hall of Fame in 1996, retired from the business in 2001 at age 92.
A native of Whitney, Texas, she began writing the book along with co-author Tim Blackwell shortly after closing her shop on Bryan Street in Dallas on Dec. 31, 2001. In the book, Mrs. Hall relates stories about how she and her husband, Buddy, took a former ice cream parlor just north of downtown Dallas in 1946 and converted it into her first hobby shop.
"Numerous stains from the malts and milkshakes were noticeable on the walls and terrazzo floor," she writes. "After twenty-five gallons of muriatic acid and hand scrubbing, I was assured that I was the only living thing there."
Because hobbies such as model trains and airplanes were scarcely available during World War II, Mrs. Hall relied on an inventory of antique furniture to sustain the business in its early days. She ultimately established Hall's Hobby House as one of the premier model railroad stores in the country. She was an industry leader and traveled the world, meeting royalty and celebrities, and forging relationships that lasted a lifetime.
The book also details the rise of Hallmark Models, Inc., which offered an exclusive line of brass imported locomotives and cars of southwestern U.S. railroads, and how Mrs. Hall became the first woman to successfully work with Japanese manufacturers.