The New Whitehurst & Pine Ridge Railroad
From The Beginning
The Whitehurst & Pine Ridge Railroad was disassembled in 2017 but is being rebuilt, similar in scope, to a much larger size (see track plan below). Following is an overview of progress since construction began in late December 2018. Much of this story was published in the March/April 2020 edition of Cowcatcher Magazine and has since been updated.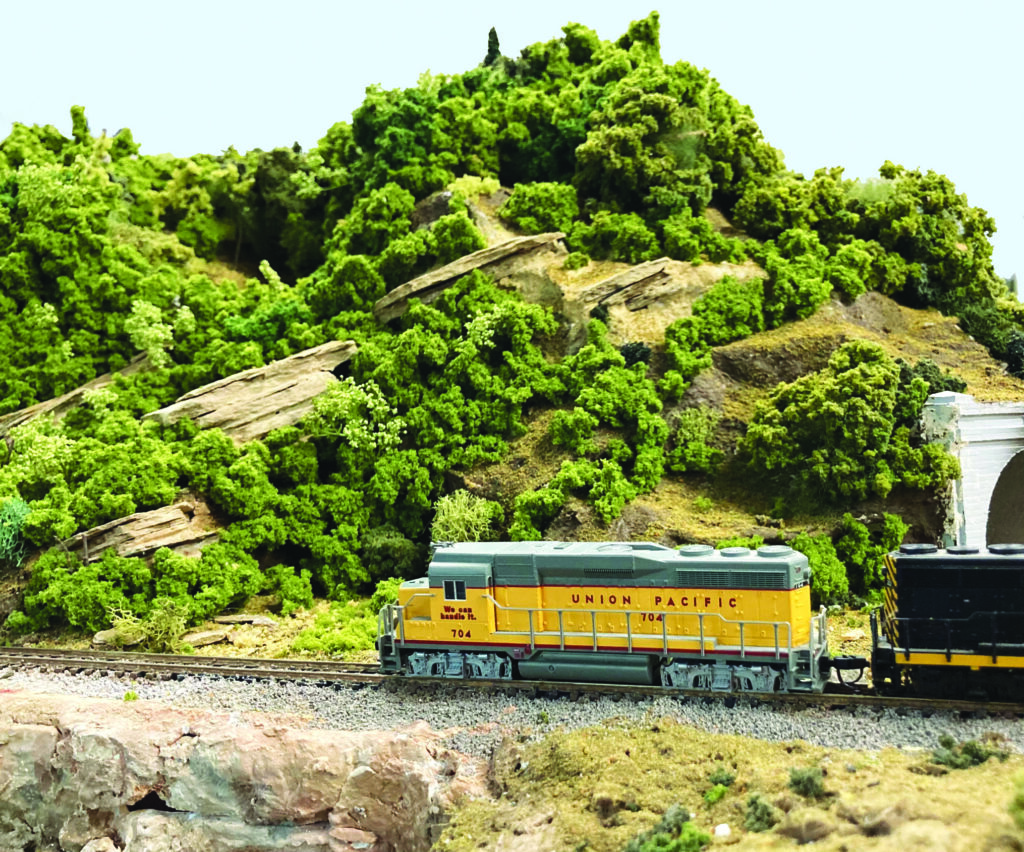 Going Mostly According to Plan
The new N-scale Whitehurst & Pine Ridge Railroad commenced construction on New Year's Eve 2018 with the intent to be a more manageable operational layout, something that comfortably suits operators and visitors. On a grander scale, the layout keeps the flavor of the free-lance Arkansas-based short line that is the last mile for the Union Pacific, and introduces the Kansas City Southern as a separate entity. The Burlington Northern provides cameo appearances.
The layout consumes a little more than half of a 400-square-foot area, has two peninsulas and a 21-foot section along the wall that houses both ends of the railroad. With wide, comfortable aisles – the minimum of two 2.5 feet and the maximum at just shy of 4 feet – the W&PRR is roomy. Much of the layout can be seen from a 360-degree vantage point.
Since the first board was sawed, the W&PRR has gone mostly according to plan. Temptations to reset and fill entirely much of the space that once was a two-car garage have been ignored. The only deviations were widening the north side of the layout to accommodate a large viaduct and expanding Kansas City's Cypress Yard by less than a foot in width.
And with all rail spiked, the track plan has been altered only slightly from what was proposed (and discussed in a "lessons learned" presentation at the 2019 Lone Star Region/NMRA convention).
We give ourselves a pat on the back.
And while the layout is looking like a layout, there is so much more to do, and we'll chronicle as much as we can throughout the next six issues as it develops into a fully scenicked, operational model railroad. Along the way we'll offer insight into how some things came together, and others did not.
Let's bring you up to speed.
Construction
The layout is on one level, table-top and end points of the railroad parallel each other against the east wall of the room. Trains run to and from Dallas and Kansas City to two peninsulas that form a "U".
The table-top is self-supporting, built from half-inch and 3/8" plywood and 1" x 4" soft pine lumber. Bench work is supported by 2" x 2" posts and assembled using wood screws. It's sturdy enough to absorb shock since very little is backed by a wall.
Dallas and Kansas City are built on a 21-foot section along the east wall. Yards are separated by a slight drop in terrain; Kansas City sits about 3 inches lower than Dallas.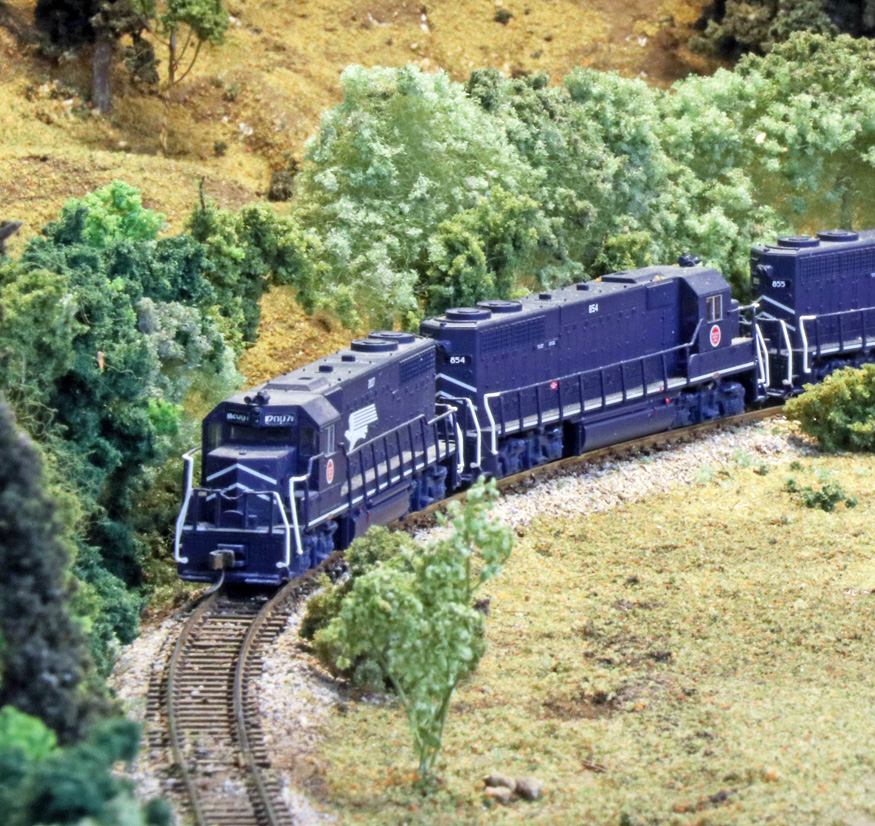 The mainline stretches over two peninsulas that are each close to 4 feet wide. On one peninsula is Texarkana, and Whitehurst and Pine Ridge are on either side of the other. Width isn't an issue because each can be accessed.
Most of the bench work is new, although a few pieces from the old layout have been incorporated.
At the end of the peninsula housing Whitehurst and Pine Ridge is Shelby Bluffs, the signature mountain on the old layout that was saved. On the north side of the room is Van Buren, formerly Elaine, and the old Little Rock yard has been rebranded as part of Dallas' yard. The extension of the yard into North Dallas is a portion of the track plan for Monroe, which was at the back of the old layout.
Two cabinets that supported the former W&PRR are planted underneath the peninsulas and offer storage.
Underneath the top level is lower staging, which is built from plywood sitting on cross-supports. Staging runs about half the length of the layout from Kansas City to Indiana City, which has been repurposed from the old W&PRR.
Design and Operations
The layout's scope is UP's route from Dallas to Kansas City, which features main line runs and light switching, plus interchanging traffic in Fort Smith, AR, and Texarkana, AR. The W&PRR is a UP-owned short line in Van Buren, Whitehurst and Pine Ridge and offers industry switching. KCS does the same on the Texas side of Texarkana.
The era has been stretched from the mid-1980s on the old W&PRR to the early 1990s, when UP is entering its final phase of mergers and acquisitions. Missouri Pacific, Missouri-Kansas-Texas and Western Pacific power are routinely intermingled with UP's fleet of four- and six-axle diesels. While the mergers haven't been complete, Southern Pacific and St. Louis & Southwestern (Cotton Belt) leased power are occasionally utilized for manifest runs.
The W&PRR, known as the Arkansas Pine Route, operates on a former Missouri Pacific branch line in Arkansas, and depends on healthy cement and petroleum carloads to make a profit, and whatever motive power its mother road can spare.
The design is based on running 15- to 20-car trains on an 80-foot main line and minimizes switching on curves.
From Dallas, trains leave the eight-track yard and run on one level until entering Kansas City, where a 2 percent downward grade flows into Cypress Yard. The yard originally had three tracks but after a few trial runs, it was expanded to six. Each yard in Dallas and Kansas City has arrival and departure lanes.
At the north end of Kansas City is the Bartee Service Center and an "off-stage" diversion to the lower level, a long run at a 3 percent grade, paralleling much of the top of the layout, to Indiana City.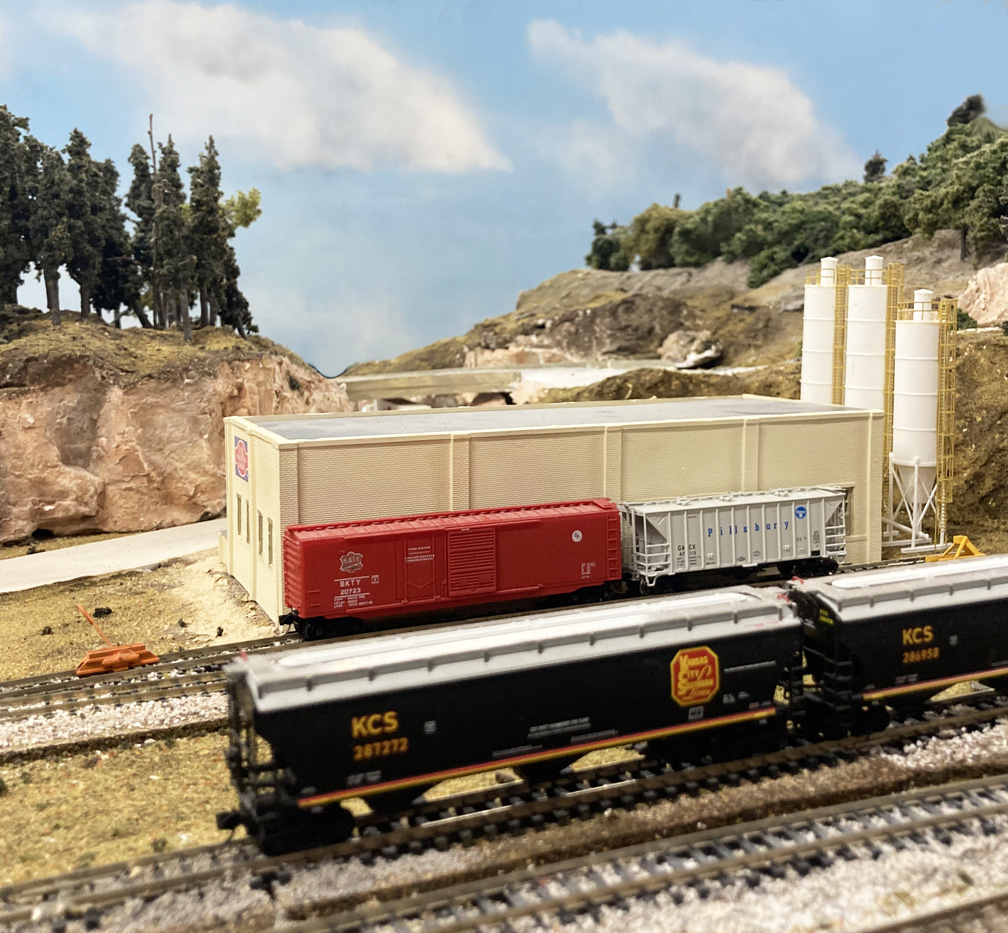 Trains originate in Dallas and Kansas City and run through Mt. Pleasant, TX, Texarkana, AR, Pine Ridge, Whitehurst, Fort Smith, AR and Carthage, MO.
Interchanges in Texarkana and Fort Smith allow main line trains from either direction to drop off and pick up freight. The W&PRR services industries in Van Buren and Whitehurst on its own network, and has trackage rights on the UP to get to Pine Ridge.
All W&PRR freight destined for Kansas City and Dallas are set on the interchange in Fort Smith.
In Texarkana, the KCS has a handful of customers and cars are moved to the interchange for either KCS road freights or UP trains.
The layout maintains DC operations and can accommodate up to four operators – two main line jobs, switching Texarkana on the KCS and switching on the W&PRR.
Setting the Stage
The months following the start of construction on New Year's Eve 2018 held aspirations that each piece of lumber cut and track spiked would achieve the layout goal.
The original concept presented at the Lone Star convention deviated: the peninsula planned for Shreveport and Sulphur Springs became Texarkana and Mt. Pleasant. Also, the plan for Fort Smith was to occupy one side of the second peninsula and Whitehurst/Pine Ridge to combine for the other has been scrapped.
Pine Ridge has one side and Whitehurst the other adjacent to the Fort Smith interchange. Track plans changed accordingly.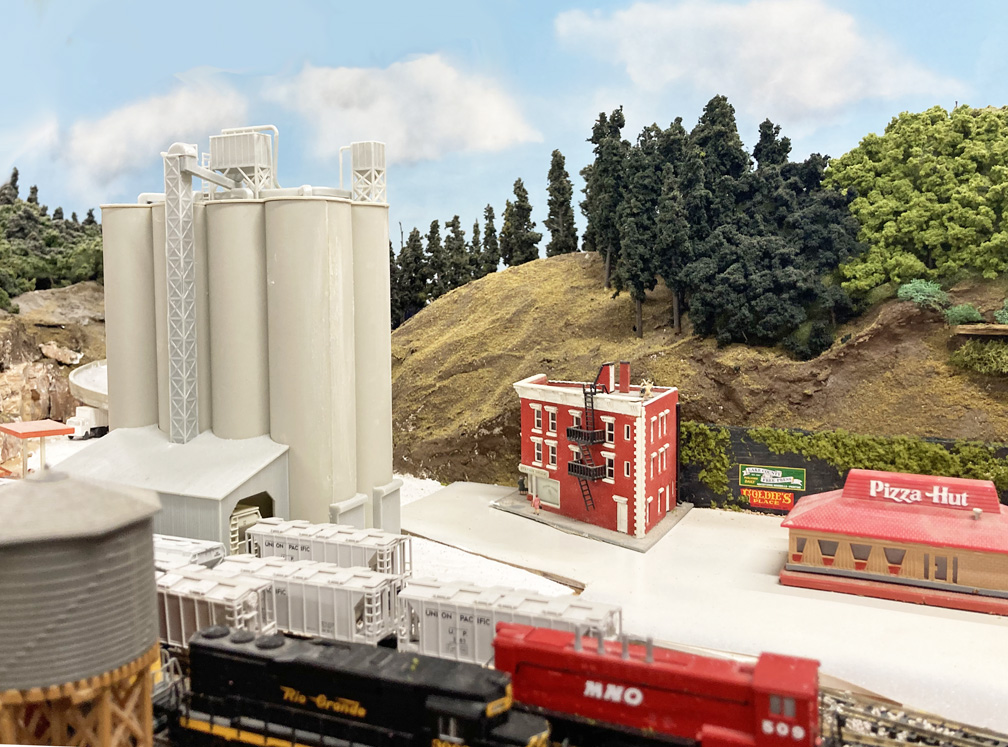 As yards at the railroad's terminuses bloomed, passing sidings in Texarkana and Fort Smith were refined, and industries in Whitehurst, Pine Ridge and Van Burn sprouted.
Overall, the vision has been realized and punctuated on a cold November 2019 weeknight, when a three-unit set of Union Pacific SD40-2s unceremoniously lashed up to a 10-car train in Dallas Yard and headed north to Kansas City after the main line was connected. The heavy powered lash-up may have seemed too much for a short string of hoppers and box cars but it seemed so right.
Even sweeter that the motive power consist featured two new Kato SD40-2s paired with one built two decades ago. They synched perfectly (a Kato representative told me the locomotives are built the exact same even though two decades of production separated them).
Blending the Old
Since then, track has been finished. Train movements are working according to plan and operations have begun.
Much of the scenery has been started, but there is a long way to go.
A mini-open house was hosted in Super Bowl weekend 2019 for friends and neighbors who had seen the old layout, and it was nice that they were able to leisurely walk around and see how the W&PRR has evolved. They seemed to approve.
So far, so good
Layouts are seldom finished, what with all the detailing needed. And it's impossible to think that the W&PRR's completion can be covered in a few articles over the next few issues.
But we'll offer progress reports over the next few issues, including the finished track plan as well as how basic scenery and operations have come together.
Check back soon for more updates.