Update: Events canceled and museums close over COVID-19; virus slows intermodal rail traffic
This story was last updated April 7, 2020
By TIM BLACKWELL/Cowcatcher Magazine
Plans are in place for the nation's railroad community to keep trains moving as the U.S. continues its fight with COVID-19. Operations are ongoing, although the industry and others have been forced to function remotely to comply with health recommendations and state and national stay-at-home mandates.
And rail fans aren't alone. They're feeling the trickle-down effect that's forcing cancellation and postponement of spring shows, meets and get-togethers.
Based on social distancing guidance from the Centers for Disease Control and Prevention and the World Health Organization, freight and transit railroads are limiting human contact and establishing remote operations while implementing thorough cleaning and disinfecting procedures. To no surprise, the American Public Transportation Association canceled its Legislative Conference in Washington, D.C., scheduled to begin Sunday and run through St. Patrick's Day. APTA may reschedule.
Model railroad meets, shows and gatherings have been canceled or postponed in response to recommendations and mandates that prohibit gathering in small and large numbers.
The CDC has recommended that organizers cancel or postpone in-person events that consist of mass gatherings throughout the U.S. The Whitehouse has issued guidelines to the slow the spread of COVID-19.
Freight, transit roads take proactive measures
Railroads began taking proactive measures at the onset of the coronavirus earlier this month. Among them, Norfolk Southern activated an operations command center Saturday staffed with senior operations managers to monitor the situation and ensure that the company stays ahead of potential issues, Chief Marketing Officer Alan H. Shaw said in a letter to customers. NS has begun transitioning some employees to remote working arrangements.
"We have restricted access to critical functions in our offices such as our Network Operations Center and implemented social distancing practices for these functions," Shaw said. "We have executed general safety actions such as posting information about the importance of hand washing and good hygiene, limiting office visits from non-employees, increasing cleaning regimens and ordering additional cleaning supplies."
In a March 6 letter to customers, Union Pacific's executive vice president of marketing and sales, Kenny Rocker, reassured customers that a plan is in place to mitigate the impact on supply chains. UP drafted a protocol in 2006 to address a possible influenza pandemic and identified employees essential to maintaining operations.
"We have a core team of health and safety professionals on hand to respond to infectious disease outbreaks, including COVID-19," he said. The plan includes a command center to be staffed by personnel who can keep freight moving.
Operating and support personnel are responsible for transportation plan adjustments, traffic diversions and equipment planning, among other functions, as the supply chain changes or disruptions occur, Rocker said. The response team will ensure protocols are followed to facilitate proper communication between operating and support staff and customers.
Also, CN said it will hold an online shareholder meeting April 28 to minimize the health risk that may be associated with large gatherings.
Network rail traffic slows, intermodal declines sharply
UPDATE: Meanwhile, traffic slowed dramatically across the nation's rail network during the first three weeks of March, according to the Association of American Railroads. Total U.S. traffic through March 28, including intermodal, was down 9.3 percent or 187,609 car loads compared to March 2019. Intermodal originations were down 12.2 percent or 130,461 units for the week of March 28, the lowest weekly total during the period.
The dip contributed to already slowing traffic in 2020. Total combined U.S. traffic for the first 13 weeks of 2020 was 6,171,336 car loads and intermodal units, a decrease of 7.5 percent compared to last year.
Significantly lower intermodal traffic, a big driver of exports from Asia, is down 8.6 percent, a figure Gray AAR Senior Vice President John T. Gray said can be attributed to virus. However, he noted that other rail transport commodities are feeling the effect, including automotive and petroleum. Reduced consumer spending has slowed auto sales and oil prices have dropped significantly because of an ongoing price war between Russia and Saudi Arabia.
"Rail traffic numbers confirm that the coronavirus is taking a toll on the economy," he said. "For example, U.S. carloads of autos and auto parts last week were down 70 percent from the same week last year as auto production declined to zero and consumer spending has begun to shrink demand."
But the bottom may be edging closer as railroad traffic among the five railroads serving West Coast ports remained steady for a fifth consecutive week, "reinforcing the expectation that we may have seen the bottoming of the Asia-North America trade," plus grain and chemical shipments rebounded from March 2019.
"While there remain more unknowns than knowns about the next few months, there are tidbits of encouraging news," Gray added.
Transit systems issue cleaning protocols
Safety precautions are also extending to the nation's mass transit systems.
The APTA continues to monitor the impact of COVID-19 and reissued "A Guide for Public Transportation Pandemic Planning and Response" prior to the WHO's declaration of a pandemic. NCHRP Report 769 addresses planning and response in the event of a global pandemic and includes guidance to prevent the spread of disease, provide services during a pandemic, and manage workforce impacts and crisis communications.
In the meantime, public transportation agencies have been reassuring the public that they are taking appropriate measures to contain the spread of the virus. Extensive cleaning protocols have been put in place for many of the nation's streetcars, light rail, commuter rail and bus lines.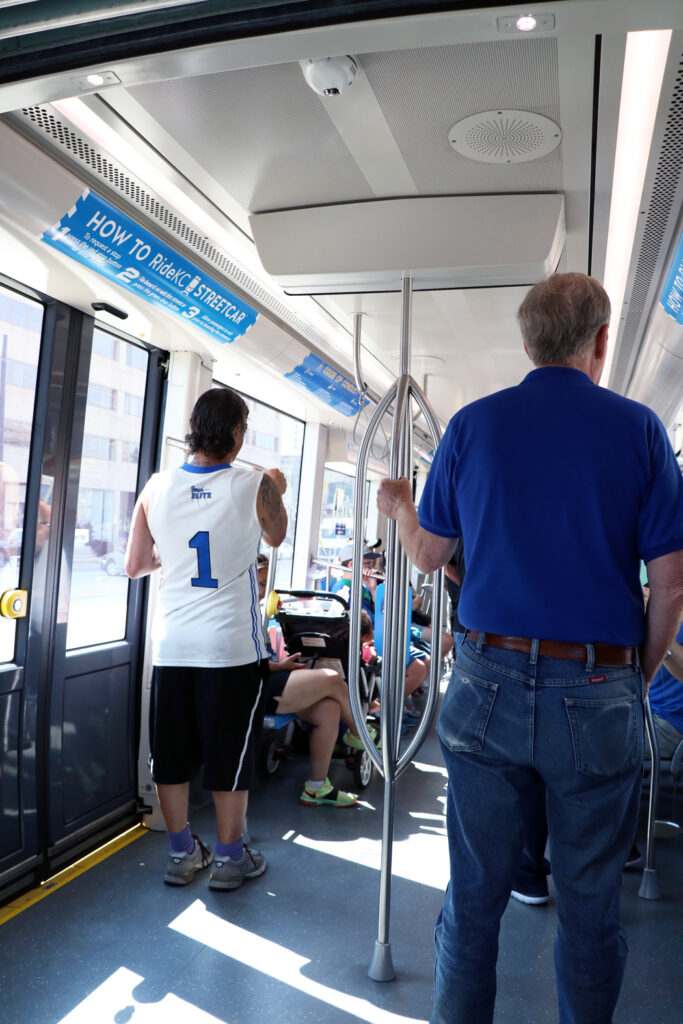 Amtrak has increased the frequency of cleaning on trains and at stations to multiple times a day, including hourly cleanings in some cases, according to the railroad's website. Use of disinfectants to wipe down handrails, doorknobs, handles and surfaces has increased, as well as the quantity of sanitizers and disinfectant wipes available for customers and employees.
"We are regularly sharing best practices with employees and customers on ways to protect against communicable diseases," Amtrak said. Passengers who feel sick are encouraged not to travel.
Amtrak also has adjusted some services due to significantly reduced demand in key markets. The adjustments include running Northeast Corridor, Keystone service, New York State service and Amtrak Hartford Line and Valley Flyer services at reduced capacity. The Winter Park Express has been canceled for the rest of the season.
EMBARK, which operates Oklahoma City's transit system, is cleaning and sanitizing buses and streetcars daily, including wiping down poles, seats and stanchions.
Dallas Area Rapid Transit (DART), the Denton County Transportation Authority (DCTA), Fort Worth's Trinity Metro and the Trinity Railway Express (TRE) all remain in contact with local, state and national health authorities, including the Texas Department of State Health Services and the CDC, and will continue to monitor the situation for residents in North Texas.
UPDATE: Effective Monday, TEXRail and Trinity Railway Express will run on adjusted schedules. TEXRail will shift to hourly service and TRE will operate six days a week based on its Saturday schedule.
Also, Trinity Metro will offer free rides on bus routes, ACCESS and TEXRail to minimize contact between operators and customers as well as conductors and riders. The service change is expected to last two weeks, at which time the status will be re-evaluated.
Chicago Metra CEO/Executive Director Jim Derwinski reassured passengers on one of the nation's largest commuter rail systems that curbing the virus is being taken seriously.
"We understand the importance of regularly cleaning and disinfecting our stations and equipment for the health and safety of our customers and employees," he said on the agency's website.
Metra is cleaning cars daily with concentration on disinfecting high-touch areas such as handrails, armrests and doors. Metra recently began bringing in extra crews on weekends to do additional cleaning of cars and locomotives.
"Customers can do their part, too, by following the guidelines of health professionals to prevent the spread of the virus, including regularly washing your hands, covering your mouth when you cough or sneeze, and other measures," Derwinski said. "Metra will remain in touch with federal, state and local health authorities and will make any changes to our procedures as necessary."
UPDATE: Metra has been running on schedule but will operate on an alternate weekday schedule starting Monday to adjust for the reduced number of riders due to school closures, work-from-home mandates and other consequences of the pandemic.
UPDATE: The Durango & Silverton Narrow Gauge Railroad announced that excursions and event trains have been canceled through April 1 or until further notice. The museum and gift shop will remain open and yard tours will be given.
Guests who currently hold reservations will be notified and can receive a full refund or rebook for a later date in the season, the company said in an email.
Model railroad shows canceled
Model railroaders and operators are heeding advice not to gather in large groups. Many train shows and rail fan events have been canceled, including several through March, April and early May.
Train Show, Inc., which hosts several regional and national model train shows – including the World's Greatest Hobby on Tour – was among the first to postpone or cancel shows. March and April shows in Pleasanton, CA; Dayton, OH; Wilmington, MA; and Baltimore, MD, were cancelled. UPDATE: The April 5 show in Wheaton, IL, was cancelled but the May 3 show is tentatively on schedule.
The company was able to complete its 2020 WGH on Tour schedule, which finished March 1 in Saint Paul, MN.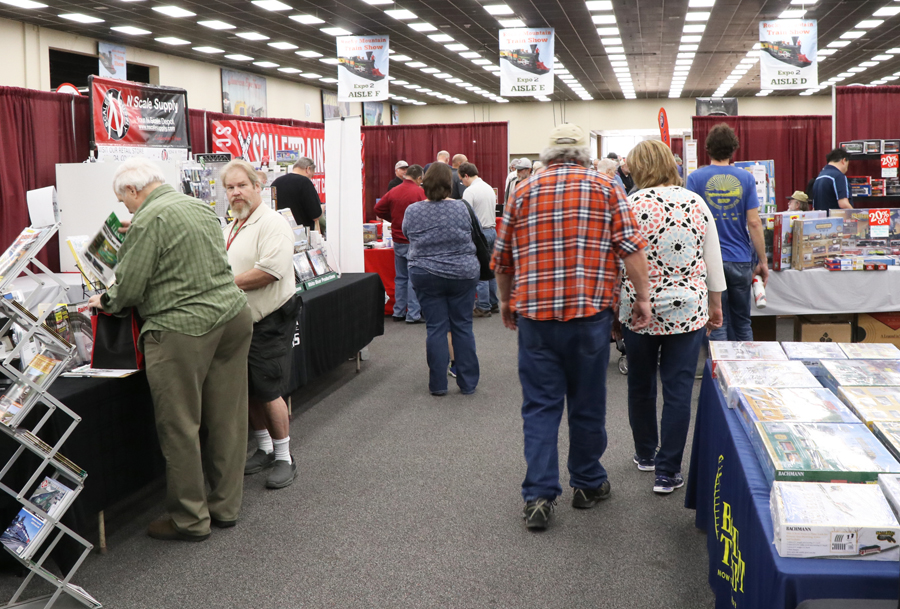 Many smaller shows scheduled for the second weekend in March were canceled in the days leading up to events after city and state officials shuttered government-operated buildings or prohibited large social gatherings.
Vendors at the 2020 Model Train Show in Atlanta, scheduled for the last weekend at at Cobb Galleria Centre, got the word early Friday morning before setup that the show, hosted by the Piedmont Division/NMRA, was off.
Show manager Dave Gelmini said division members weighed all options. On Sunday, Atlanta Mayor Keisha Lance Bottoms issued a state of emergency through March 31 that prohibits gatherings of more than 250.
Among the latest shows to cancel is the OKC Model Railroad Expo, which was set for the last weekend in March at the Oklahoma State Fairgrounds in Oklahoma City. The show has been rescheduled at the same location for July 24-26.
Elsewhere, the March 20-21 Cotton Belt Train Show in Tyler, TX, was canceled last week after the city closed the Harvey Convention Center. Glenn Wilkins, who has organized the show for several years, spent last weekend contacting vendors and organizations that had reserved space.
"I hate that this happened for them and us," he said. "We've got to get through this."
UPDATE: Also, the Austin Area Train Show was rescheduled for Sept. 5-6 for the Williamson County Expo Center in Taylor, TX.
In St. Louis, MO, the Boeing Employees Railroad Club canceled its annual spring swap meet March 14 after St. Louis County Commissioners declared a state of emergency and suspended events larger than 250 people. The club is contacting vendors, according to the BERC website.
Two days before kicking off its 36th annual show March 14-15, Railfest Train Show rolled to a halt in Kirtland, OH, to comply with Ohio's ban on large group gatherings. The two-day event is held each March at Lakeland Community College.
Also canceled for March 15 was the Springfield Train Fair, sponsored by the Springfield (IL) Model Railroad Society.
UPDATE: Arkansas City (KS) Train Show, set for March 20-21, was canceled after the city said it needs the building for emergency use during the outbreak. Also, the Greater Tulsa Area Train Show set for April 4 at the Bixby Community Center has been rescheduled for June 13 (this date has been updated from May 30). The show was postponed after Bixby city officials closed the community center.
The Ozarks Model Railroad Association canceled its OMRA Spring 2020 Train Show, set for March 21 at the Oasis Convention Center in Springfield, MO. Vendors and layout exhibitors are being notified via email or phone.
"We regret the cancellation of what would have been our 41st Spring Model Railroad Show, and appreciate your support at our past shows," OMRA President Kurt Clement said in a message on the website. "Stay in touch because we will be back with a fall show in September."
On March 13 the Elkhart Model Railroad Club canceled its show March 21 at the Claywood Event Center in Nappanee, IN. "We regret any inconvenience to the public and vendors but we have to adhere to notices like this to help keep our club members, vendors and the public safe in any situation," the club posted on its website. "We will be going ahead with planning the 2021 show in the near future."
The 39th installment of the La Crosse and Three Rivers Model Railroad Club's show March 21 and 22 at The Omni Center in Onalaska, WI, is canceled. The club began the show in 1981 and plans to celebrate its 40th year in 2021. Elsewhere in Wisconsin, the Delavan Train Show in Delavan canceled its March 21 show.
UPDATE: On Monday, following the recommendation of Fort Bend County, TX, the Rosenberg Railroad Museum posted Railfest, scheduled for March 28. The event is now set for May 9, which is National Train Day. Tickets purchased prior to the announcement will be honored at the rescheduled event. The event will be from 10 a.m. to 4 p.m. at the museum, 1921 Ave F in Rosenberg. The Museum is seeking sponsors to help finance activities. Sponsorship levels ranging from $250 to $2,000 are available.
UPDATE: The New Braunfels (TX) model train show in April, hosted by the New Braunfels Railroad Museum, was canceled. The organization's fall show slated for Oct. 31-Nov. 1, has not been rescheduled.
UPDATE: The Historic Jefferson Train Show in Jefferson, TX, scheduled for mid-May was canceled. Also, the R.D. Moses T&P Model Railroad Museum in Jefferson is closed until further notice.
Museums take steps to confront virus
Railroad museums are also being impacted by the virus. Many are closing for a few weeks and canceling or postponing events.
In mid-March, the Illinois Railway Museum announced the beginning of its 2020 season was postponed until May 2. The campus remains open to volunteers, workers and employees, according to the museum's website.
The California State Railroad Museum has been closed until further notice. The California State Railroad Foundation closed its offices through March 31.
"While we are not directly affected by COVID-19, we are monitoring the situation carefully and are committed to following California Governor's updated policy on social gatherings to help slow the spread of COVID-19," the museum said on its website.
The Museum of the American Railroad in Frisco, TX, is closed through March 27, at which time a determination will be made regarding re-opening. The closure includes TrainTopia, a large G-scale railroad located at the Frisco Discovery Center.
UPDATE: The museum also postponed its annual spring Day Out With Thomas in Grapevine, TX, which was scheduled for the middle two weeks in April.
"We made the decision mutually with Mattel and our partner the City of Grapevine, with every expectation to reschedule the event at a later date," President and CEO Bob LaPrelle said.
The Colorado Railroad Museum is closed through March 31. Several events scheduled for Spring Break and late March have been canceled.
"Depending on circumstances, this closure may be extended," Executive Director Paul Hammond said in a statement posted on the museum's website. "It is no longer prudent to continue to offer an outdoor gathering place for the community, given the rapid spread of the coronavirus. We're truly saddened to have to make such a decision, but we ask for your understanding in these difficult times."
The Minnesota Transportation Museum announced it is closed to the public through March 31 for the health and well-being of volunteers, staff and the community, MTM said in a press release. Executive Director Scott L. Hippert and Chairman Brian Voss didn't rule out closing beyond March.
"This is an unprecedented moment for each of us," they said in a statement. "We are grateful for the cooperation and support of the entire MTM community and our visitors as we take steps to confront the spread of this virus."
UPDATE: The Twin City Model Railroad Museum in Saint Paul, MN, has extended its closing through April 17 and postponed the spring hobby show in May.
TCMRM President Oscar Lund asked for donations in an email to help the museum sustain being closed. Nearly 90 percent of the museum's income is from admission fees, special events and gift shop sales.
"Our future strength depends on increasing our current 12 percent donor support," he said.
City officials in Greeley, CO, closed all non-emergency facilities, including museums. The Colorado Model Railroad Museum shut down and will stay closed through March 30, said Executive Director Michelle Kempema.
"Your safety and that of the museum staff and volunteers is truly our first priority," she said. "Our thoughts and prayers will be with you and your families through this time."
UPDATE: The Oklahoma Railway Museum announced Wednesday that it is closing through at least April 22 after earlier saying it was moving forward with its spring schedule while monitoring COVID-19 developments. Summer train rides scheduled for the first and third Saturdays of the month are idled, as are tours, exhibits, birthday parties and other activities.
Administrator Anne Murray Chilton said precautions have been taken to keep the museum clean, including using disinfectants recommended by the CDC for COVID-19 throughout the building on a daily basis.
"Oklahoma Railway Museum has not been directly affected by COVID-19," she said. "The decision to postpone services was based on new public safety guidelines released by health officials at all levels of government. We continue to monitor the constantly-changing situation carefully and respond accordingly. ."
UPATE: The National Railroad Museum in Green Bay temporarily closed on March 17. No date for re-opening has been set.