Product Review: Rapido Flexi-Flo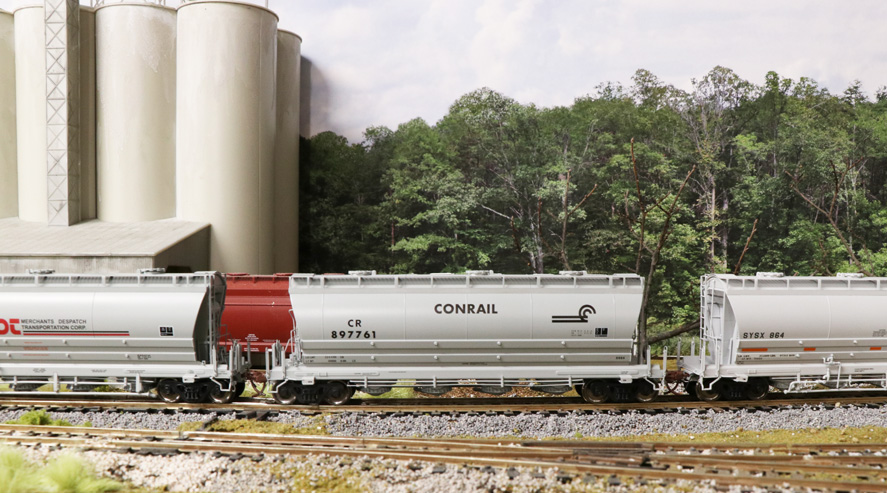 Detail, variety delivered in unique hopper
The American Car & Foundry (ACF) PS3500 Flexi-Flo covered hopper was innovative for its day.
Built between August 1964 and June 1966, the 3,500-cubic-foot hopper was an early pioneer in pressure differential unloading and had a distinct look from others in its class.
Other than seven cars built for ACF subsidiary Shippers Car Line (SHPX), the NYC was the only purchaser of the PD3500. In three different car body batches, 220 cars rolled off the Milton, PA, production line over two years.
The first cars off were the 941-H, which featured three panels and vertical ribs along the bottom of the car body and 100-ton trucks. The 963-H followed with a redesigned car body with horizontal (instead of vertical) ribs, plus enlarged roof-top loading hatches and new 125-ton trucks. The 966-H was similar but with six side panels.
The cars had a resilient future after the NYC, as many left the Northeast through transfers and sales and operated well into the 1990s.
Still new at the time of the Penn Central merger, many cars were simply re-patched with PC prefix and logo and renumbered, although some NYC versions survived. When Conrail arrived, many were re-patched again and repainted in three Conrail schemes.
Many Flexi-Flos were transferred to Conrail's Merchants Despatch Transportation Co. (MDTX) subsidiary, and others later were sold to NAHX (for Lafarge) and SXSX/SYSX for use in Arizona, California and the Southwest. Each was repainted.
By 2000, an explosion of patchouts had taken place with reporting marks popping up throughout the U.S. and Canada. Many were still in use well into the mid-2010s, only being retired because of the 50-year interchange rule.
ACF PD3500 produced in three body styles
Last fall, Rapido Trains released its first HO-scale replica of the ACF PD3500 Flexi-Flo covered hopper in each variation with a wealth of detail.
The cars were produced in three body styles and two top hatch sizes with 100- and 125-ton Barber S-2 trucks, etched metal running boards, wire and injection-molded grab irons, detailed underbody with full discharge piping, brake equipment and piping variations, factory-installed air pipes and coupler cut levers, and metal Macdonald-Cartier knuckle couplers.
Several schemes are offered: LaFarge; US Systems SYSX; Merchants Despatch Transportation Corp. (MDC); Conrail Repaint; Conrail Billboard; Conrail Flexi Flo; Ex-NYC Patchout; Penn Central Billboard; NYC (as delivered); and FMC Chemicals in multiple road numbers and correct variations. An undecorated version also is available.
Given Rapido's knack for super-detailing, the Flexi-Flos don't fall short. Cars are well painted with crisp detail, and piping is clean and realistic.
The cars tracked well on the Cowcatcher's Northwest Tarrant & Pacific. They are sturdy and balanced and move nicely through switches and along the main line.
The only issue was that couplers on two of three samples sent did not work well out of the box.
Rapido acknowledges in an information sheet that accompanies the car that couplers may need a "tune-up" after removing from the packaging. A spring may have come loose during shipping or the trip pin might need adjusting. No problem there.
However, the knuckle would not open and couple to other cars, apparently stuck by the realistic brown factory paint. We had to gently pry the knuckle apart using a hobby knife, something we do not recommend. Fortunately, we didn't break the coupler but did damage some piping.
We've had similar coupler issues on other Rapido products, some of which self-corrected after use.
Once again, Rapido gives the modeler the backstory of each car, although the cars' use mostly in bulk cement service wasn't mentioned. To its credit, Rapido notes on its website the in-service dates of each car, which is important for those who want to use one in prototypical operation for specific eras.
At $59.95 (U.S.) and $71.95 (Canada), the cars are a good value considering detail and finishing work. They are sold individually or in multiple packs (two, three and six).
The Flexi-Flos are superbly done and a great addition to any freight operation.
Again, Rapido has outperformed.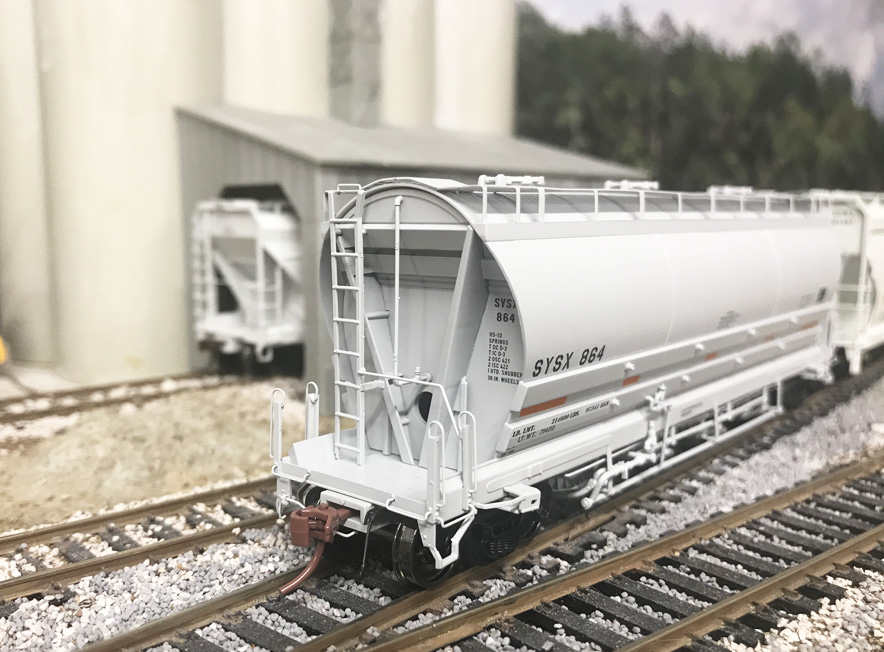 This article first appeared in the January/February 2021 Cowcatcher.
Read our other product reviews
Visit our product review page here.