Product Review: MAC Rail EOT devices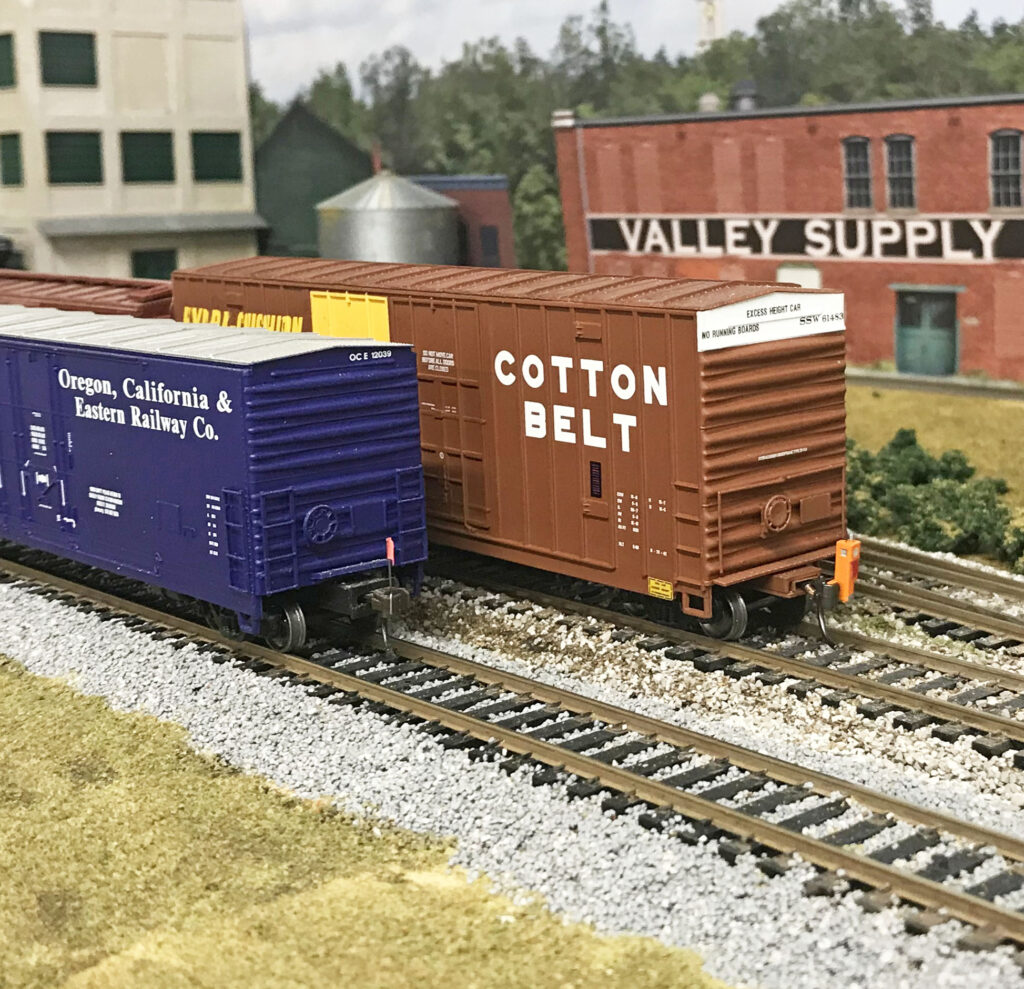 Quick, easy way to simulate EOT cars
Operations-oriented model railroaders now have a quick, easy way to designate end-of-train (EOT) cars with much more flexibility.
MAC Rail LLC recently entered the rolling stock detail arena with HO-scale static end-of-train devices for two Kadee coupler styles. The Texas-based company debuted a line of ready-to-run EOT add-ons, flags and storage racks this summer.
The devices are 3D printed and hand painted in seven colors. Each has a red square made from reflective tape to simulate safety reflectors on actual EOT devices. Each gets a coat of phosphorescent paint that glows after being "charged" 30 seconds under direct light, like a flashlight. Devices are adorned with a 3M Scotchlite reflective decal cut to scale size.
The devices, which sell three to a pack for $20, are compatible with Kadee No. 5 Regular Type and No. 58 Scale Type couplers.
The EOT device slides inside the coupler knuckle and locks in place with a twist. Untwist to remove.
While not to scale, the EOTs are an inexpensive option for marking the end of a train and offer operators more options for using EOTs like prototype railroads do.
In typical train service, EOTs, sometimes referred to as flashing rear-end devices (FRED) or sense and braking units (SBU), are electronic devices mounted at the end of freight trains. The devices can be removed and applied to other cars.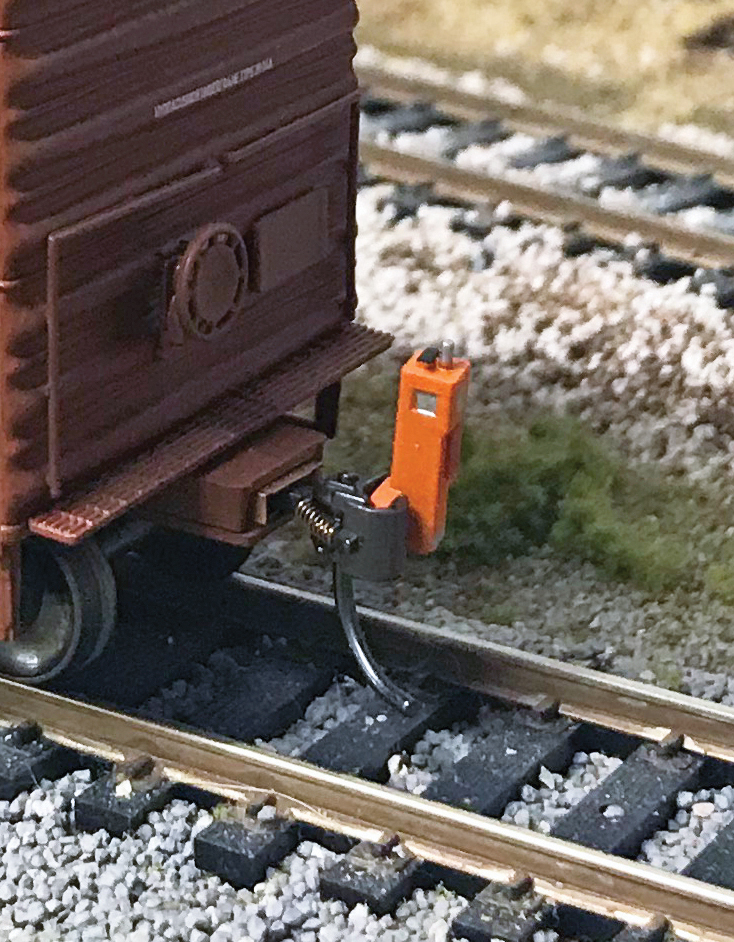 FREDS were implemented as early as 1969 when cabooses began being phased out on North American railroads. They became more widespread in the 1980s on Class 1 railroads and larger short lines.
Flashing EOT devices are available in model railroading but they are hard-mounted to the car to ensure electrical pickup. They require disassembly to be added to other cars. However, while they don't flash, MAC Rail's EOT device can be installed or removed in seconds. Operators are no longer limited in the cars that can be marked at the end of the train.
Like in prototypical operations, trailing cars with EOTs can be set out at industries and the device removed and installed on another car in the consist.
The design is loosely based on EOTs used in real life and serve as an easy reference on a layout, according to MAC Rail owner Greg McComas. "You can more quickly see where the end of a train is in the yard," he said.
EOT Train Flags, often used at small short lines during daytime movements, are hand crafted with piano wire. Durable and high-visibility orange, they are adjustable to fit all coupler types and storable on the MAC Rail EOT Storage Rack. The wire supporting the flag can be gently squeezed into place to fit the coupler.
A pack of two costs $6.
Storage racks are 3D printed and comes in small and large sizes. The small rack ($11) holds three EOT devices and multiple flags. The large rack ($20) accommodates six EOTS. The racks come in yellow and aluminum finishes and are drybrushed with rust-colored pain and sealed with a matte coat.
Affordable, efficient for HO operations
The Cowcatcher received a package of HO Regular Type EOT devices, a storage rack and a flag.
The models are nicely painted and are a very good representation of the prototype systems in place.
The EOT device was easily installed within seconds on an InterMountain 50-foot Hi-Cube Double Door boxcar using Kadee couplers by inserting the bottom of the device into the coupler and gently twisting. The device was removed by reversing the process.
During switching, the device stayed in place and was removed from the car once spotted on at a warehouse on the Cowcatcher's Northeast Tarrant & Pacific railroad.
The flag, cut from flexible red or orange tape, fits most couplers by hooking over the end of the knuckle.
We received the small EOT rack and it looks at home on the platform of the brick depot in Norwood. The dry-brushed rust effect is a nice touch.
MAC Rail's EOT devices are an affordable, efficient application for HO-scale operations, large and small.
Details are available on MAC Rail's website and Facebook page. Spring Creek Model Trains is an authorized dealer.
Read our other product reviews
Visit our product review page here.