Product Review: InterMountain HO 19,600-gallon Corn Syrup Car
By TIM BLACKWELL, Cowcatcher Magazine
America loves its corn syrup.
Each year the per capita consumption of high fructose corn syrup is nearly 40 pounds. According to Statista, 7.63 million short tons of the stuff was produced in the U.S. in 2020, sweetening everything from cakes to cookies to candy to decadent desserts and other foods.
Corn syrup is a viable commodity on the country's railroads, which have hauled 410,000 carloads in the past five years, says the U.S. Department of Agriculture.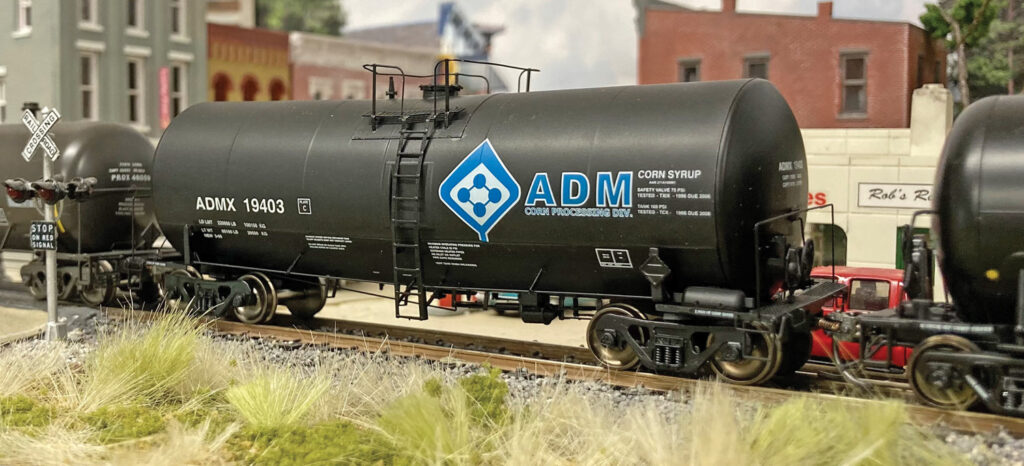 ADM Corn Syrup Cars a Popular Flavor
The 42-foot, 19,600-gallon coiled and insulated tank car is the car of choice for hauling the sweetener, with Trinity Industries, Union Tank Car and Greenbrier Companies the most prevalent manufacturers.
From 1984 to 1998, Trinity Industries built more than 7,000 cars to haul sweeteners. With colorful logos representing corn producers, they were among the most visually interesting freight cars on the rail. A popular flavor is the ADM or ADMX car, which hauls products from ADM, one of the world's largest producers of nutrition for human and animal consumption.
The cars are easily spotted by their blue lettering and Molecule logo, and many are still in service.
Today, Trinity Industries builds a 19,636-gallon coiled and insulated tank car for transporting corn syrup that's similar to Greenbrier's 19,600-gallon version and smaller than Union Tank Car's 19,900-gallon car.
InterMountain car makes the grade on looks, performance
InterMountain Railway Co. in Longmont, CO, recently released a second run of HO-scale corn syrup cars in 15 paint schemes plus an undecorated black version, including ADM cars in the Molecule and new logos. The Cowcatcher received a Molecule version as a sample for review.
In addition to the ADM cars, the model is produced in Minnesota Corn Producers, Staley, Cargill, Corn Products, Domino Sugar, Cerestar, PRGX, GATX, Tate & Lyle, GATX/MCP, TILX Light Gray, Tate & Lyle (repaint) and TILX Black.
Each road name has six numbers, and the cars run on InterMountain's 36-inch metal wheelsets. They retail for $42.95.
The ADM cars are produced in ADMX Nos. 19403 (our model), 19426, 19467, 19538, 19555 and 19594. The cars join InterMountain's previously released numbers: 19410, 19424, 19447, 19491, 19533 and 19571.
The car features the slightly bowed tank and is nicely painted in black with the blue logo and lettering. All lettering is legible.
A nice feature is the thin but sturdy piping and railings on the top, sides and under the frame. While fragile, the details are secured very well so that handling isn't an issue.
On the Cowcatcher's Northwest Tarrant & Pacific, ADMX No. 19403 tracked well – the trucks rolled freely and the car rode smoothly.
The car is 5.5 inches long from coupler to coupler and weighs just under four ounces, which conforms to the National Model Railroad Association's recommended weight.
The car has InterMountain's proprietary body mount metal knuckle couplers, each fastened to the frame by a single screw.
InterMountain's 19,600-gallon tank car looks good, feels good and performs well. It will fit in nicely on any modern-era layout.
Read our other product reviews
Visit our product review page here.