Long-time railroad historian and author revisits vintage rail travel on the Cotton Belt railroad
Steve Allen Goen returns to publishing in a big way with the release of the first of 10 books showcasing passenger trains in Texas.
"Passenger Trains of Texas Cotton Belt" debuted last fall. His first book since 2006, it features passenger operations of the St. Louis Southwestern Railroad (more commonly the Cotton Belt) between the Victorian Era of the 1890s to the railroad's last mixed train in 1958.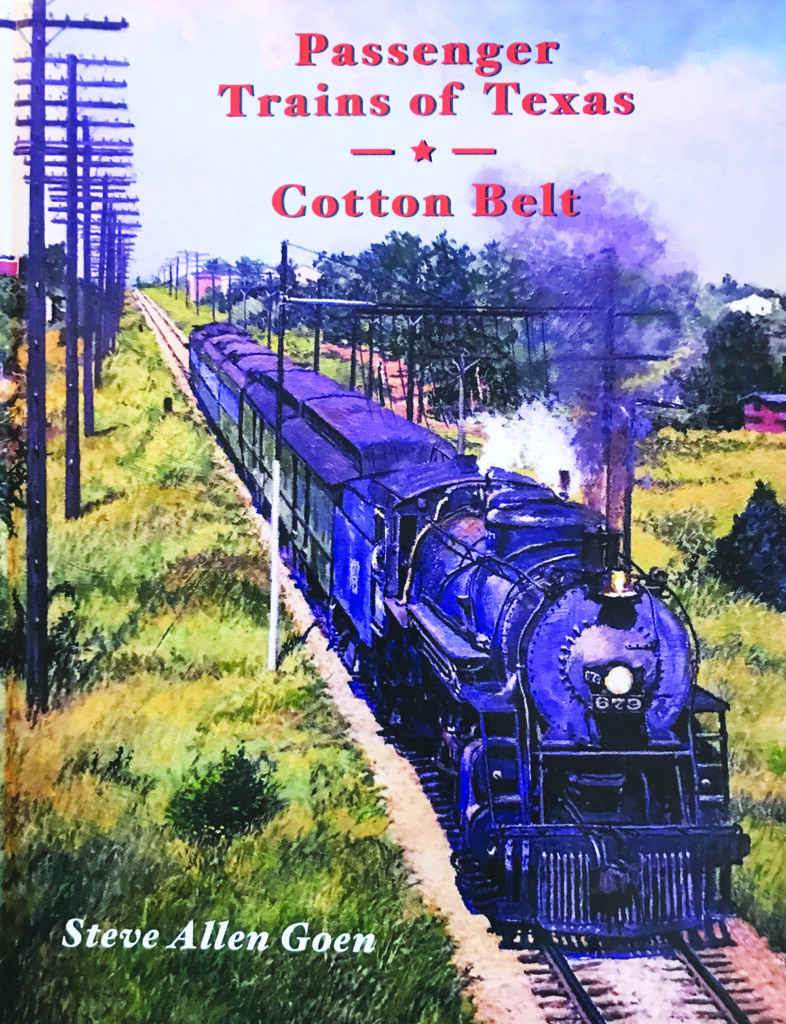 Goen tells the story of the Cotton Belt's historic run of passenger service through Texas with his signature style of photos and descriptions. However, he goes a step further with interesting tales that re-create the railroad's journey through major cities and small towns in an age when rail was a major mode for moving people.
The 144-page hardback is his ninth book and includes color and black-and-white images of the Lone Star and Morning Star trains, as well as the Jitney in East Texas, gas electrics on the Stephenville, North & South Texas Railroad, and mixed trains to Sherman and Gatesville.
Chapters are in date order of when the Cotton Belt discontinued passenger service in Texas. They cover from the railroad's origins as the Tyler Tap Railroad in 1871 to becoming a major Class 1 line – and the first in Texas to drop passenger service and haul only freight.
First in series of Texas trains
Goen originally intended three books based on Texas' major passenger trains, mail and express trains and smaller lines, including doodlebugs and short lines. Then as he began researching he realized that wouldn't tell the story.
Books on the Rock Island, Burlington Route, Missouri-Kansas-Texas, Frisco, Texas & Pacific, Missouri Pacific, Southern Pacific, Santa Fe and Kansas City Southern are in the works. The KCS book will also include the state's short lines.
"I had accumulated so much information," he said. "I decided to split it up and do one per railroad."
He hopes the Rock Island book will be published by September.
Goen returns to book publishing
Three and a half years in the making, "Passenger Trains of Texas Cotton Belt" marks Goen's return to railroad publishing after a hiatus, some of it due to a serious medical issue, since "Miss Katy in the Lone Star State" was published in 2006 by Four Ways West Publications.
Goen published the Cotton Belt book through his company, Texas Zephyr Publishing. He wants it to take veteran Cotton Belt fans down memory lane, as well as enlighten younger generations about the role of passenger travel.
"New generations don't realize the beauty of having a railroad," he said. "It's to get out to everybody what these trains were. At one point just about every town in Texas had a train."
Goen has documented Texas railroads since 1967 and taken thousands of still images and miles of movie film and video from across the state. He began collecting newspaper articles about the state's last passenger trains as well as the closing of hundreds of train depots as a boy.
In 1996 he published his first book, "Fort Worth & Denver Color Pictorial." In subsequent years and in addition to "Miss Katy in the Lone Star State," he authored "Texas & Pacific Color Pictorial," "Cotton Belt Color Pictorial," "Kansas City Southern Color Pictorial," "Santa Fe in the Lone Star State," "Down South on the Rock Island" and "Texas & New Orleans Color Pictorial."
Goen will be a guest speaker May 5 at the DeGoyler Library at SMU in Dallas. The presentation begins at 7 p.m.
This article appears in the March/April edition of Cowcatcher Magazine.