Amtrak enters new era of passenger rail on heels of increased FY2022 ridership, capital investments
Amtrak entered a new era of passenger rail in October after ridership increased in FY2022 following two years of significantly lower boardings resulting from the pandemic.
Ridership grew 89 percent in the fiscal year ending in September, while the nation's passenger railroad restored and expanded service plus launched major infrastructure projects across its network.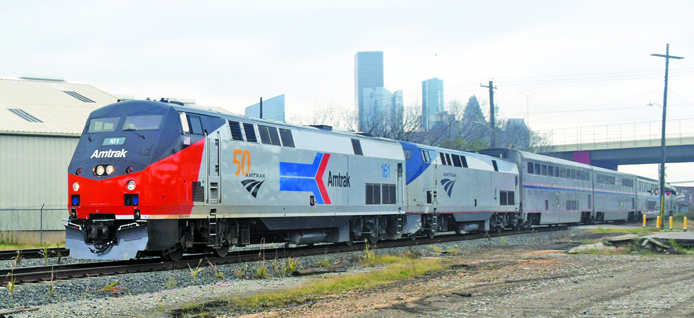 During the year, Amtrak hired a record number of employees and put the building blocks in place to modernize infrastructure, major stations and trains.
"We worked hard to restore service and grow ridership in the face of lingering impacts from the pandemic, all while modernizing our assets to make train travel a better experience for customers," Amtrak CEO Stephen Gardner said.
Amtrak ridership increased in FY2022 because demand for service surged in the second half following last winter's Omicron wave, with overall ridership reaching about 85 percent of pre-covid levels. Northeast Corridor, state-supported and long distance ridership grew 110 percent, 85 percent and 56 percent compared to FY2021 ridership.
Amtrak provided 22.9 million customer trips, including seven million first trips by new customers, a sign that passengers are again embracing rail travel, board Chair Tony Coscia said. Also, 11 services in collaboration with state and federal partners were restored or expanded, returning some service to nearly every route compared to pre-pandemic operations and helping to meet growing customer demand.
"Ridership exceeding our expectations shows that travelers are flocking back to Amtrak for intercity trips and that the United States is ready for more and better passenger rail service," he said.
Based on current forecasts, Amtrak expects ridership and revenue to improve above 90 percent of pre-covid levels by the end of FY2023, bucking the trend of continued lower ridership seen on most commuter railroads and public transit systems.
Ridership increase contributes to cut in operating costs
Financially, Amtrak fared well.
Total operating revenue of $2.8 billion was 47.8 percent better over the previous fiscal year and only 15 percent below Amtrak's FY2019 pre-pandemic levels. Strong ticket revenue growth improved adjusted operating earnings of $884.9 million by 18.2 percent over FY2021 and $145 million ahead of Amtrak's plan.
Increases in ridership and revenue helped Amtrak cut operating losses by $145 million compared to anticipated FY2022 levels, setting the stage for improving financial performance for train operations over the years ahead.
Helping drive revenue was new, expanded and restored service on the Northeast Corridor, state-supported and long-distance routes.
Amtrak, in conjunction with the New York and Massachusetts departments of transportation, debuted its newest train, the Berkshire Flyer, a seasonal pilot service for summer travel between New York City and Pittsfield, MA.
Also, in partnership with the Virginia Passenger Rail Authority, Amtrak began a second daily Northeast Regional departure from Roanoke, a third daily departure from Norfolk, and restored a second daily round trip to and from Newport News.
Pre-pandemic service frequency was restored on all long distance trains across the national network.
Capital investments bolster infrastructure across Amtrak network
Amtrak, which celebrated its 50th anniversary in 2021, invested $2.3 billion in capital projects, including advancing new fleets of trains to operate in the Northeast and other areas of the U.S. Money was directed toward major infrastructure programs like the Portal North Bridge in Kearny, NJ, and the B&P Tunnel Replacement Program in Baltimore, MD; accessibility projects supporting Amtrak's compliance with the Americans with Disabilities Act across the nation; and other station and facility improvements.
On the Northeast Corridor, Amtrak continued making infrastructure improvements between Washington, DC, and New York City via a $130 million investment for rail improvements and the hiring of 500 new employees.
Amtrak developed the first regional Climate Vulnerability Assessment and Climate Resilience Strategic Plan to mitigate the impacts of climate change on operations and formally establish a climate resilience program. The railroad pledged to achieve net-zero greenhouse gas emissions across all operations and its network by 2045.
Amtrak began a program to replace other Amtrak-owned locomotives and rail cars throughout the country with a new, state-of-the-art fleet. Among the accomplishments were ordering another 50 locomotives for long distance service, bringing the order with Siemens Mobility in California to 125 cleaner and faster diesel-electric units, all of which will be in service by the end of the decade. "We are doing our part to help deliver a new era of passenger rail improvements and low-carbon mobility," Coscia said. "As we begin the New Year, Amtrak will prioritize service improvements for customers, expand our network and advance our infrastructure and fleet modernization programs."