All issues priced at $6.25 each unless otherwise noted.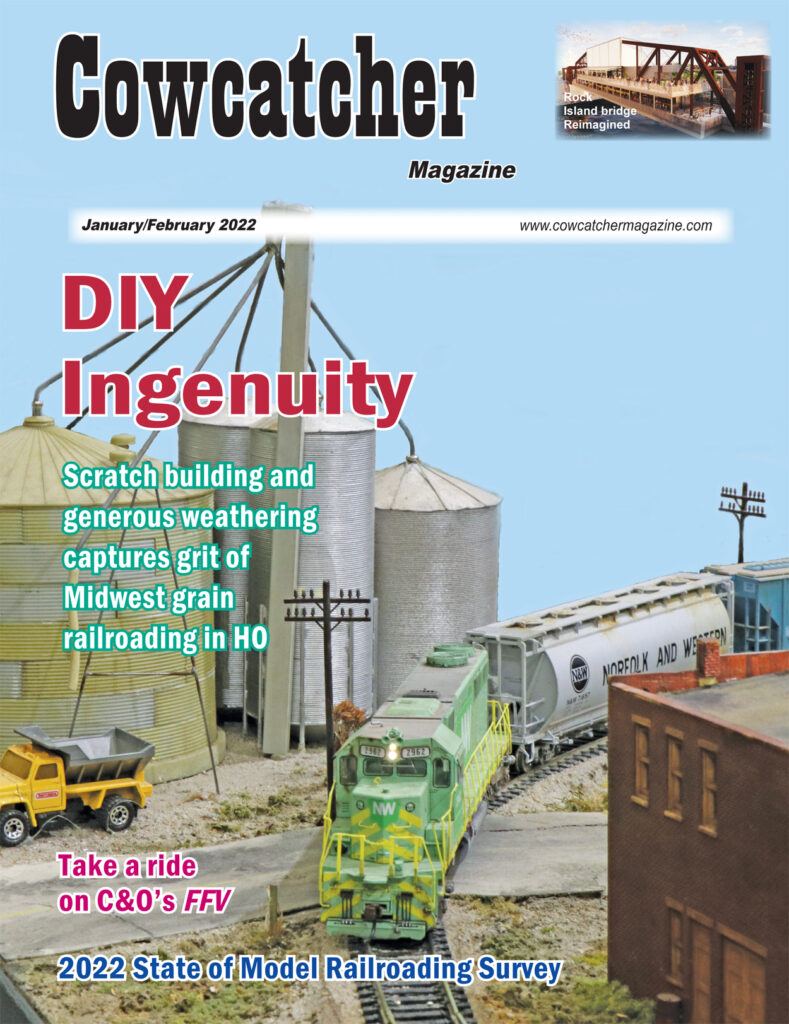 DIY Ingenuity – January/February 2022:
Cover Story: When an observer notes that the award-winning MZJ&D Railroad looks so dirty, Dave Scharnhorst considers it a compliment. The Illinois native has spent 40 years trying to leave very little on the expansive HO modular layout in a pristine state.
"I've been complimented so many times on how crappy my layout looks and how great it is," he says with a laugh. "They say it looks dingy and real."
The MZJ&D Railroad is a traveling HO depiction of grain operations in the Midwest, somewhere near Scharnhorst's hometown of Quincy, IL. There's not much prototypical about the 40-foot layout, except the grit and grime surrounding real-life railroads…
PLUS, Cowcatcher readers say model railroading continues to roll but they are more vocal than ever about pricing's effect on the future, according to our 2022 State of Model Railroading survey. Also, the son of a notable modeler is carrying on the family legacy and has purchased and relocated a major G-scale retailer. And plans are moving forward to reclaim the Rock Island Bridge over the Kansas River in Kansas City, MO, and turn it into an entertainment venue.
January/February 2022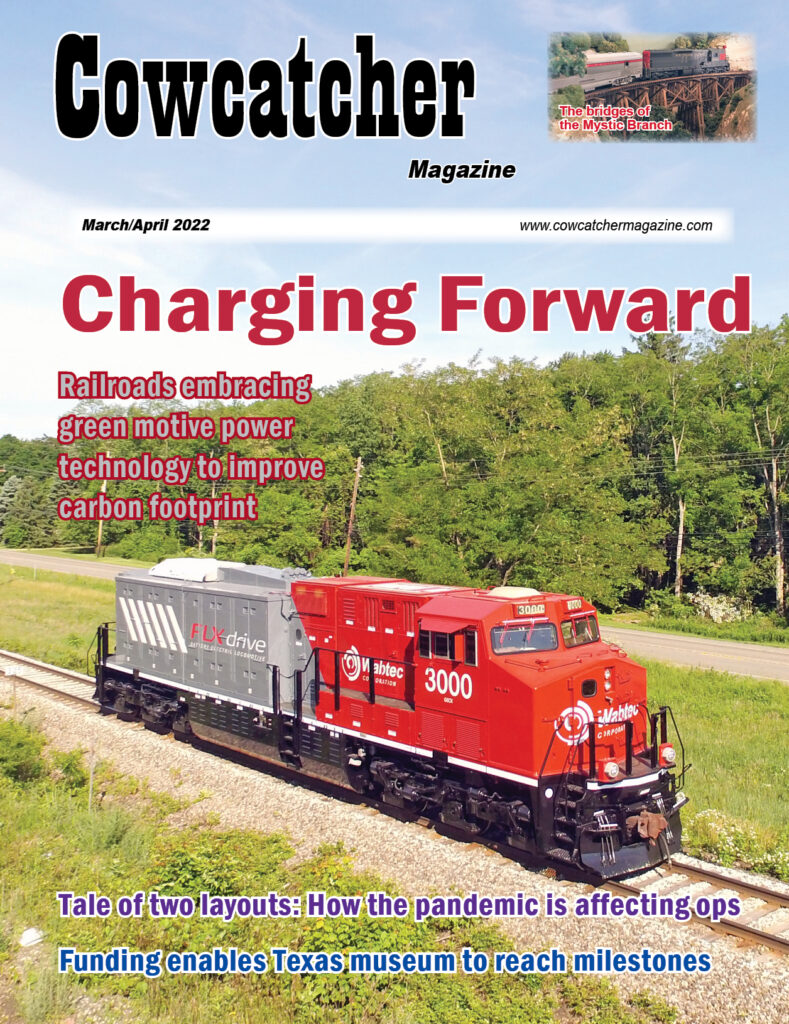 Charging Forward – March/April 2022:
Cover Story: Reducing the carbon footprint at the head end of trains: It's more a focus than ever.
Union Pacific Railroad and BNSF Railway are the latest to make large sustainability investments in their motive power through alternative fuels. Both plan to employ battery-electric or hydrogen fuel cell technology.
Battery-electric locomotives do not use fuel and emit zero emissions. For every 10 battery-electric locomotives used, approximately 4,000 tons of carbon will be eliminated annually, the equivalent of removing 800 cars from the highway, UP says.
Progress Rail and Wabtec are leading advancements in battery electric locomotive technology, which is said to lower fuel consumption and emissions by an average of 11 percent. To date, Wabtec has 18 orders, according to company spokesman Tim Bader.
A number of railroads outside the U.S. are employing the technology to make sustainable statements in rail transportation…
PLUS, The bridges of the Mystic Branch are examples of how variety in structures adds realism to the HO-scale Southern Pacific branch line.. Also, operators are getting back to business but adhering to safety protocols as the pandemic persists. And the Museum of the American Railroad is reaching milestones, thanks to matching a large grant from a major foundation. And more!
March/April 2022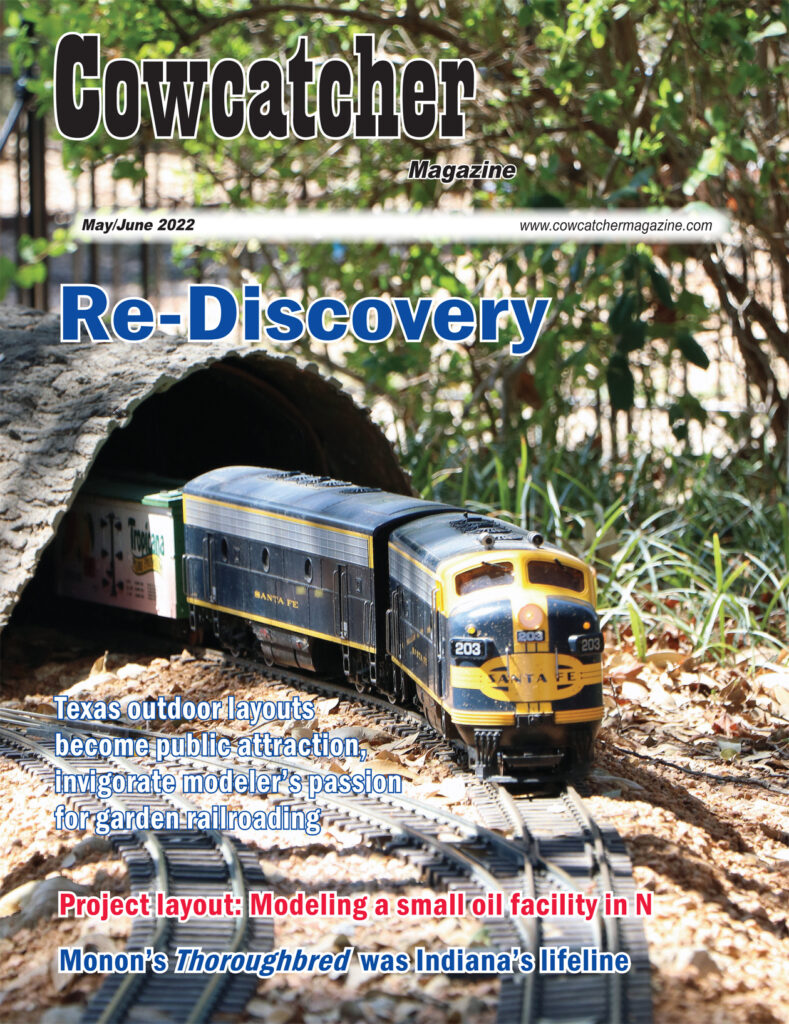 Re-Discovery – May/June 2022:
Cover Story: Just about every weekend, Ron Natinsky mans the Model Train Garden, unofficially the OBGT (Our Big Garden Train), on a small plot a stone's throw behind the Butterfly House at the Texas Discovery Gardens in Dallas. It has been his labor of love for four years, since agreeing to donate his time and what was left of his G-scale collection to create a public garden railroad experience.
A walkway separates the Texas-flavored displays and leads to a large grassy area encompassed by trees and native plants. Up to five trains run on 1,000 feet of G-gauge track, drawing thousands of visitors on weekends and during the State Fair of Texas.
"This is my home away from home," Natinsky said, surveying a train world that he built from the ground up.
PLUS, incorporating "loose car" deliveries is applicable for railroads large and small in modeling railroads in any era. Also, Rapido Trains' latest modern-day boxcars, the B-100-40 and X72/X72A, deliver goods in style in HO. And, the Monon's Thoroughbred was the Hoosier Line's racehorse and the "lifeline of Indiana" in our ninth installment of The Golden Age of Passenger Travel. And more!
May/June 2022 – $6.95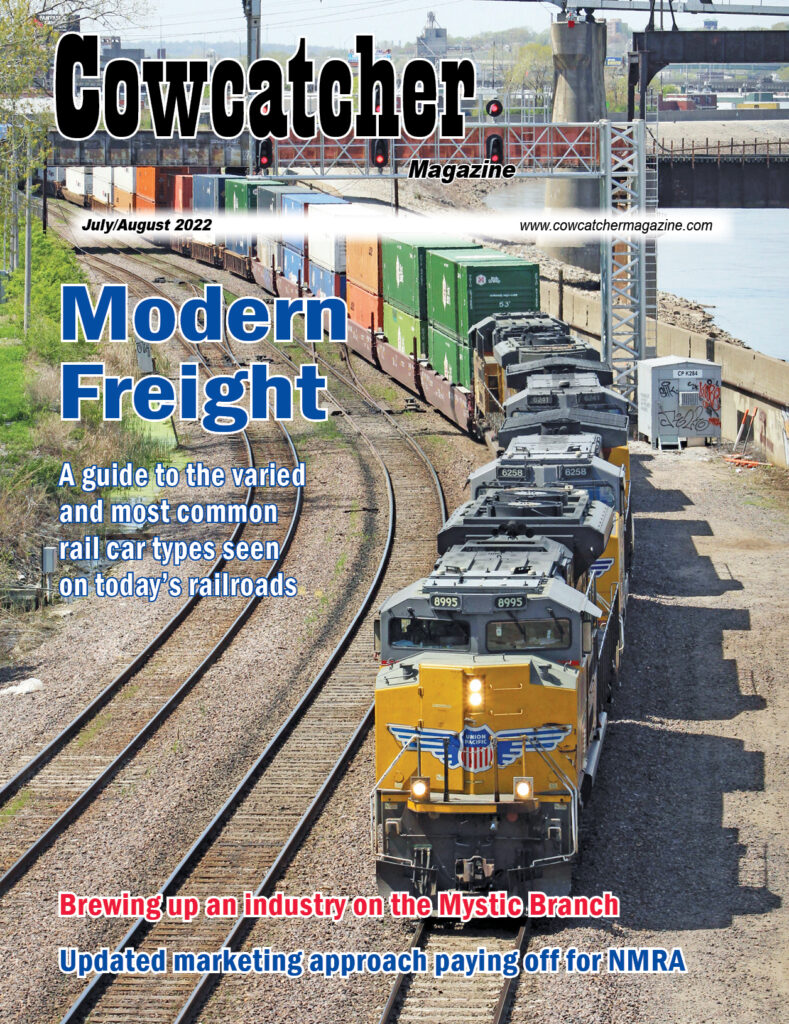 Modern Freight – July/August 2022:
Cover Story: Some model railroaders focus on a specific place and time. They scrutinize build dates of freight and passenger cars, as well as locomotives. A 60-foot Norfolk Southern boxcar on a model of the Pennsylvania Railroad just won't pass muster.
Like the prototypes, model railroads change with time. Today's model manufacturers are blending a healthy mix of modern-era freight cars and locomotives with older models.
But what defines the modern era? Design, build date and service life all inform how new age a freight car really is.
When modeling a particular era, some agonize over what constitutes a modern-day freight car. Today's trains can be far more diverse in freight type and age than one from the 1970s. Cars are built better to last longer and are more varied to meet shippers' needs. The definition may boil down to what one might see on the main line today. Our Modern-day Fright Guide provides a closer look.
PLUS, the National Model Railroad Association is working hard to get what used to come easily – your attention. Also, InterMountain Railway Co. adds to its stable of HO-scale corn syrup cars with one of its latest releases, the Cerestar car. And, the East Troy Railroad Museum welcomes MVPS No. 56 for restoration and eventual return to service 50 years since the last trolley ran. And more!
July/August 2022 – $6.95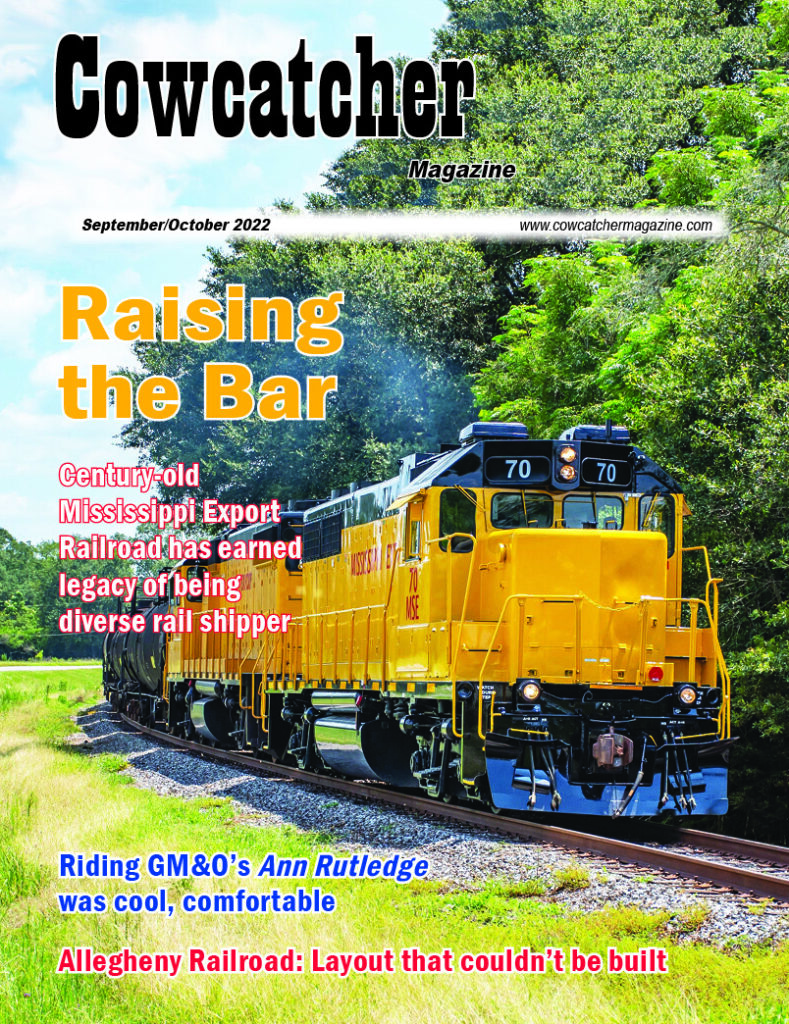 Raising the Bar – September/October 2022:
Cover Story: Short-line and regional railroads that reach places that Class Is can't must be nimble. They develop business through copious investments of time, money and labor.
They move freight for about 25 percent less than large carriers. According to the Association of American Short Line and Regional Railroads, short lines deliver $4.64 billion in revenue to the U.S. economy.
Yet some do not survive.
An estimated one-third of small railroads teeter on profitability, meaning that 200 of the country's 603 short lines could be financially marginal.
At 100 years old, the Mississippi Export Railroad "MSE" is small but setting the standard for success. In the last two decades the north-south Mississippi line that traces its roots to 1894 has raised the bar through a diversified approach to portfolio building. Whether by land or river via rail, barge or truckload, MSE's employees provide a multitude of shipping options and services that most short lines can only dream about.
PLUS, not long after high school, Ed Davis took to the rails, and an empty boxcar was his platform to view the country. He recently published a book on his experiences. Also, passengers on the Gulf, Mobile & Ohio's Ann Rutledge got a cool, comfortable ride in the race for service from St. Louis to Chicago in the 1950s. And, model railroading is getting better through the sharing economy. And more!
September/October 2022 – $6.95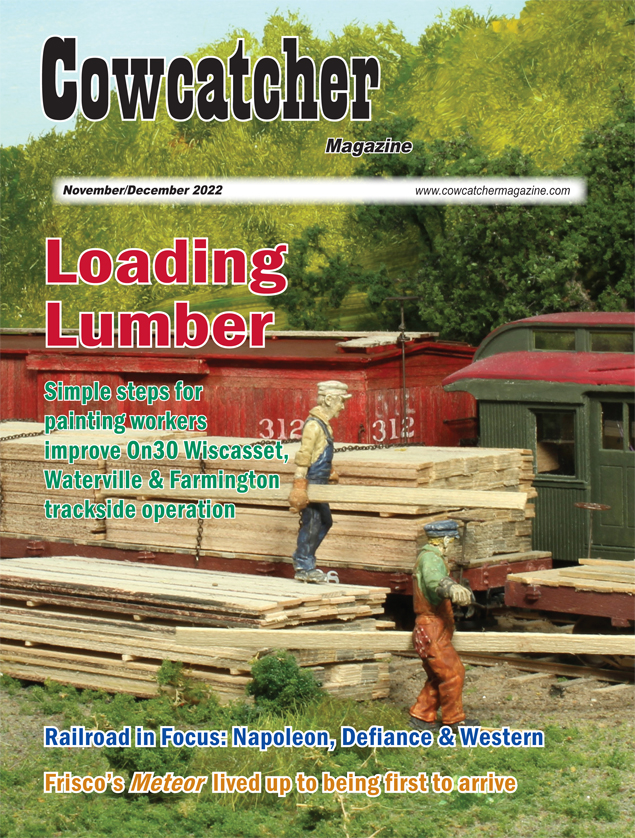 Loading Lumber – November/December 2022:
Cover Story: Rough-sawn lumber was a key commodity for the Maine 2-Foot Wiscasset, Waterville & Farmington Railway. Manufacturers needed boxboards in the early 1900s for packaging their goods, everything from cigars to vegetables to water pumps. Corrugated cardboard was not as common as it is today, so many products were packaged in wooden boxes.
Oddly, there were no sawmills located directly on the railroad. Mills would move their lumber by truck or wagon to be stacked along the right-of-way. The lumber could dry and be available when needed by some far-off customer.
Author Pete Leach's original scene had a couple of painted figures that were a little rough around the edges. He partially hid them behind the lumber on his On30 Wiscasset, Waterville & Farmington Railway. That may have been fine in the early days of layout construction, but now it just looked sad, he writes. After researching how others painted and finished scale figures, Leach developed a set of steps to enhance the figures and freshen up the scene.
PLUS, a massive investment in the Napoleon, Defiance & Western drastically improves running on the former Maumee & Western, once billed the worst railroad in the U.S. Also, model railroaders should be thankful they are a part of this hobby and think before complaining, says columnist Michelle Kempema; Rapido Trains' X31A boxcar and F30A flatcar are sound representations of the Pennsylvania Railroad workhorses; and the Golden Age of Passenger Travel series continues as Frisco's Meteor had to make tracks to beat the Katy from St. Louis to Oklahoma City in November 1946. And more!
November/December 2022 – $6.95