All issues priced at $5.95 unless otherwise noted.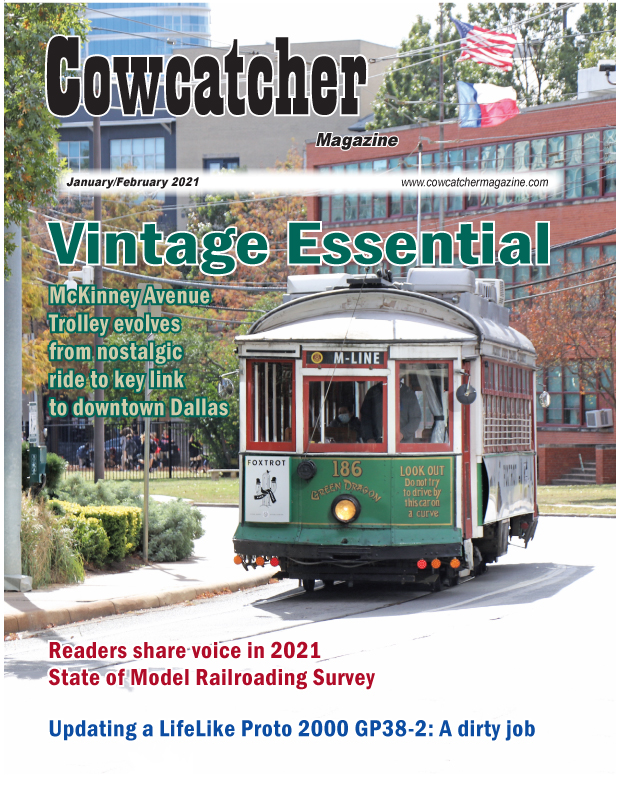 Vintage Essential – January/February 2021: Since its inception 31 years ago, the McKinney Avenue Trolley has evolved from a nostalgic ride in a trendy Dallas neighborhood to a key link in Big D. PLUS, readers say the state of model railroading is good, but growing the hobby remains a big challenge; the Crossville Model Railroad Club in Crossville, TN, runs trains for the public and tells the region's railroad history along the way; Rapido Trains' HO Flexi-Flo hopper delivers on detail and variety; and the Vicksburg, Shreveport & Pacific bridge has weathered time to provide a key link across the Red River.
January/February 2021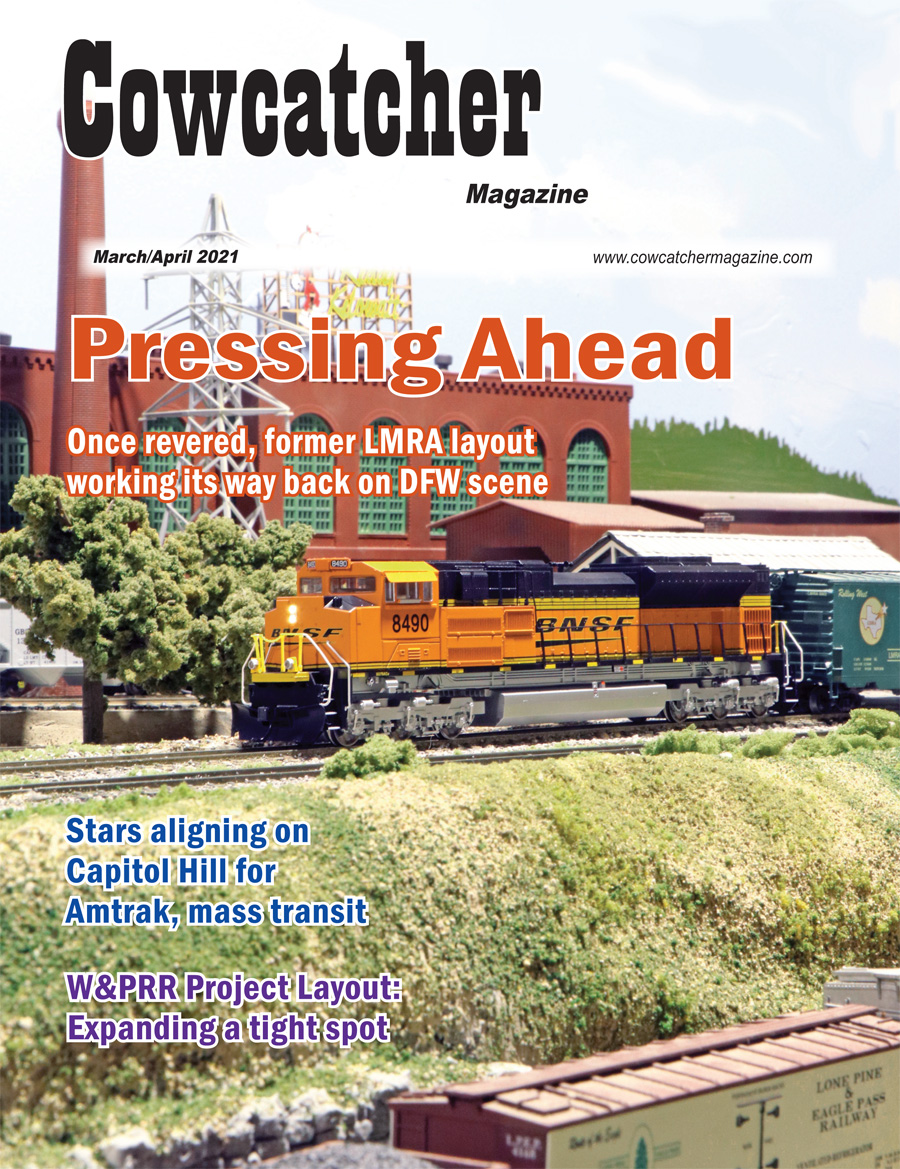 Pressing Ahead – March/April 2021: Once one of Dallas/Fort Worth's premier model railroad club layouts, the HO-scale Gulf & Denver Railroad Authority is rebuilding from the ground up. PLUS, a new administration on Capitol Hill that favors rail could hold big things for Amtrak; a thin line of trees provides visually pleasing separation on the N-scale Whitehurst & Pine Ridge Railroad; The Colorado Eagle retained all the amenities of first-class travel 20 years after its arrival; and ScaleTrains.com acquires HO and S tooling from M>T.H. Electric Trains.
March/April 2021
Tele-help – May/June 2021: Big data is getting bigger in railroading when it comes to tracking freight cars. PLUS, the N-scale Bayou City & Gulf has been a fixture at a Houston train store for decades and an ambassador to model railroading; the proposed Kansas City Southern and Canadian Pacific merger holds opportunity for a seamless North American rail network; The Golden Age of Passenger Travel heads east on the Baltimore & Ohio's National Limited; and Watco purchases Canadian National's non-core lines and assets on the Soo subdivision.
May/June 2021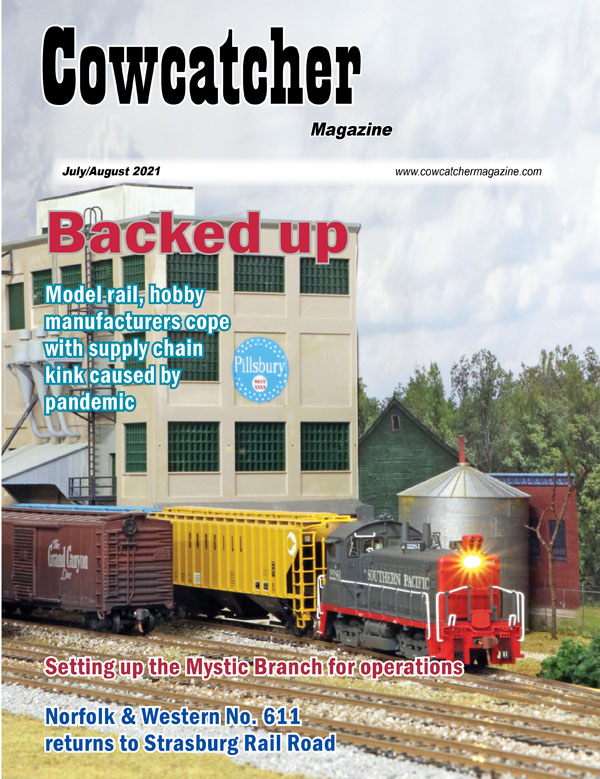 Backed Up – July/August 2021: Manufacturers are juggling supply shortages of electronic devices, including those that support DCC model railroad equipment. PLUS, Norfolk & Western No. 611 returns to the Strasburg Rail Road for special excursions; the HO-scale Mystic Branch offers eight steps for preparing engines and cars for operations; Rapido's HO-scale Southern Pacific SW1200 locomotive sounds off with plenty of muscle and might; and the Pan American was the "beauty of the Southland" for the Louisville & Nashville Railroad. And more!
July/August 2021 $6.25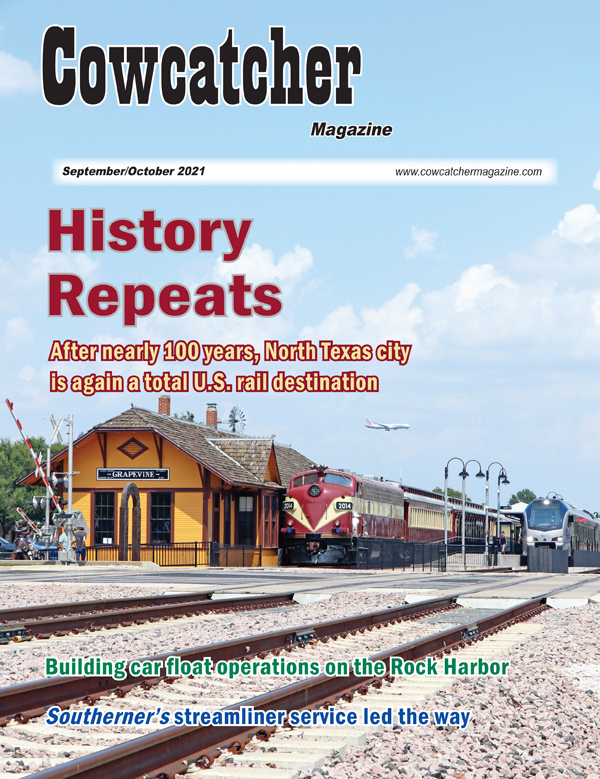 Backed Up – September/October 2021: Grapevine, TX, which enjoys robust tourism, has become a total rail destination with the link of TEXRail to DFW International Airport and the Grapevine Vintage Railroad. PLUS, the HO Rock Harbor Railroad employs a homemade carfloat system to deliver cars; modeling a modern-day printing operation on the Whitehurst & Pine Ridge Railroad; ScaleTrain.com's HO Bethlehem Steel Co. F68CH flatcar doesn't buckle under pressure; and the East Troy Railroad Museum welcomes the return of former Chicago North Shore and Milwaukee Car No. 761. And more!
September/October 2021 $6.25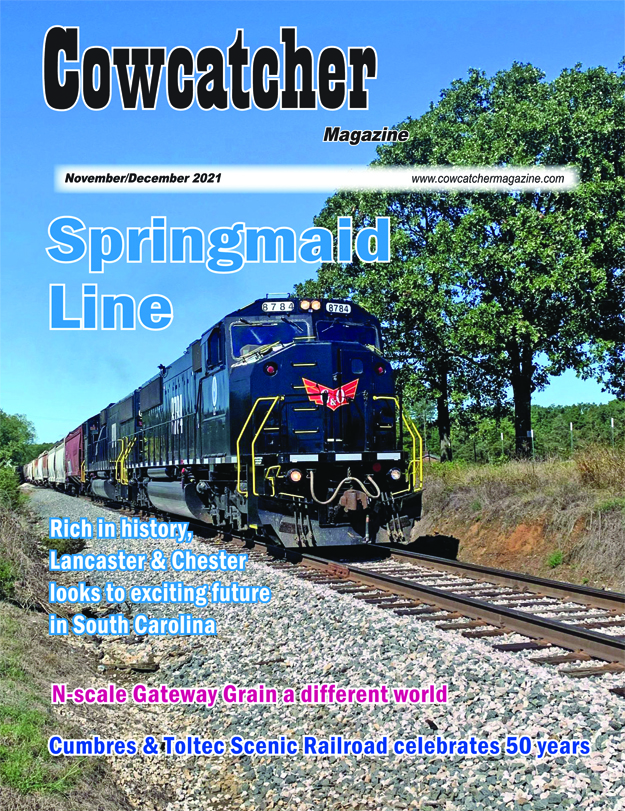 Springmaid Line – November/December 2021: The history-rich Lancaster & Chester Railroad short line has become ingrained in north central South Carolina and is enjoying a very active growth mode. PLUS, the N-scale Gateway Grain Railway packs detail in a small space; Northland Rail aims to boost marketing for model railroad and railroad organizations behind the expertise of veteran hobbyists; Large newspaper press rooms depended on rail for delivering paper, as told in the second part of the Cowcatcher's series on modeling a modern-day newspaper production facility; the Cumbres & Toltec Scenic Railroad marks 50 years (plus one) of narrow-gauge excursions between Chama, NM, and Antonito, CO; and take a ride on the Rocky Mountaineer's newest excursion, "Rockies to the Red Rocks."
November/December 2021 $6.25