All Issues Priced at $4.95 unless otherwise noted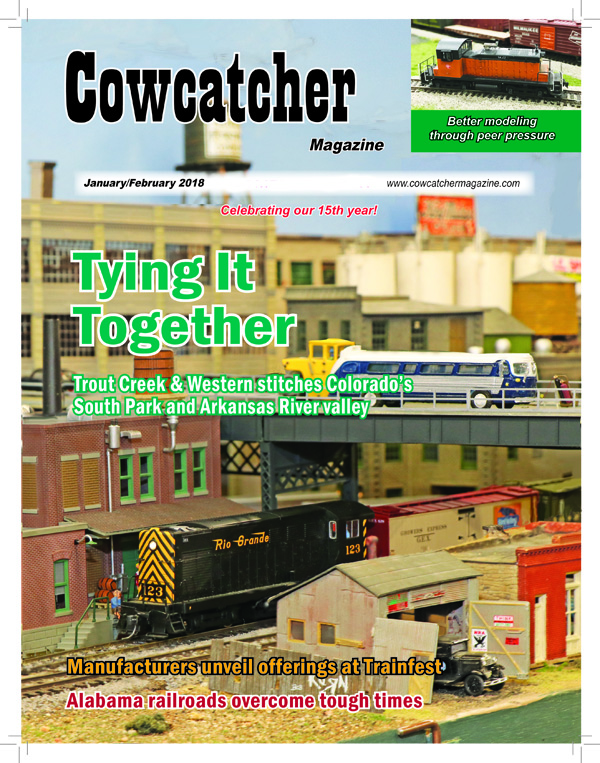 Tying It Together January/February 2018: After going through his attic in 1999 following retirement, a Boulder, CO, modeler begins a journey to run trains again that leads to the popular Trout Creek & Western. PLUS, tough times meant even tougher decisions for a pair of Alabama railroads but they proved that good things can happen from hard work; the McKinney Avenue Trolley will debut a PCC-type streetcar in 2018; manufacturers roll out the goods at Trainfest in Milwaukee; and the Museum of the American Railroad receives three locomotives that salute the legacy of first-generation Santa Fe diesels.
January/February 2018
---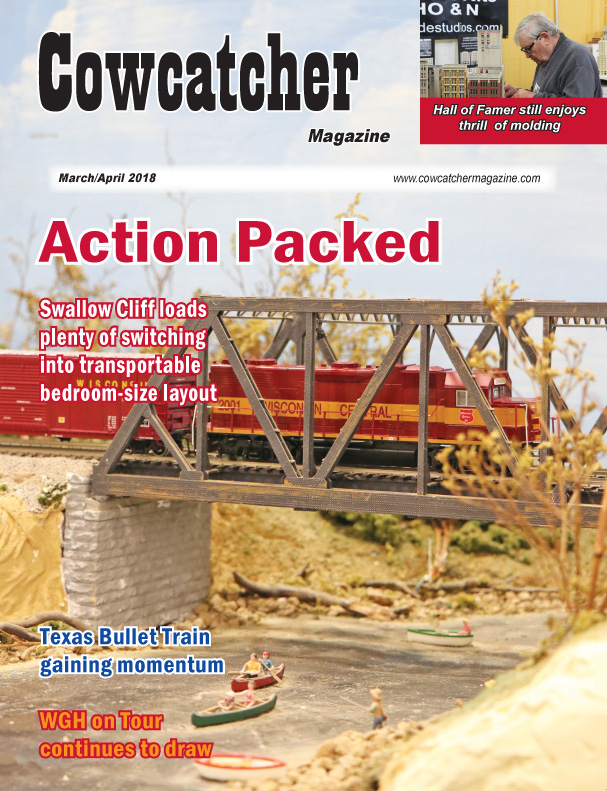 Action Packed March/April 2018: An Orland Hills, IL, modeler makes the most of the 8′ x 10′ space in a spare bedroom with the Swallow Cliff railroad, which features heavy industry serviced by the Wisconsin Central in a a simple, compact modular orientation. ALSO, the Texas Bullet Train is fast charting a path for high-speed rail between Dallas and Houston; WGH on Tour continues to promote model railroading to the masses and draw new folks into the hobby; and after more than 40 years of creating building kits, Bob Lunde still gets a kick out of pulling that first cast from a rubber mold.
March/April 2018
---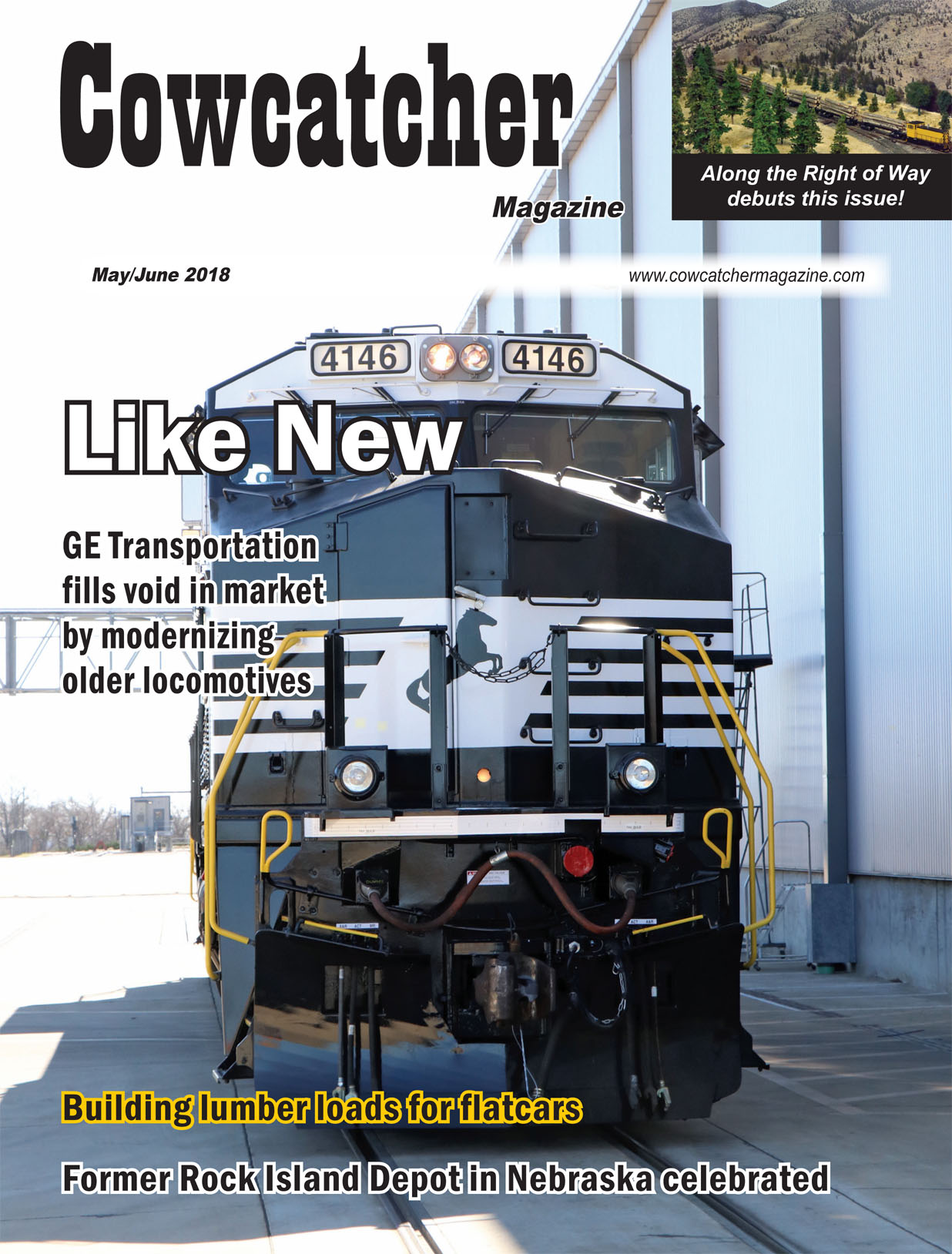 Like New May/June 2018: GE Transportation fills a void in the locomotive marketing by modernizing older AC4400s and Dash-9s. ALSO, a veteran Houston modeler offers tips on making realistic lumber loads for any scale; OmniTRAX CEO Kevin Shuba shares thoughts about short line railroading and fried chicken in the return of Trackside Folks, which allows readers to get to know railroad and model railroad personalities; and Fairbury, NE, may be off the beaten path but the presence of the Rock Island is alive and well at the city's old depot which is now a museum.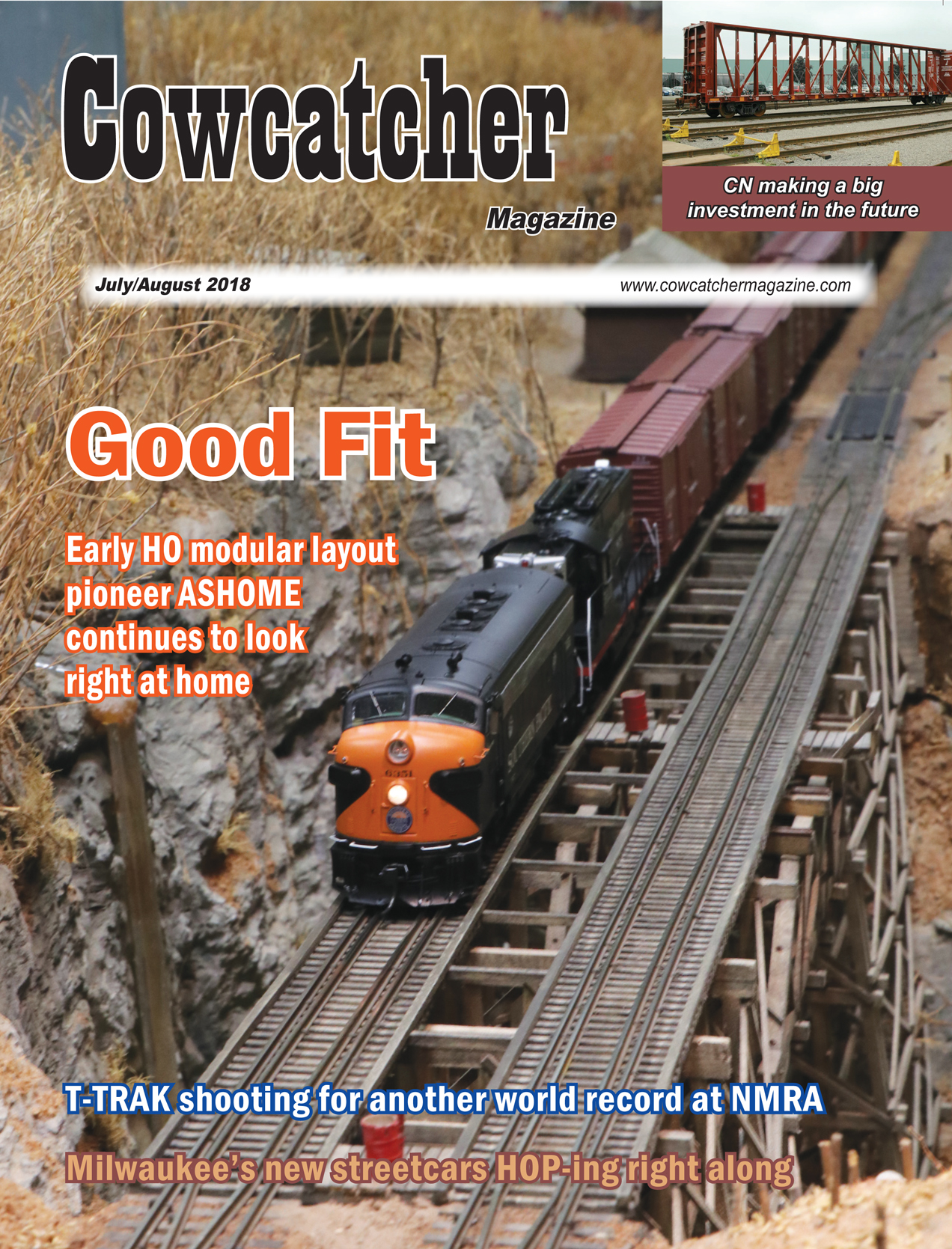 Good Fit July/August 2018: The Albuquerque Society of HO Module Engineers, early pioneers of modular railroading, are right at home with their traveling layout. ALSO, CN gets aggressive with its capital spending program in 2018, marking a new direction for the Canadian Class I; St. Louis Union Station was an appropriate backdrop for the Railway & Locomotive Historical Society meeting; Athearn plans a run of Norfolk Southern's SD60E "Honor Our Veterans" locomotive; and meet Kadee President Alan Vezzani.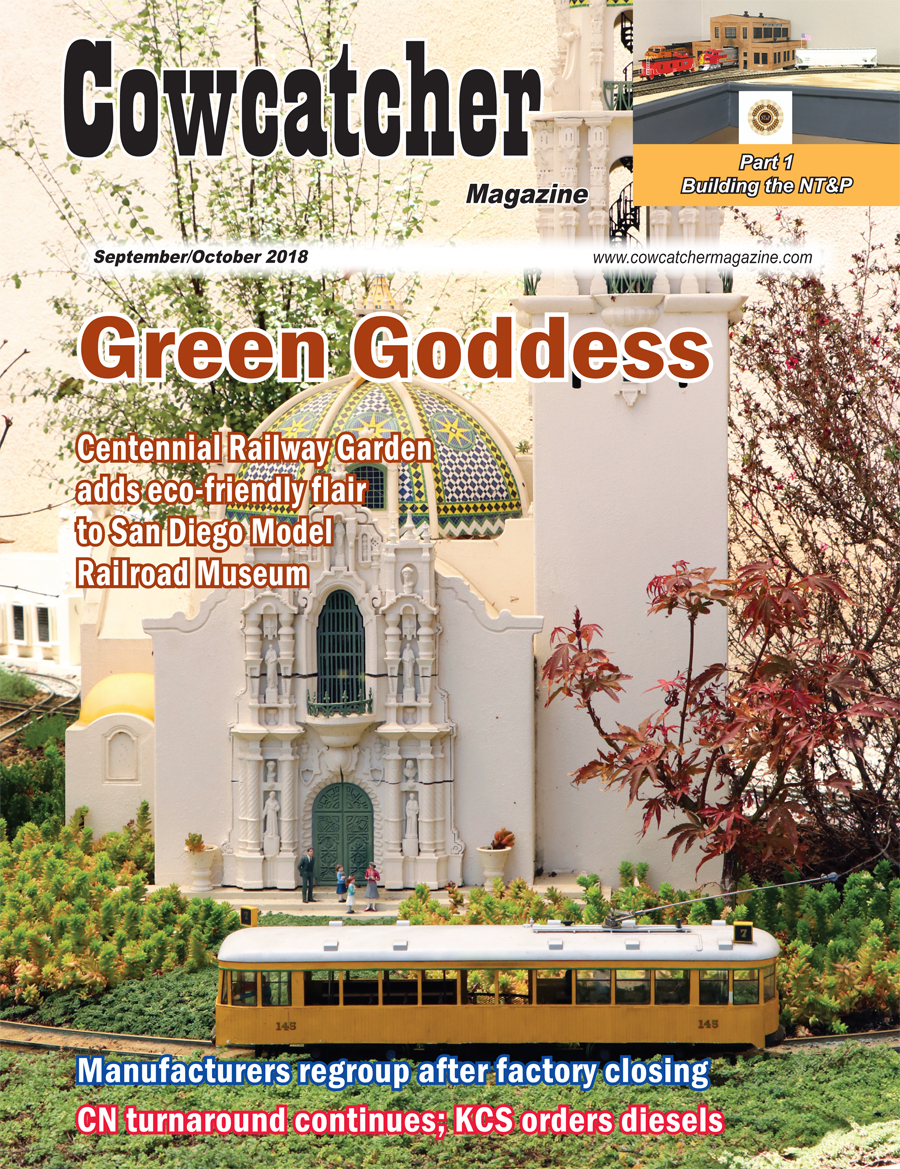 Green Goddess New September/October 2018: The G-scale Centennial Railway Garden, originally planned as a temporary attraction, has sustained a place at the San Diego Model Railroad Museum in more ways than one. ALSO, model manufacturers are picking up the pieces after a major factory in China suddenly closed its doors; the railroad played a key role in delivering milk on the Wiscasset, Waterville & Farmington Railway; the Cowcatcher's project layout, the Northwest Tarrant & Pacific, debuts; and new locomotives and rolling stock once again dominated the National Train Show in Kansas City.
---
September/October 2018
---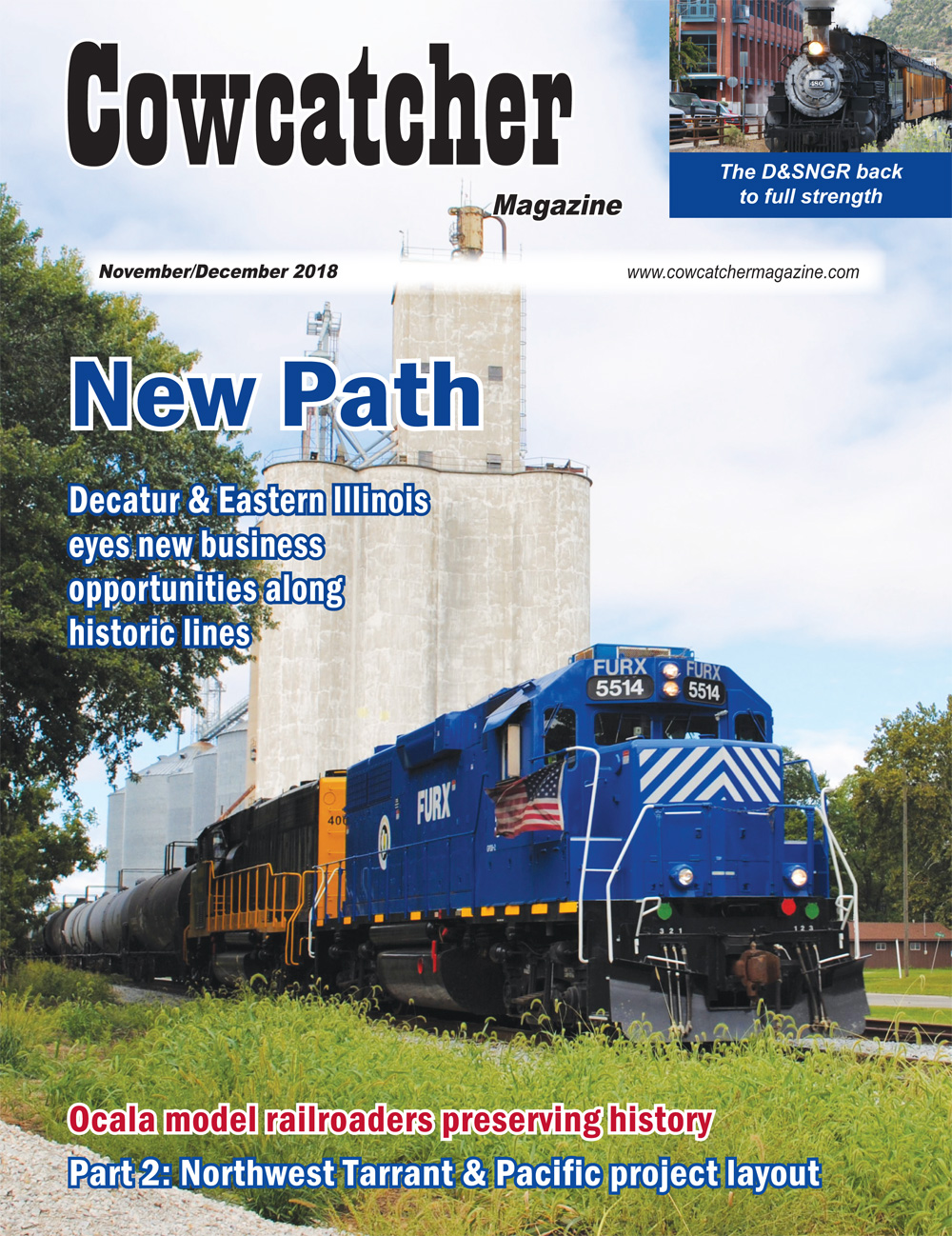 New Path November/December 2018: Watco's latest railroad charts a new direction on historic lines in Eastern Illinois and Western Indiana. ALSO, the Durango & Silverton Narrow Gauge Railroad is back on track after fire and heavy rain halted operations over the summer; the charismatic Jason Shron, president of Rapido Trains, talks about the model railroad business and his favorite movie of all time; Preserving Central Florida rail history and educating the public is the mission of the Ocala Model Railroaders; and make a cybernetic visit to Dallas Union Terminal in 1958; the Cowcatcher's project layout, the Northwest Tarrant & Pacific, begins to take shape in Part II; and relive historic passenger trains of the Katy, Frisco, Santa Fe and others. SOLD OUT!
---