All Issues Priced at $2.95 unless otherwise noted
EMBRACING RAIL FANS – January/February 2012: Railroads open arms to rail fans with programs aimed at keeping another set of eyes on the rails. PLUS, we reveal our 2011 Cowcatcher Magazine Gold Rail Award winners; the Tulsa-based Kansas City Terminal railroad has multiple personalities; growth at the Hondo Railway is exceeding expectations five years after its inception; and Athearn revisits production on the GP7/9 with new tooling.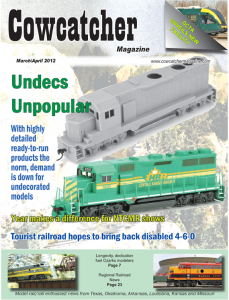 UNDECS UNPOPULAR – March/April 2012: With highly detailed ready-to-run products now the norm, demand is down for undecorated models. PLUS, what a difference a year makes for the North Texas Council of Railroad Club shows; Southwest Missouri club keeps chugging with solid involvement; the economy takes its toll on a long-time East Texas model railroad shop; DCTA opens its new maintenance facility and rail traffic returns to Blackwell, OK.
TALL ORDER ON THE TALL PINE – May/June 2012: Noted Lone Star Region/NMRA modeler Chuck Lind looks ahead to the end of an era on his model railroad to a new beginning. PLUS, the Amarillo Railroad Museum transformed from a model railroad club to an organization that preserves rail history; Union Pacific's vaunted No. 844 has a flat tire while touring Texas; actor Michael Gross is the Master of Fakery with highly detailed weathering; Watco Companies goes Down Under by providing grain movements for Western Australia road; and Woodland Scenics tidies track with new cleaning line.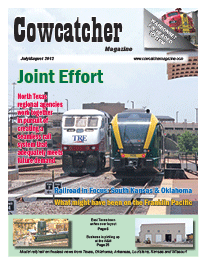 JOINT EFFORT – July/August 2012: North Texas regional agencies work together in pursuit of creating a seamless rail system that adequately meets future demand. PLUS, our Railroad in Focus feature debuts with an inside look at the South Kansas & Oklahoma Railroad (SKOL); R.D. Moses' layout returns to life with opening of museum in Jefferson, TX; BNSF layout is a hit at stockholder's meeting; and a Missouri layout asks what might have been if the Frisco had kept trackage rights on the MOPAC.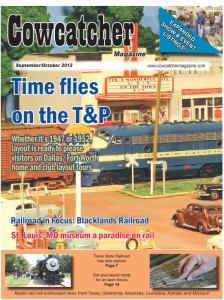 TIME FLIES ON THE T&P – September/October 2012: Whether it's 1947 or 1952, a Texas & Pacific layout is ready to please visitors on the Dallas/Fort Worth home and club layout tours. PLUS, the Blacklands Railroad in East Texas is our Railroad in Focus subject; the St. Louis Museum of Transportation is a paradise on rails; the Louisiana Steam Train Association has sights on a new home; preparing a layout for an open house requires housekeeping and hospitality; and Athearn and Intermountain announce Norfolk Southern Heritage runs.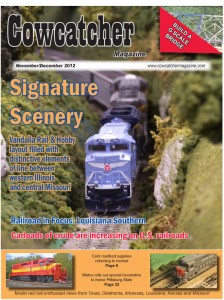 SIGNATURE SCENERY- November/December 2012: The Vandalia Rail & Hobby layout is filled with distinctive elements of a line between western Illinois and central Missouri. PLUS, carloads of crude oil are increasing in the U.S.; the Louisiana Southern is a Tale of Two Lines; a North Texas G-scaler remembers his days helping his dad deliver the news by recreating an Alabama bridge along the route of his backyard layout; the Kansas City Society of Model Engineers is focused on the big picture; and cork roadbed supply levels begin to return of shortages left retailers scrambling to meet customer demand.