All Issues Priced at $2.95 unless otherwise noted
In 2007, the Cowcatcher Round Up became an independent regional model railroad/rail enthusiast publication after serving the previous three years as the official publication of the Cowcatcher Division/NMRA.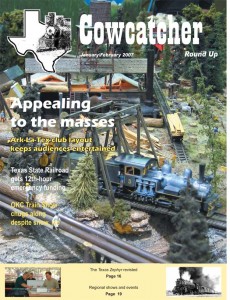 ARK-LA-TEX APPEALS TO MASSES – Jan/Feb 2007: The Ark-La-Texas model railroad club finds balance of craftsmanship and showmanship with a traveling layout that entertains crowds at local train shows. PLUS, Texas Country Reporter Bob Phillips drops in on the Texas Western Model Railroad Club layout; the Oklahoma City Train Show finished strong at the gate despite a winter storm that kept many at home; and the beleaguered Texas State Railroad gets a shot of funding to keep trains rolling.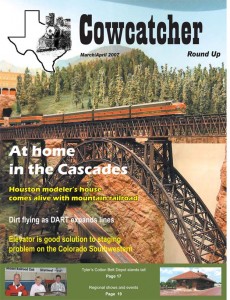 AT HOME IN THE CASCADES – Mar/Apr 2007: Houston's Don Bozman fills his house with a spectacular HO-scale tribute to the Great Northern Railroad, the scenic Cascade Division on the "Great" Great Northern. PLUS, Editor and Publisher Tim Blackwell pays tribute to Bobbye Hall, a hobby industry icon who raised the bar in model railroading; Dallas Area Rapid Transit stays busy with expansion and upgrades; and Tyler's Cotton Belt Depot offers plenty to see for visitors and rail enthusiasts.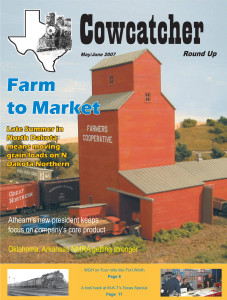 FARM TO MARKET – May/June 2007: It's late summer in North Dakota on Olaf Melhouse's N-scale Dakota Northern. PLUS, new Athearn president Michael Stephens keeps focus on the company's core product; the NMRA is alive and well in Oklahoma and Arkansas; the Texas Special made the best of its conditions between the Midwest and the Lone Star State; and the position of the helix is key to operation on Steve Willis' Rocky Mountain. Very limited supply!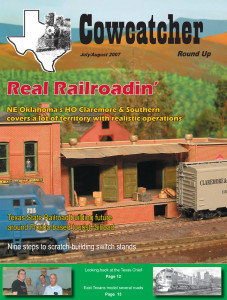 REAL RAILROADIN' – July/Aug 2007: Northeast Oklahoma's HO-scale Claremore & Southern covers a lot of territory with realistic operations. PLUS, a North Texas scratch builder explains how to make models of switch stands that were used on the Denver & Rio Grande Western; the future of the Texas State Railroad is in new hands with American Heritage Railways; and the Dallas, Garland & Northeastern Railroad goes "green" by putting two N-ViroMotive locomotives into service.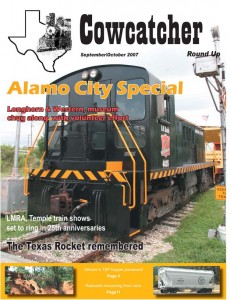 ALAMO SPECIAL – Sept/Oct 2007: We take a ride on the Longhorn & Western and tour the Alamo City's Texas Transportation Museum. PLUS, Athearn delivers an HO-scale model of an ACF hopper car in the unusual Texas Pacific/Missouri Pacific scheme; floods across Texas, Oklahoma, Arkansas and Kansas played havoc with freight, passenger and tourist railroads; the McKinney Avenue Trolley expands to handle increased traffic on the Dallas Uptown streetcar line; and the Overton, TX, I&GN club is taking shape.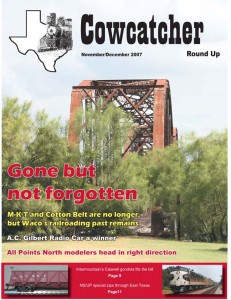 GONE BUT NOT FORGOTTEN – Nov/Dec 2007: The M-K-T and Cotton Belt are no longer, but evidence of Waco's railroading past is quite visible. PLUS, Intermountain Railway Co. plans another release of its line of Santa Fe Caswell gondolas; Norfolk Southern and Union Pacific combined equipment to make a special run through East Texas; the All Points North model railroad club in Houston is charting a new direction; and a model of A.C. Gilbert's Radio Car scratch built in S-scale takes top honors.
Pick up the current issue of the Cowcatcher Magazine at a location near you or SUBSCRIBE