All Issues Priced at $2.95 unless otherwise noted
From 2004-06, the Cowcatcher Round Up was published independently by Ballpark Impressions, LLC, as the official publication of the Cowcatcher Division/NMRA.
'TIS THE SEASON – Jan/Feb 2006: Season traffic brings railroads to life. PLUS, modeling North Texas coal trains in N scale are easy using a number of modern-day coal cars that include UFIX Coalveyers, UFIX Coalporters, FPPX Thrall Hi-Side Gondolas and FPPX Coalporters; removing decals is easy with a gel-like product; roots of The Hustler traces to the Houston & Texas Central railroad; and the arrival of streamliners upgrades the collection at the Age of Steam railroad museum in Dallas.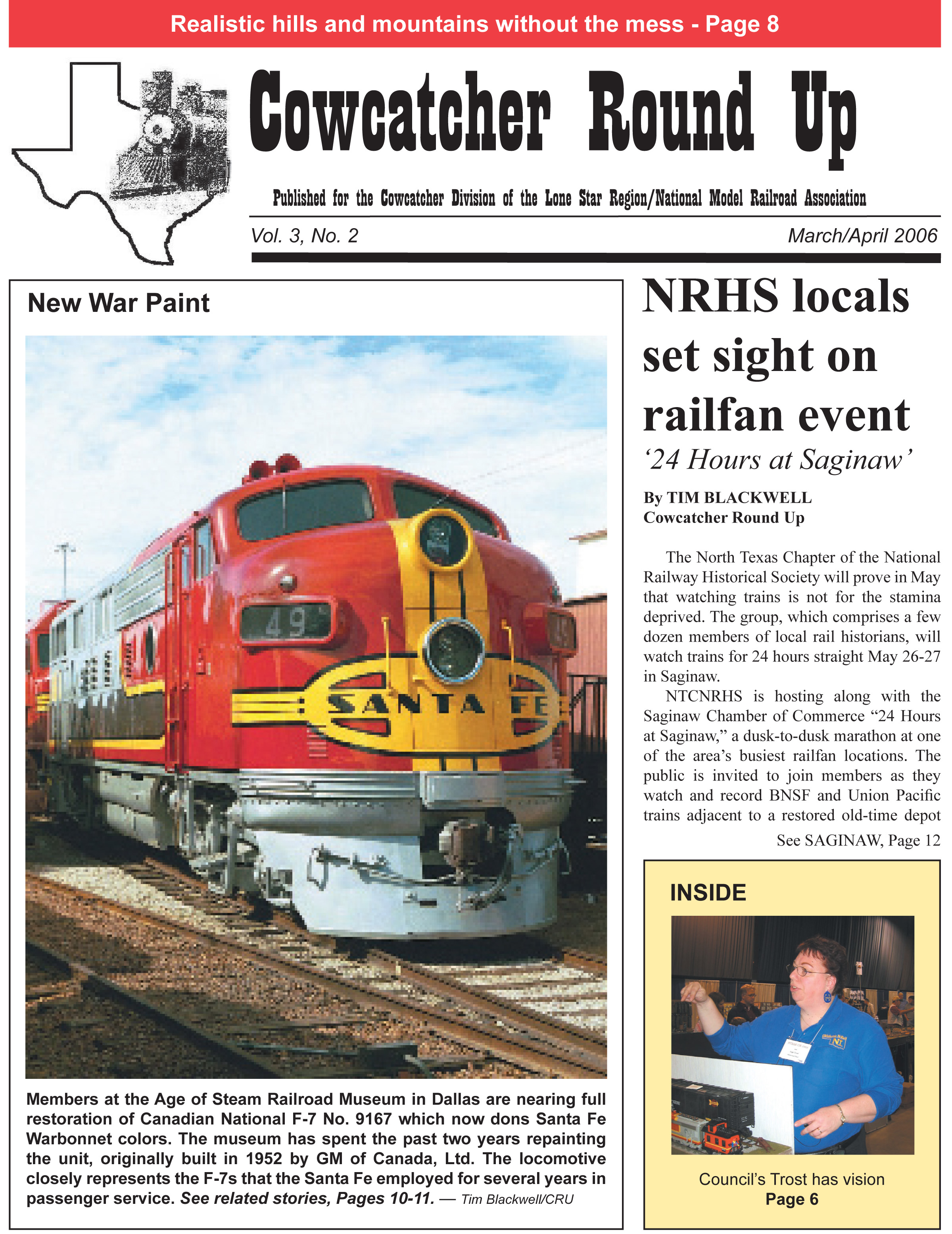 NEW WAR PAINT – March/April 2006: Plans are announced for the first "24 Hours at Saginaw", an all-day and night railfanning experience in a railroad-centric community in North Texas. PLUS, model railroad landscapes take shape using papier mache that is produced by a company in Marshall, TX; and staff writer Steve Willis examines why the Santa Fe was the way for passenger travel in the golden era of railroading.
WGH ON TOUR SET FOR FW – July/August 2006: The World's Greatest Hobby on Tour announces it will do a Texas two-step by hosting a second show in the Lone Star State. PLUS, the first edition of "24 Hours at Saginaw" goes off without a hitch; D&RGW locomotive joins Union Pacific's Heritage Series fleet; we take a look back at the Missouri Pacific Railroad's Texas Trianglem which provided overnight service to Fort Worth, San Antonio and Houston; and the "Tracks to the Alamo" draws the largest crowd in the past five years for an Lone Star Region annual convention.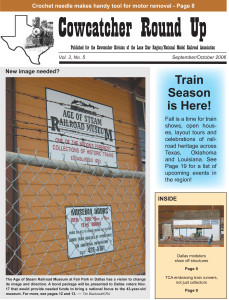 TRAIN SEASON IS HERE! – Sept/Oct 2006: The Age of Steam Museum at Fair Park in Dallas has a vision to change its image and direction. PLUS, Division 3 of the Lone Star Region gives back to Garland, TX, library that hosts its meetings; a new Union Pacific intermodal facility in San Antonio is announced; and we take a snapshot of a portable rig that allows for transloading of oil in the Houston area.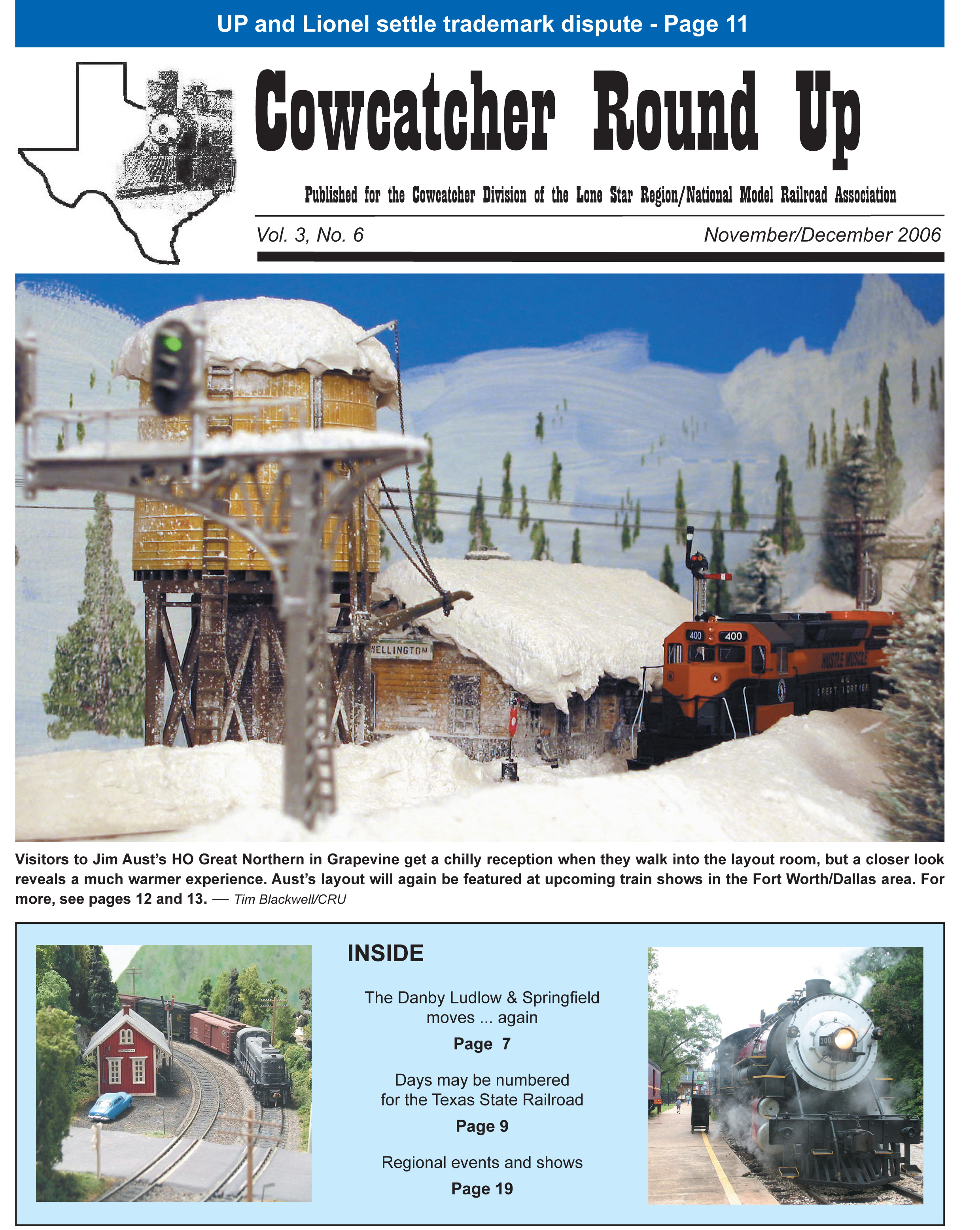 GREAT NORTHERN MORE THAN MEETS THE EYE – Nov/Dec 2006: An ex-Great Northern employee's HO-scale layout is a tribute to a long railroading career and life in Wolf Point, MT. PLUS, the Danby Ludlow & Springfield gets ready to make a third move, this one a long way from Texas; the days for the Texas State Railroad may be numbered as funding is getting scarce; and Union Pacific and Lionel settle their trademark dispute.