Product Review: M&M Party Bus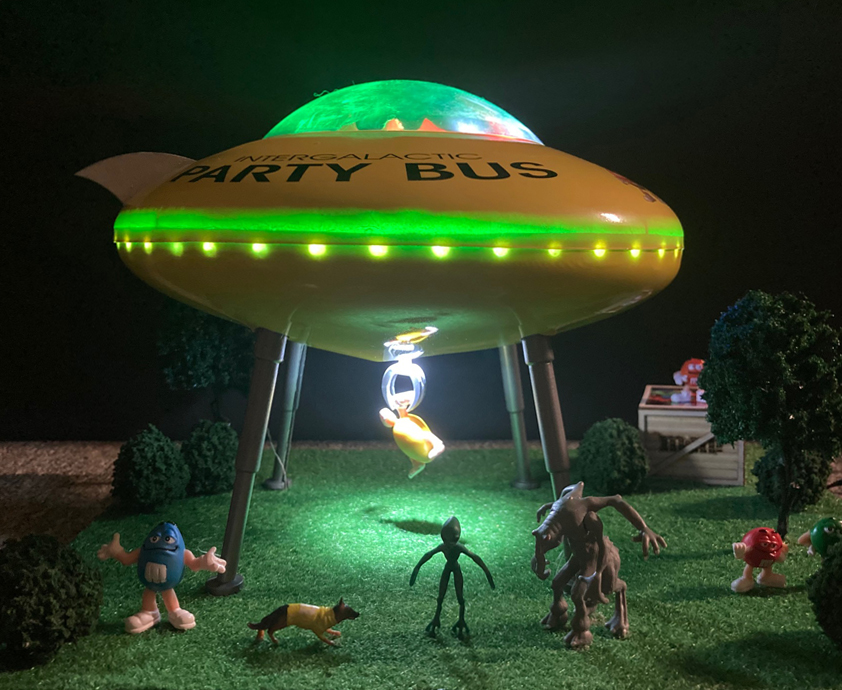 Intergalactic Party Bus feeds the imagination
Model railroading isn't just about prototype trains easing to stop at turn-of-the-century stations and thundering freight trains chugging across the horizon. Sometimes the stars align, and out of nowhere an intergalactic object descends upon the town with a specific mission in mind.
Take for instance one delicious destination that encountered a round, bright yellow object on a starry night.  In a flash, the whimsical Intergalactic Party Bus softly touches down but comes in peace. Piloted by an M&M, the ship is looking for cargo while spreading happiness around the universe. Flashing green, yellow and red lights mesmerize M&M candies and lure them aboard. All that is missing is the scent of chocolate.
Last fall, Menards released its O-scale M&Ms UFO Scene, another in a fine line of animated model railroad products. While not your conventional accessory, the M&M Party Bus embodies the toy-like appeal of O railroading.
And it's fun to watch and imagine the possibilities.
The Party Bus is shaped like the candy and piloted by an M&M. His mission is to retrieve as many candy-coated followers as possible.
A green light emanates from the bottom of the saucer, drawing a yellow M&M toward the tractor beam and onto hook that slowly lifts. Even Jack the German Shepherd was smart enough not to fall into that trap!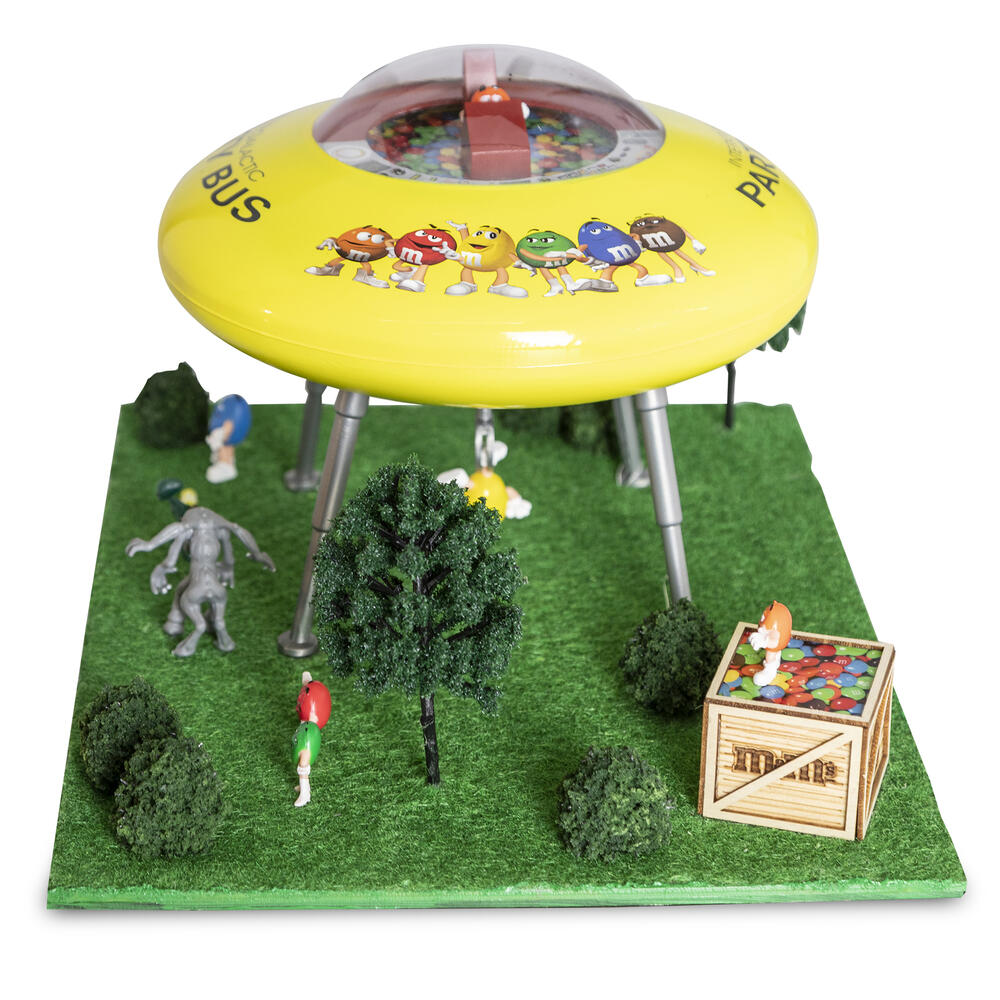 A visitor records the spectacular sight on shaky cellphone video (actually, that was us doing the recording and, sadly, we don't have a stabilizer for our phone!).
The 8-inch wide mothership has an illuminated control room and sits on a fully scenicked base that includes shrubs, grass and M&M cargo. In addition, a couple of alien creatures are rounding up five M&Ms – red, green, yellow, orange and blue – to join their brother at the controls.
The base is 12.75 x 10 inches and pigtail plug designed for use with the 4.5-volt Menards Plug & Play System (sold separately) supplies the animation.
With many modelers cooped up in recent months, the M&M Party Bus adds a little levity and is certainly a conversation piece for $99.99.
Area 51 doesn't have anything on this sweet-looking UFO.
Read our other product reviews
Visit our product review page here.