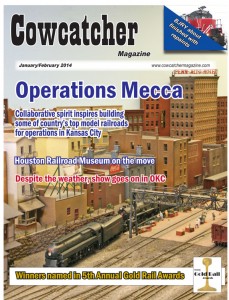 Subscribe or Renew to the Cowcatcher Magazine
Six (6) issues for $16.95 | Twelve (12) issues for $27.95 mailed to your home!
Subscribe 1 of 3 ways!
1) Mail check or money order with name, address (street, city, zip code) and term of subscription (6 issues or 12 issues) to:
Ballpark Impressions, LLC
ATTN: Subscriptions
P.O. Box 176
Keller, TX 76244
2) Use your PayPal account by emailing complete address plus desired subscription length to cowcatcher@verizon.net or pay on the secure shopping cart system.
3) Pay by credit card by using the secure shopping cart system!
Your subscription starts when you receive your first issue, not when you place your order.
Subscriber Updates
Delays Due to covid-19: We continue to experience some delays in  mailings because of covid-19. This is a nationwide issue, and we ask that you please be patient. If you have not received your issue within three weeks after publication date, please contact us at cowcatcher@verizon.net or (817) 379-5528. Thank you!
---
Your Subscription
Didn't receive your issue? Postal and clerical issues happen, unfortunately! Please let us know if you haven't received your current issue immediately! Your issue is usually mailed third-class U.S. postage 10-15 days prior to the end of the month of the first month's publication date. Please allow 7-10 business days for delivery. Deliveries in some areas of the country may take longer than others. If you have not received your issue in a timely manner, please contact us at cowcatcher@verizon.net or (817) 379-5528.
We will only resend a replacement copy for a missing issue when notified within its publishing period. For example, if you miss the November/December issue, please contact us before Dec. 31 and we will replace your copy. Because of availability, we cannot always replace older issues. It is important that you bring any missing issues to our attention immediately! 
---
Mailing Label: Subscribers will note the expiration date of their subscription on the top right corner of the label.
For example, a subscription that expires with the May/June 2021 issue will read:
EXP May/June-2021
Subscribers will receive a renewal notice prior to the expiration of their subscription.
Got a question? Contact us at:
(817) 379-5528
---
Subscription Renewals: We have convenient payment options to accept your renewal or new subscription. When it's time to renew, we will mail you a renewal form. If you have provided us with your email address, we will first contact you and provide links to pay via credit card or PayPal. For your convenience, your subscription can be renewed over the phone with your credit card by calling (817) 379-5528!
Change of Address: Because we mail third-class postage to keep your subscription cost low, we do not receive notifications from the post office when copies are forwarded or returned because of an address change/insufficient address. If your address changes, please notify us immediately via email (subject line: Change of Address) at cowcatcher@verizon.net or call us at (817) 379-5528. Please leave a callback number.