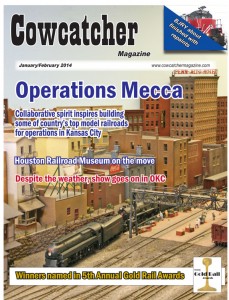 Subscribe or Renew to the Cowcatcher Magazine
Six (6) issues for $15.95 | Twelve (12) issues for $25.95 mailed to your home!
Subscribe 1 of 3 ways!
1) Mail check or money order with name, address (street, city, zip code) and term of subscription (6 issues or 12 issues) to:
Ballpark Impressions, LLC
ATTN: Subscriptions
P.O. Box 176
Keller, TX 76248
2) Use your PayPal account by emailing complete address plus desired subscription length to cowcatcher@verizon.net or pay on the secure shopping cart system.
3) Pay by credit card by using the secure shopping cart system!
Subscriber Updates
There are no updates at this time
---
Didn't receive your issue? Please let us know! Your issue is usually mailed third-class U.S. postage 4-5 days prior to the end of the month of the first month's publication date. Please allow 7-10 business days for delivery. Some areas of the country may take longer to deliver than others. If you have not received your issue in a timely manner, please contact us at:
(817) 379-5528
---
Mailing Label: Subscribers will note the expiration date of their subscription on the top right corner of the label.
For example, a subscription that expires with the May/June 2016 issue will read:
EXP May/June-2016
Subscribers will receive a renewal notice prior to the expiration of their subscription.
Got a question? Contact us at:
(817) 379-5528
---
Subscription Renewals: We now have more convenient payment options to accept your renewal or new subscription. When your subscription is up for renewal, we will mail you a renewal form. Also, we are able to accept major credit cards through our secure merchant account on our website, as well as receive PayPal payments. For your convenience, we will take your renewal or new subscription request over the phone and charge to your credit card!