Colorado Model Railroad Museum's OC&E
Featured in the May/June 2016 issue of Cowcatcher Magazine, the Oregon, California & Eastern Railway is the centerpiece of the Colorado Model Railroad Museum in Greeley, CO.
The OC&E depicts a portion of the prototype logging line that operated into the 1990s in southern Oregon. Unlike the prototype, CMRM's OC&E is a bridge route that handles trains of the Great Northern, the Southern Pacific and the Weyerhaeuser Lumber Co. Action takes place in fall 1975.
The 20.5 scale-mile, single-track main line is connected by a pair of hidden staging yards under the upper mezzanine, where guests can get a bird's-eye view of the layout. The main runs from Klamath Falls on the west end to Lakeview on the east, depicting activity between Chiloquin, OR, and Fairport.
More than 150 signals control trains, which are run by wireless NCE Digital Command Control. A typical operating session features seven trains up to 80 cars each running both directions. Another 8-12 locals originate from Klamath Falls, Lakeview, Coos Bay or Sycan Junction.
Dispatching is handled through a central panel; operators communicate via radios. Sidings handle trains up to 4,000 scale feet long.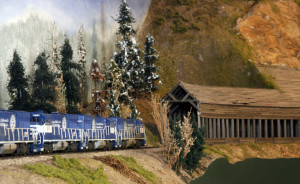 Trains climb to the layout's highest elevation at Quartz Mountain, usually requiring helpers. The grade on the eastbound side is 2.2 percent; on the west it's 1.9. Quartz Mountain is a most spectacular sight, standing 98 inches above the main floor.
The minimum radius for the main line is 48 inches; it's 36 inches for the branch line. Track is code 83 for the main line and code 70 for secondary and industrial tracks. Staging yards are code 100. Twelve tunnels and 15 bridges enhance the main line.
Benchwork is L-girder, and the layout height is 40-98 inches. Scenery is made from stacked Styrofoam insulation board covered with plaster, then the plaster is covered with real dirt and ground foam. Rocks were made from coal castings.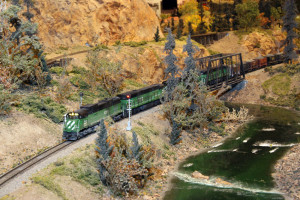 The layout features 28,000 handmade trees – 16,000 firs, 8,000 deciduous trees and 4,000 aspens. Water is simulated using a clear two-part epoxy casting resin poured over pre-painted stream and lake beds.
The layout is open to the public during the summer from Memorial Day to Labor Day, May 30-Sept. 5. Hours are Wednesday-Saturday 10 a.m.-4 p.m. and Sunday 1-4 p.m. Admission is $8 adults ($6 for seniors 65 and older) and $4 for children 4-12. Kids 3 and under are free. Military and student discounts are available.