Amtrak celebrates 50 years, focuses on expansion plans and new or improved rail corridors across U.S.
Flanked by a few Amtrak locomotives, President Joe Biden and Amtrak executives paid homage to the past and shared Amtrak's bold vision for the future on the 50th anniversary of the passenger railroad. Streamed live from Gray 30th Street Station in Philadelphia on April 30, the ceremony highlighted the remarkable contributions of Amtrak employees past and present as well as ambitious plans to expand and improve rail service for the future.
"Today we have a once in a generation opportunity to position Amtrak, and rail, and intercity rail, as well in general to play a central role in our transformation of transportation and economic future," President Biden said.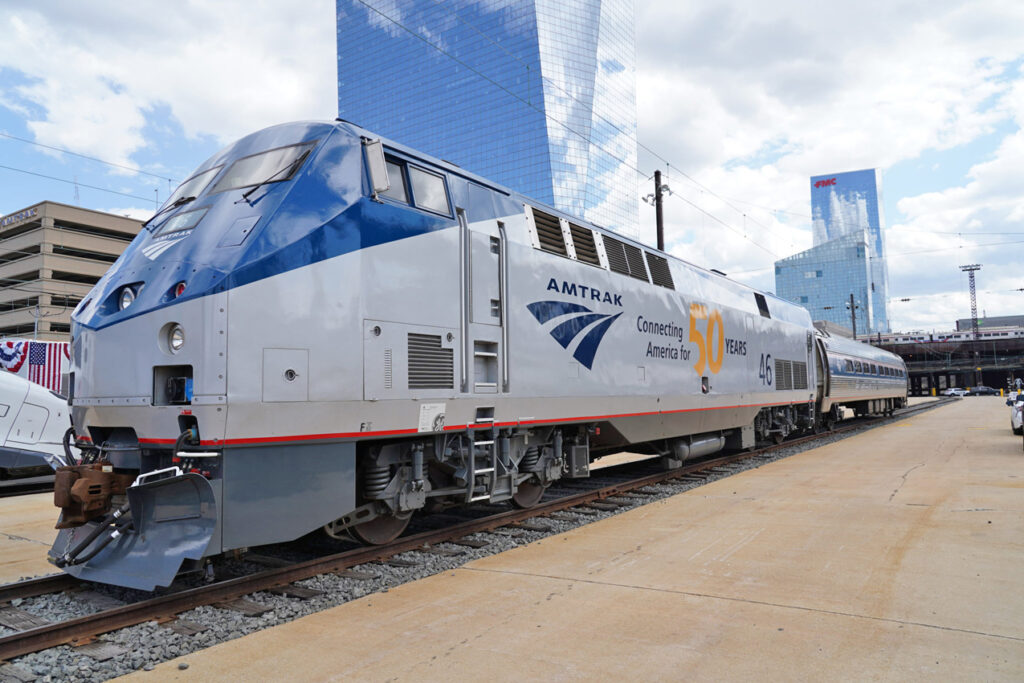 CEO Bill Flynn, who has lobbied strongly for government funding since taking over leadership of the Amtrak in April 2020, said the railroad's survival the next half-century depends on a long-term commitment.
"America needs a rail network that offers frequent, reliable, sustainable and equitable train service," he said. "Amtrak has the vision and expertise to deliver it, now we need Congress to provide the funding for the next 50 years."
Amtrak has big plans to enhance service and improve infrastructure. Over the next 15 years, Amtrak's vision for expansion will connect up to 160 communities throughout the U.S. by building new or improved rail corridors in over 25 states. Amtrak will introduce new stations across half of the country, increase rail service to 47 of the top 50 metropolitan areas and create over half a million new jobs.
"Whether by safely and conveniently connecting more people, towns and cities to each other or as part of a low-carbon transportation system helping combat climate change, America needs more Amtrak service," Amtrak President Stephen Gardner said. "We are ready to deliver on our vision of providing safe, reliable, efficient and sustainable transportation services to more people in more places across the nation."
Major infrastructure investments are apparent up and down the Northeast Corridor, including the Gateway Program and the Baltimore and Potomac Tunnel Replacement Program. Planned improvements will increase track capacity, enhance ride quality and offer greater reliability.
Amtrak Board Chair Tony Coscia said projects like Gateway will allow Amtrak to play a key role in proving the nation's ability to undertake generational projects, "and we expect our next chapter to include setting the stage for true high-speed rail in the United States."
Next year, Amtrak will debut the first new Acela high-speed trains as part of a fleet overhaul. Even sooner, customers will begin riding new state-owned railcars in the Midwest and California and diesel-electric locomotives will go into service this summer. Overnight trains with refreshed interiors on Superliner bi-level coaches, sleeping cars, lounges and dining cars are also coming in the next several months.
Also, Amtrak expects to purchase of a new fleet of 83 Intercity Train Sets this summer. The sets will provide modern rail amenities to better serve Amtrak customers on the Northeast Corridor and various state-supported routes.
Amtrak station modernization projects are also underway in major cities like Chicago, Washington, D.C., Baltimore and Philadelphia to enhance the travel experience and make it more accessible. In January, in partnership with the State of New York, Amtrak opened Moynihan Train Hall, its new home in New York City.